Branch Highlights
Map of Federally recognized Tribes whose land and mineral resource information is currently available through NIOGEMS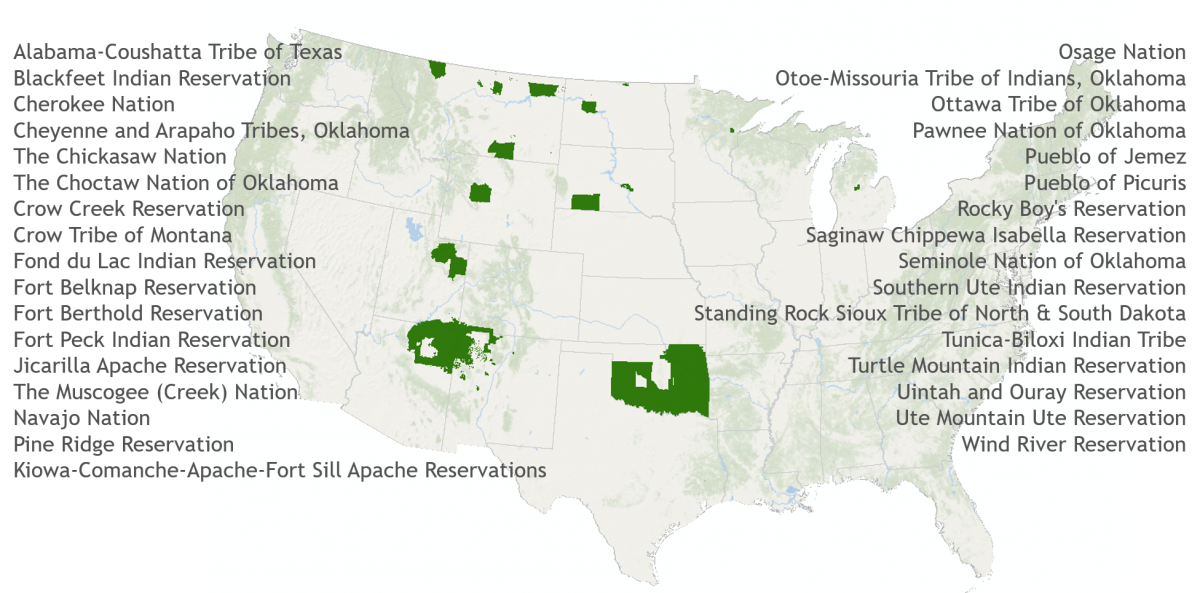 Don't See Your Reservation?
The NIOGEMS team is always updating and adding reservations. Please contact us at ia_niogems_helpdesk@bia.gov to find out the status or to request information to add to our system.
NIOGEMS Software Highlights

Who We Serve
The National Indian Oil & Gas, Energy and Minerals System (NIOGEMS) is exclusively available to Tribal offices and Tribal-supporting federal entities including the Office of the Assistant Secretary – Indian Affairs (AS-IA), the Bureau of Indian Affairs (BIA), the Bureau of Land Management (BLM), Office of Natural Resources Revenue (ONRR), and the Appraisal and Valuation Services Office (AVSO). 
NIOGEMS staff provides user training and support. The software, data, training, and support are all provided at no cost to a requesting Tribe or federal office, bureau, or agency that serves American Indian and Alaska Native communities.
Services We Provide
About the National Indian Oil & Gas, Energy and Minerals System (NIOGEMS)
NIOGEMS was developed in the early 1990s to consolidate various natural resource, realty, and geo-technical data into a single management software application. It a map-oriented computer application that provides Tribes and federal users with access to natural resource data on Indian and non-Indian owned lands, both in and around reservations, to track and make decisions on leasing, developing, and managing energy and mineral resources. 
The NIOGEMS team works to provide regularly updated map data as well as training and technical support for users.
NIOGEMS contains a consolidation of many types of data from a variety of sources: 
BIA (TAAMS): Lease and Tract Ownership information 
Bureau of Land Management (BLM): Public Land Survey System (PLSS) land grid and oil and gas agreements data 
Commercial: Oil and gas well information and production data 
ONRR: Oil and gas production data 
State: Spacing units, oil and gas well information and production data 
U.S. Geological Survey (USGS), U.S. Census Bureau, U.S. Department of Agriculture (USDA), Tribes, and many other sources 
NIOGEMS Team 
Daniel Kaim, Branch Chief / Petroleum Engineer
Development
Pat Hunt, Software Developer 
Joseph McFadden, Software Developer 
Support 
Leslie Mitchell, Program Analyst
Brad Tatham, NIOGEMS Trainer 
Bob Weber, NIOGEMS Trainer