Our Mission
Prosperity and resilience for all tribal nations is the vision of the White House Council on Native American Affairs (WHCNAA).  The WHCNAA endeavors toward this vision through collaborative inter-agency work across the Executive Branch, regular and meaningful Tribal-Federal engagement, and by fostering an all-of-government approach in meeting treaty and trust obligations to Tribes.
Tribal Leader Engagement Session on Native Languages
As WHCNAA co-chair, U.S. Department of the Interior Secretary Deb Haaland will convene the hour and a half-hour engagement session between the WHCNAA Education Committee leadership and Tribal leaders. The Education Committee will focus on Native Language initiatives and seek Tribal leader guidance and feedback on those efforts. Specifically, the Committee will seek dialogue on the implementation of the Memorandum of Agreement on Native Languages, the White House Initiative on Advancing Educational Equity, Excellence, and Economic Opportunity for Native Americans and Strengthening Tribal Colleges and Universities per Executive Order 14049, funding opportunities, and a proposed Federal Plan on Native Languages.
Session 
Location: Virtual
Date: Wednesday (June 29, 2022)
Start Time: 3:30 - 5:00pm Eastern Time
Registration | Invite | Memorandum | Executive Order
---
Opportunities for Indigenous Peoples and Water Resources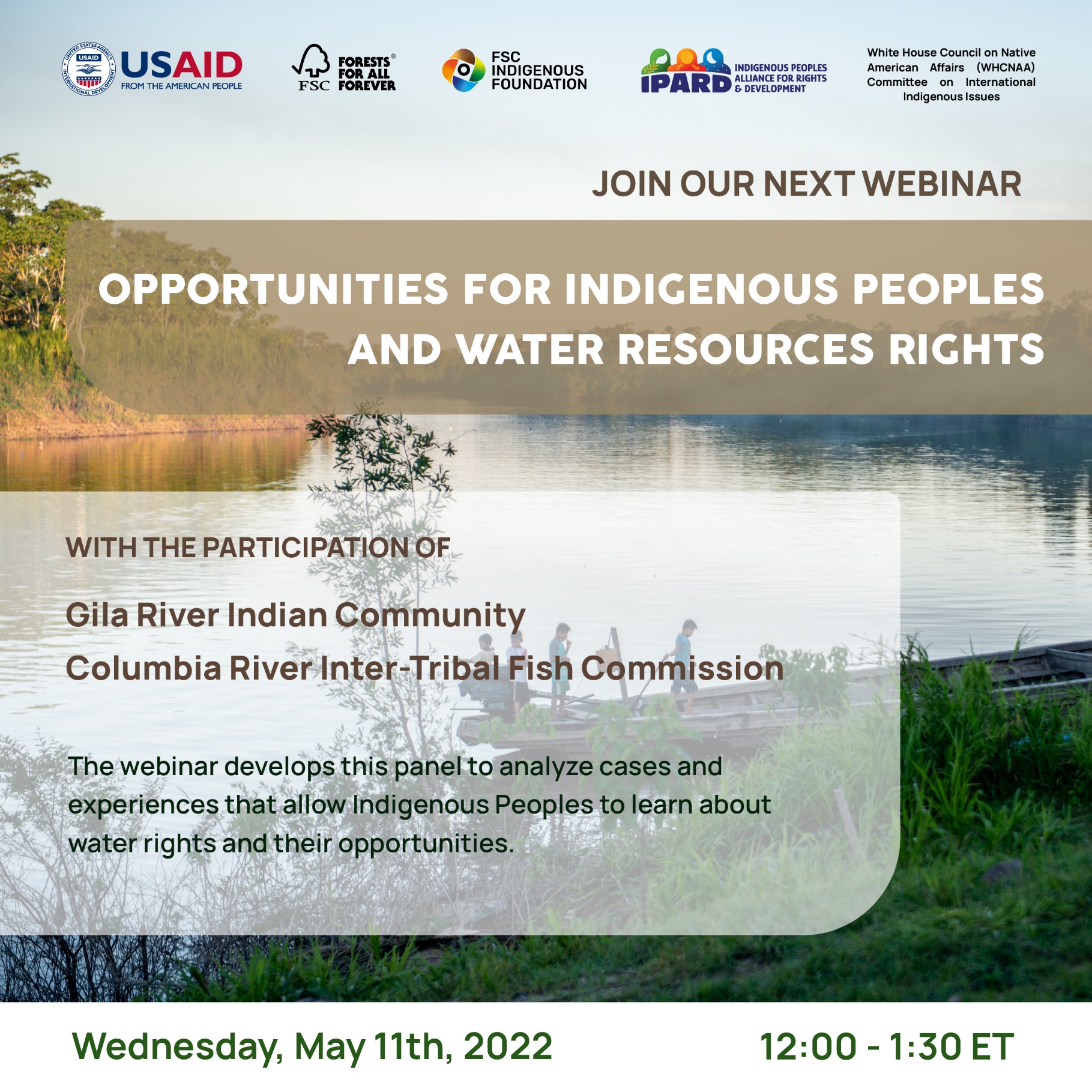 Weds., May 11, 12pm - 1:30pm EST. The WHCNAA in partnership with the Indigenous Peoples Alliance for Rights and Development (IPARD) and the FSC Indigenous Foundation will host a webinar on Opportunities for Indigenous Peoples and Water Resources. This webinar will focus on the complex issues of water law and policy to discuss the struggles, lessons learned, and progress of Tribes to develop and benefit from their water resources and the challenges and opportunities that Indigenous groups face in other parts of the world. It will examine two cases in the US, the Gila River Indian Community and the Columbia River Inter-Tribal Fish Commission, to explore examples where water rights are being implemented and where Tribal coalitions are working together to support species restoration and river management.
Join the webinar
---
Listening Sessions on Repatriation
Monday, May 9, 1-3pm EST and Tues., May 10, 3pm-5pm EST. The WHCNAA International Repatriation Subcommittee will hold two virtual Tribal listening sessions, Monday, May 9, from 1:00 to 3:00 ET, and Tuesday, May 10, from 3:00 to 5:00 ET, to help shape a pilot program on the topic of international repatriation of Native American cultural heritage and ancestors. This pilot program will consist of a series of dialogue sessions on international repatriation between museum leaders from western Europe and Indian Country. We envision these initial dialogue sessions to be a starting point for future dialogues and engagement.
Invite
---
OMB Tribal Consultation on the President's FY23 Budget
Monday, May 23, 2pm-4pm EST. The purpose of this Tribal consultation is for Tribal leaders and their designees to provide feedback to OMB on the President's FY 2023 Budget. It is expected that listening to Tribal leaders' comments will be a significant part of this consultation. Please note that, while your feedback on the FY 2023 Budget will help guide the formulation of the President's FY 2024 Budget, OMB intends to hold a separate Tribal consultation later this year specifically to inform the FY 2024 Budget formulation process.
Register | Invite
---
Native Women Rising: Inspiring the Future
Please join the White House Council on Native American Affairs as we kick off the first session of our 2022 White House Native Women Symposium, Native Women Rising: Inspiring the Future, shining a spotlight on issues of importance to Native women. There will be four sessions held throughout 2022, focusing on issues like the MMIP crisis, economic development, and health. We hope to engage in a dialogue about the ongoing focus the Biden-Harris Administration has placed on Indian Country, with direct and lasting impacts on Native women.
Session 1: Implementation of the Violence Against Women Act
Location:
Virtual
Date:
Wednesday (04/27)
Start Time:
3:00 - 4:30 MP Eastern Time
Registration
|
Invite
---
Sacred Sites MOU Listening Session, March 9, 2022, 1:30pm - 4:30pm EST
The eight signatory Federal Agencies of the Memorandum of Understanding Regarding Interagency Coordination and Collaboration for the Protection of Indigenous Sacred Sites (MOU) invite you to participate in a Listening Session on Wednesday, March 9, 2022, 1:30PM-4:30PM ET. The purpose of this session is to solicit priorities, guidance, and recommendations from Tribal leaders and Native Hawaiian Organizations (NHOs) on the implementation of the MOU. The MOU signatories also encourage traditional cultural practitioners, Tribal elders, and those with Traditional Ecological Knowledge (TEK) expertise to provide comments and share their perspectives about the MOU and its implementation.
Sacred Sites | Sacred Sites Presentation
---
WHCNAA Tribal Leader Engagement Session, January 31, 2022, 1pm - 3:30pm EST
The WHCNAA will host its first engagement session with Tribal leaders on January 31, 2022, as announced by WHCNAA co-chair Secretary Haaland at the 2021 White House Tribal Nations Summit. Following this inaugural session, WHCNAA-Tribal leader engagement sessions will occur three times a year, in addition to the Tribal Nations Summit. The goal of the Tribal leader engagement sessions is for Tribal leaders to have meaningful input on the policies and deliverables of the WHCNAA.
Bipartisan Infrastructure Law (BIL)
Department of Justice
---
2021 White House Tribal Nations Summit
President Biden and the Administration look forward to hosting a robust and meaningful dialogue with Tribal leaders on key issues, policy initiatives, and goals for Indian Country. This year we have changed the name from a conference to a summit to reflect the federal government's Nation-to-Nation relationship with Tribal Nations. The Biden-Harris Administration is deeply committed to honoring our trust and treaty responsibilities to federally recognized Tribes and the Summit provides an opportunity for Tribal leaders to engage directly with officials from the highest levels of the Administration. If you have any questions, please contact TNS@who.eop.gov.
Registration | Questionnaire | Agenda | Fact Sheet | Progress Report
Who We Serve
The White House Council on Native American Affairs (WHCNAA) was established to improve the coordination of federal programs and the use of available federal resources for the benefit of tribal communities.  
The Council will ensure that tribal consultation—grounded in the special nation-to-nation relationship between the U.S. government and tribes—continues to guide federal decision-making in addressing the needs of Native peoples.
Key Dates
New Initiatives
Tribal Treaty Rights
Tribal Homelands
Sacred Sites
Native Language
Executive Order
WHCNAA Committees
The WHCNAA Chair convenes the principals at least three times a year per Executive Order 13647 (June 2013). Recognizing Tribes have equity in all of President Biden's four priorities – tackling COVID-19, addressing climate change, advancing racial equity, and supporting strong economic recovery – the Council formed the following six Committee topics to carry out the Council's initiatives:
The Committees intend to produce deliverables and tools, make policy recommendations, and find ways to leverage resources and expertise among agencies to improve services to Indian Country. The Committees meet regularly and provide reports at each of the WHCNAA Principals meetings.
About the White House Council on Native American Affairs
President Obama established the WHCNAA in 2013 via Executive Order 13647 to improve the coordination of federal programs and use of available federal resources for the benefit of Tribes and Tribal communities. 
Co-chaired by the Secretary of the Interior Deb Haaland and White House Domestic Policy Advisor Ambassador Susan Rice, WHCNAA membership consists of heads of federal Departments, Agencies, and Offices. An Executive Director and inter-agency staff carry forward WHCNAA priorities grounded in the trust responsibility and treaty rights and informed by consistent and substantive engagement with Tribal Nations. The collaboration between the WHCNAA and Tribal leaders sets the foundation for effective federal investments in Tribal communities and for effective policies that impact Tribes.  
The WHCNAA also supports and organizes the annual White House Tribal Leaders Summit to provide an opportunity for the leaders from all federally recognized Tribes to interact directly with the President and representatives from the highest levels of the Administration.