Overview
Our Mission is to execute our fiduciary trust responsibility by protecting lives, property, and resources while restoring and maintaining healthy ecosystems through cost-effective and creative fire-management programs, collaboration, and promoting Indian self-determination.
To fulfill BIA's mission, we acknowledge Indian Country lands are not public property. The land is the source of a tribe's spiritual, cultural, emotional and economical sustenance which they and their future generations depend upon for their survival.
In 2013, 89 tribes/agency units across Indian Country managed wildland fire programs. Some of these units were agencies that provide services to multiple tribes. The Indian Country's Wildland Fire Management Program is implemented through either direct, self-determined or self-governance services. BIA provides direct program management services to just under two-thirds of these units. The remaining units exercise Indian self-determination and receive funding through self-determination or self-governance services. Regardless of how the program is managed, tribal members work and are involved with the direct protection and management of their natural and cultural resources.
2021 BIA Wildland Fire Facts at a Glance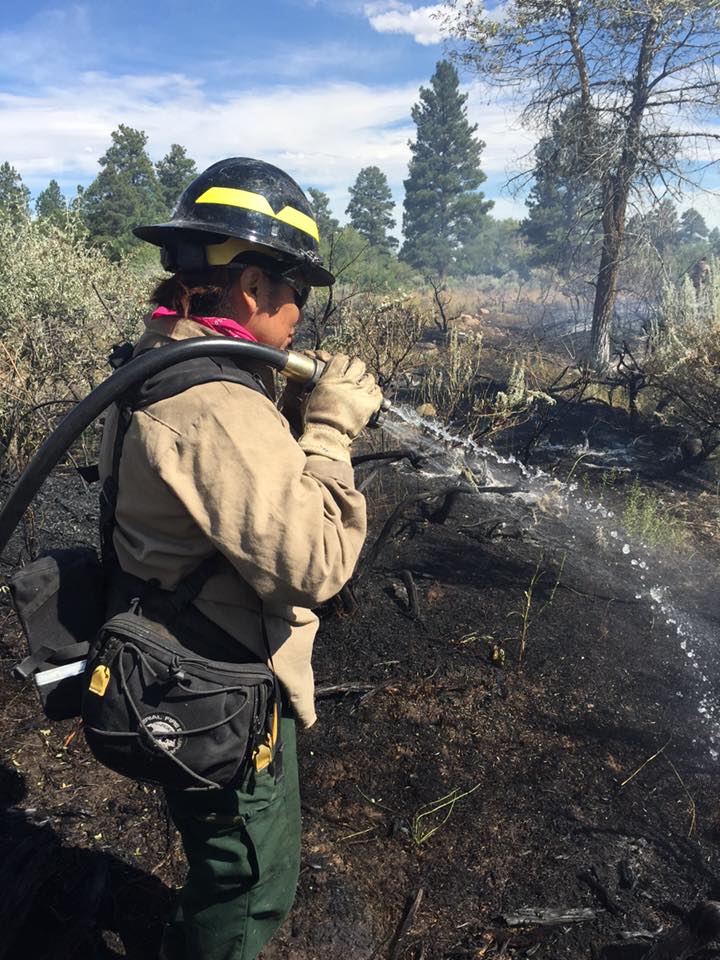 # of Wildfires: 4,646/ 10-Year Average: 3,947

Acres Burned: 396,433 / 10-Year Average: 424,612

1,385 Firefighters and 1,473 Administratively Determined (or hired as needed) Firefighters

7 Interagency Hotshot Crews

9 helicopters, 6 single-engine air tankers, 2 water-scoopers and 3 Air Attack Platforms

3 Fire Fleet Centers (Eagle Butte, Jicarilla, and Missoula) that provided service to 220 Model 52 Engines (Type 6=190, Type 4=30). The Centers provide service to other Engines that are not part of the National Fleet and in service for BIA

41 fire prevention programs that served 208 tribes
Wildland Fire Management Response Resources
The fire operations section is responsible for administering and coordinating BIA's preparedness and suppression programs. These include the Model 52 Engine, Interagency Hotshot Crew, and the Initial Attack Type 2 Training Crew programs.  Additionally, they manage the fire facility construction and deferred maintenance programs. Program staff provides representation on national interagency working groups and develop polices relating to wildland fire operations in Indian Country and other federal and state cooperators. Learn more about Indian Country's wildland fire response resources and job opportunities below.
Managing Fuels
Indian Country relies upon an aggressive fuels management program to restore and maintain the ecological health of tribal lands. Tribes prepare for unplanned wildfires by improving landscape resiliency to fire and planning for its suppression, before it occurs. These activities include using prescribed fire, mechanical, biological, and chemical tools to create strategic fire breaks and managing vegetation in a manner that reduces threats and restores and maintains healthy landscapes. These efforts also include preventing wildfires from even starting.
While many wildfires cause little damage to the land and pose few threats to fish, wildlife and people downstream, some fires create situations that require special efforts to prevent further problems after the fire. Loss of vegetation exposes soil to erosion; runoff may increase and cause flooding, sediments may move downstream and damage houses or fill reservoirs, and put endangered species and community water supplies at risk. The Bureau of Indian Affairs Burned Area Emergency Response program addresses these situations with the goal of protecting life, property, water quality, and deteriorated ecosystems from further damage after the fire is out.
Workforce Development & Training
In 2016, the BIA began working on several strategies to develop and build capacity within with fire management program. Developing our workforce includes providing wildland fire training courses and education opportunities. The Training specialists analyze the needs for training in Indian Country then develops, coordinates and implements wildland fire training programs to meet those needs.
Wildland Fire Safety
Public and firefighter safety is our highest priority in the wildland fire community. Providing the best training, tools and skills to keep the field in top-notch condition is what safety and health specialists strive to achieve.
Fire Information and Social Media
Mailing Address
National Interagency Fire Center
3833 S. Development Ave.
Boise, ID 83705
United States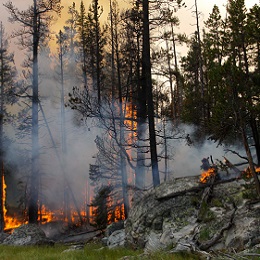 Related Links