Compressed Earth Blocks (CEBs) are an eco-friendly construction material similar to adobe. They are made from a mix of sand, minimally expansive clay, and a small amount of cement. CEBs are more resistant to moisture and therefore more stable than adobe.​
​CEBs are a low-cost, mold-resistant and insect-resistant building alternative that can be made using Tribal resources. Homes built from CEBs regulate temperature and humidity passively, which keeps the indoor environment cool in the summer and warm in the winter. CEBs can be manufactured from local sources on many reservations.​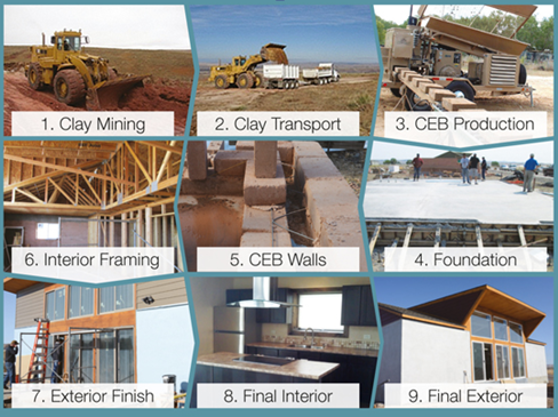 CEB production from start to finish: 1) Clay mining, 2) Clay transport, 3) CEB Production, 4) Foundation, 5) CEB walls, 6) Interior framing, 7) Exterior finish, 8) Final interior, 9) Final exterior.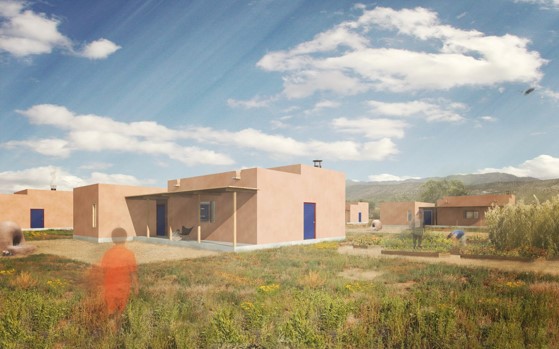 Finished CEB home.
Services for Compressed Earth Blocks
The Division of Energy and Mineral Development provides project assistance to Tribes and individuals to develop compressed earth block on their trust land. Learn more about how we can help below.
Compressed Earth Blocks Resources
Contact Us
Branch of Solid Minerals
Office of Trust Services, Division of Energy and Mineral Development 13922 Denver West Parkway, Ste. 200
Lakewood, CO 80401-3142
9:00 a.m. – 5:00 p.m. MDT, Monday-Friday