In 2020, DCI offered 18 loan guarantees totaling over $125 million. Lenders working with DCI issued 21 insured loans totaling over $1.2 million. Many lenders are local; many borrowers are first-time borrowers.  
Through ILGP, our Division of Capital Investment (DCI) helps American Indian and Alaska Native (AI/AN) tribes and individuals overcome barriers to conventional financing and secure reasonable interest rates, while also reducing the risk to lenders by providing financial backing from the federal government.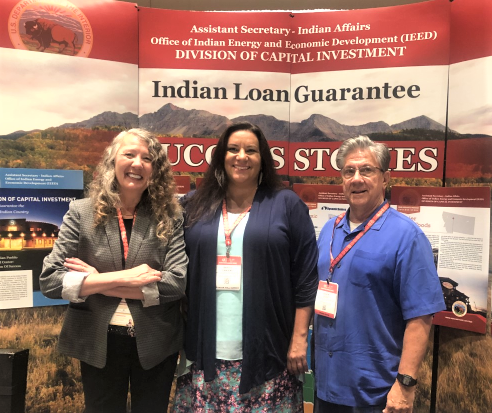 (DCI Staff and ILGP Lender at RES 2021). 
Eligibility Information
For Lenders 
Most lending institutions, including Community Development Financial Institutions, may obtain a guarantee or insurance, provided they regularly make and evaluate business loans. Credit unions are generally not eligible to become ILGP approved lenders. Non-bank lenders (such as insurance companies, leasing agencies, and private wealth funds) that otherwise meet ILGP's standards are eligible to access guarantees, but not insurance since they are not financial institutions. 
For Borrowers 
To qualify for a loan through the program, you must be: an individual who is an enrolled member of a federally recognized American Indian and Alaska Native (AI/AN) tribe or group; a federally recognized AI/AN group; or a corporation, limited liability company or other business entity with no less than 51% ownership by federally recognized AI/AN individuals.
Borrowers must have at least 20% equity in the project being financed and the project must benefit the economy of a reservation or tribal service area. Loans may be used for a variety of purposes including operating capital, equipment purchases, acquisition and refinancing, building construction, and lines of credit.
Success Stories
PureWild Drink Company in Ojai, California, and Durant, Oklahoma

2021 Loan Guarantee 

Borrower: PureWild Co. LLC 

Amount Financed:  Originally $250,000, later increased to $350,000 and a line of credit  

Location: Ojai, CA and Durant, OK 

Ubetcha Wateca Family Restaurant in Eagle Butte, North Dakota

2015 Loan Insurance

Borrower: Shari Ducheneaux

Amount Financed: $40,780

Location: Eagle Butte, SD

Tribal area: Cheyenne River Sioux Reservation

KN Printing, LLC/Minuteman Press International Franchise in Rohnert Park, California

2014 Loan Guarantee 

Amount Financed: $197,000

Location: Rohnert Park, CA

 

Dynamic Homes in Detroit Lakes, Minnesota

Type of Service: Loan Guarantee 

Date of Commitment: 2000 

Lender: Bremer Bank 

Borrower: Winnebago Tribe of Nebraska 

Financing Amount: $4,146,000 

Dynamic Homes has been building successful communities across Indian Country for nearly 50 years. In 2000, Ho-Chunk, Inc., the economic development corporation of the Winnebago Tribe of Nebraska, purchased Dynamic Homes with the support from the Indian Loan Guarantee and Insurance Program.  

Alaska Park, LLC in Anchorage, Alaska

Type of Service: Loan Guarantee 

Lender: Northrim Bank 

Borrower: Tanadgusix Corp (TDX) 

Financing Amount: $11,000,000 

Alaska Park is the only airport valet parking facility in Alaska. It has offered parking services since December 2013. Alaska Park is owned by the Tanadgusix Corporation (TDX), an Alaska Native Village corporation from St. Paul Island, Alaska. TDX built the facility on land that once was an eyesore to the community. 
Additional Information
Additional Resources
Contact Us
U.S. Department of the Interior
MIB-4138, 1849 C Street NW, mail stop 4132
Washington, DC 20240
9:00 a.m. – 5:00 p.m. EST, Monday–Friday