The Coyote Valley Band of Pomo Indians' convenience store has done well since its opening. It sells wide variety of products and features fuel pumps and a drive through.
The store has become a business model for other tribes that are trying to accomplish the similar goals.
Details
Type of Service: Loan Guarantee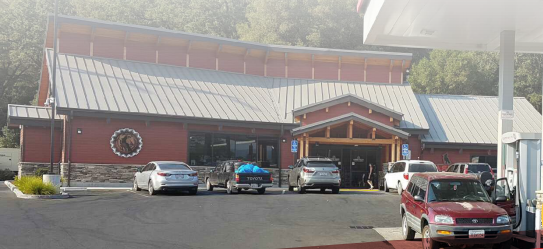 Lender: Pinnacle Bank
Project: Convenience Store
Financing Amount: $6,000,000
Location: Redwood, CA
Description
The Coyote Valley Band of Pomo Indians have overcome many setbacks in their long history; termination in 1957 being one of the biggest setbacks. Now the band is capitalizing on years of planning and development to improve their local economy. The several businesses that have come to fruition are a sign of their strong resiliency. The most recent of those successful economic endeavors is the Coyote Valley Convenience store.
The convenience store is in a prime location near highway 101 located in the Redwood Valley of Northern California. The band is capitalizing on tax incentives and revenue from the store.
"Our community has been excited to see the businesses develop on our reservation," Tribal Chairman Michael Hunter said. "Our people and the surrounding communities were very excited to see the beautiful facility that has been built here. We offer competitive prices and products and continually receive positive compliments on the store."
The convenience store continues to do well each month since its opening and employs up to 20 full-time employees. Now the tribe is considering an RV park and possibly a new hotel.
"The highlight of establishing this business has been the positive morale it has brought to the community," Tribal Chairman Hunter said. "I have noticed that the tribal council is constantly evaluating how to improve what we have."
"The [Division of Capital Investment] staff was very helpful during the entire process. We couldn't have been able to make this happen without the loan guarantee program."
Additional Information
Related Pages
Contact Us
Division of Capital Investment
MIB-4138, 1849 C Street NW, mail stop 4132
Washington, DC 20240
9:00 a.m. – 5:00 p.m. EST, Monday–Friday