Wood Pellet Business Model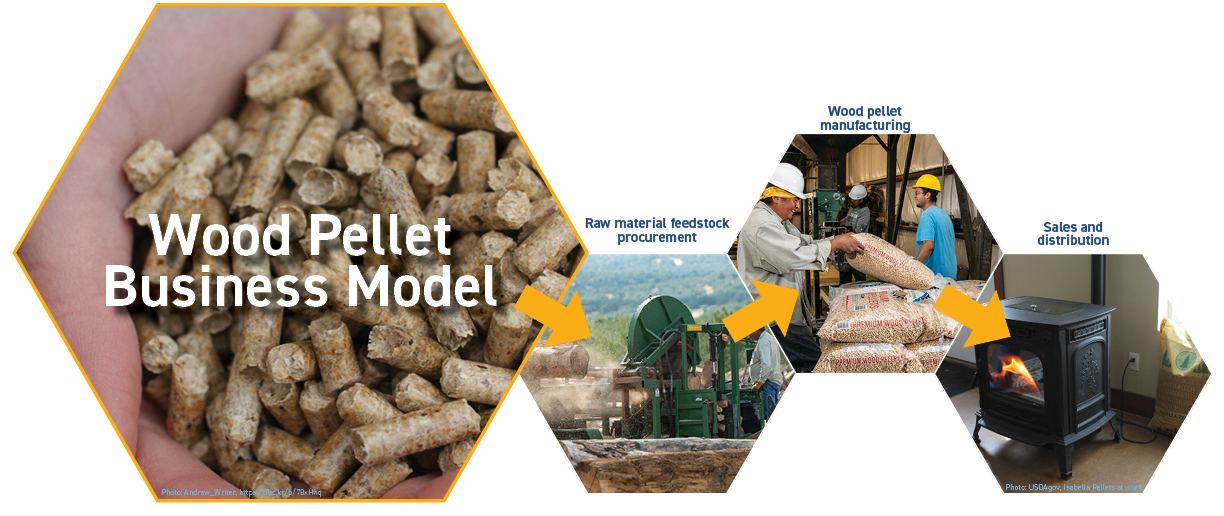 An opportunity exists to improve residential and commercial heating as well as economic diversification by creating a tribal business that uses wood waste to create low-cost, high quality pellets for sale and distribution.
Small-scale wood pellet manufacturing business options will rely on three primary factors:

stable supply of low cost raw material,
existing wood pellet markets that can be penetrated,
and/or the potential to create new markets locally.
Does Your Tribe Have Potential?
Several foundational factors will need to exist to rationally move forward with a detailed assessment to determine the viability of a sustainable small-scale pellet manufacturing and distribution business.
Existing markets for pellet sales
Strong potential (demand) for creating a market, which would likely require older stoves that can be replaced, new homes that can be installed with residential pellet appliances, or buildings that can use large pellet boilers (government buildings, businesses, or schools)
Investment capital such as loans and/or local/state/federal grants
Long term availability of raw material feedstock
The Tribal Business Advantage
Tribes would be able to use specific strategies to increase competitiveness in the local pellet market:
Tribes can use their tax exempt status to produce pellets at a lower cost than other local pellet mills
Extra profit margin would allow the Tribe to subsidize stove swap outs, invest in their forestry teams, and provide members cheaper heating fuel than propane or other cost variable fuels
Tribes have distinct relationships with local, state and federal government entities that can support strategies aligned with the deployment of pellet heating systems such as stove swap out programs and incentives for Tribal members
The tribal wood pellet manufacturing business may allow for additional opportunities in diverse product streams that include premium heating pellets, barbecue pellets, and animal bedding with existing markets on and off the reservation
Process Overview
DEMD and Tribal Nation Engagement
Preliminary Opportunities Assessment
EMDP Grant Application
Detailed Analysis: Resources, Markets and Economics
Business Plan, Structure, and Financing
Construction and Start-Up
Is This a Viable Business Option for your Tribe?
Work with us and move forward with a focused, investment-grade feasibility study.
For more information, call, email, or submit a Technical Assistance Request to our team about funding opportunities and how to begin a preliminary feedstock and feasibility assessment.
Division of Energy and Mineral Development
Renewable and Distributed Generation
Jennifer Reimann, Branch Chief
Civil Engineer - Renewable Energy
jennifer.reimann@bia.gov
(720) 407-0669