News and Updates
Pre-Application Training & Technical Assistance:
Now available for any interested applicants! To learn more, visit our Technical Assistance page.
Grant Application Reviewers Needed:
The Office of Indian Economic Development (OIED) seeks grant application contract reviewers and Panel Chairs for our upcoming FY 2023 grant season!  All federally recognized tribal members with grant application review experience are strongly encouraged to apply. OIED is also especially interested in contracting with specific Broadband, Living Languages, Tribal Tourism and Business Implementation/Incubator subject matter experts. Please complete the survey located here.
2022 Grant Writing Webinar:
Our first Fundamentals of Grant Writing, Keys to Funding Success Webinar was recently held, Co-Sponsored by OIED & AIANTA, with a presentation by Gail Chehak.
If you missed it, check out the materials provided to the participants:
Part 1:  Planning & Mechanics
     Resources provided during Part 1
     Slide Deck for Part 1
     Recording of Part 1
Part 2:  How to Read a NOFO & RFP
     Resources provided during Part 2
     Slide Deck for Part 2
     Recording of Part 2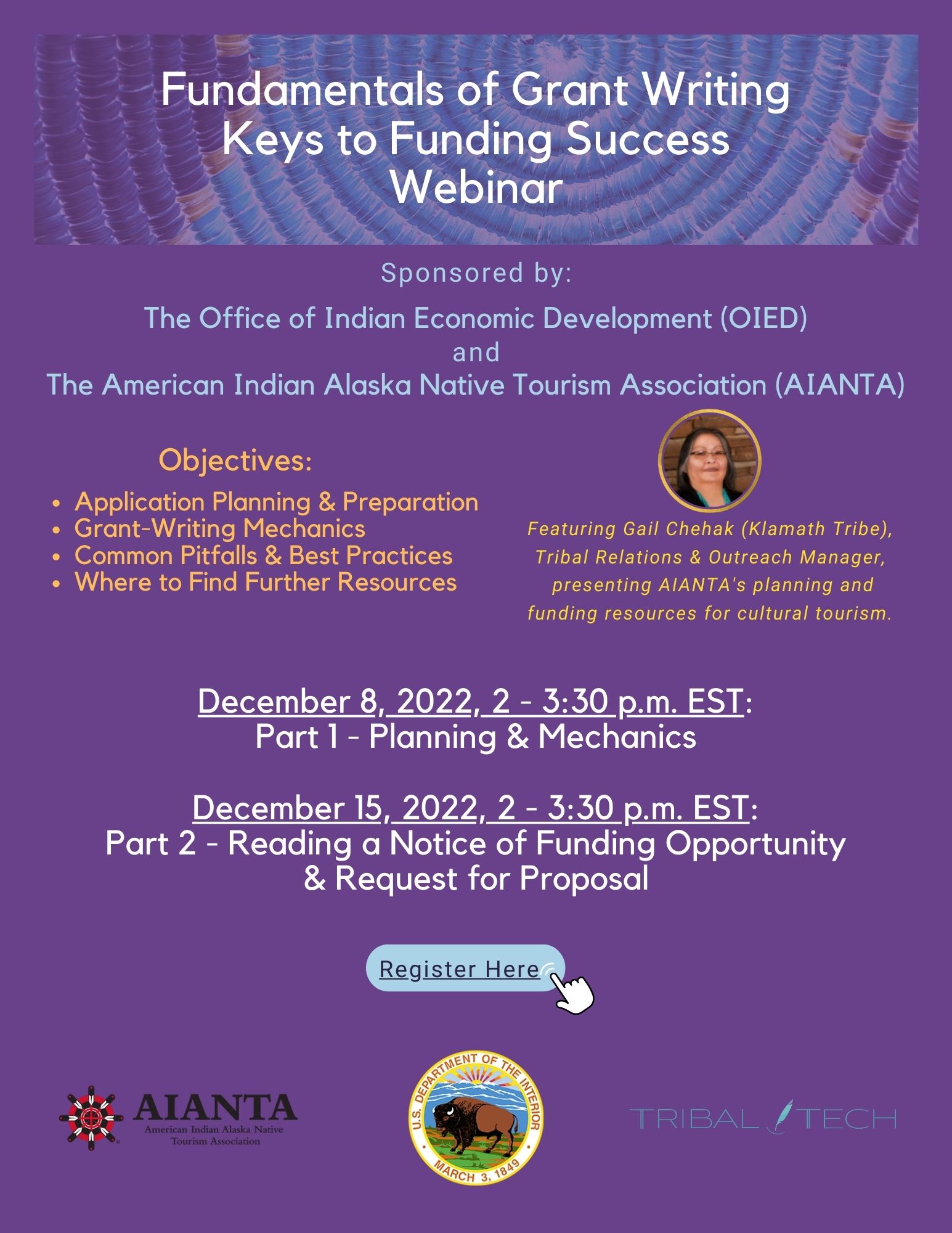 Who We Serve
We provide technical assistance, training, and funding to assist tribes and tribal members with starting and sustaining their businesses, and bringing their innovative ideas to the marketplace.
Through our efforts, we support tribes in accessing knowledge and resources to address the limited economic opportunities that exist in many American Indian and Alaska Native communities.
Services We Provide
About the Division of Economic Development
DED administers competitive grants to support Native entrepreneurs, broadband deployment, business development feasibility studies, tourism development feasibility studies, and the documentation and revitalization of tribal language that are at risk of disappearing.