News and Updates
SAVE THE DATE! - Webinar on Native Languages  
OIED's Division of Economic Development (DED) invites you to our next webinar on Native Languages, the second of a three-part Native Language Panel Series at 3pm EST on Wednesday, January 10th, 2024, titled "Teaching our Heritage:  Methods for Native Language Revitalization."  This series is hosted by the Office of Indian Economic Development (OIED) in partnership with the U.S. Department of the Interior's Bureau of Indian Education (BIE).
Zoom Meeting Registration Link (Native Languages Webinar)
---
2022-2023 DED Impacts Handout
For an overview of the Division of Economic Development's impacts from fiscal year 2023, view this handout.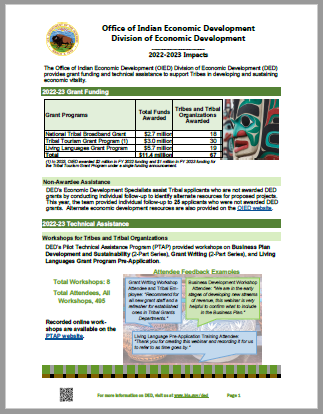 ---
OIED Funding Success Story
For an example of our funding success in support of business creation, visit our Success Story featuring Strongbow Strategies and their Wool Mill.
Who We Serve
We provide technical assistance, training, and funding to assist tribes and tribal members with starting and sustaining their businesses, and bringing their innovative ideas to the marketplace.
Through our efforts, we support tribes in accessing knowledge and resources to address the limited economic opportunities that exist in many American Indian and Alaska Native communities.
Services We Provide
About the Division of Economic Development
DED administers competitive grants to support Native entrepreneurs, broadband deployment, business development feasibility studies, tourism development feasibility studies, and the documentation and revitalization of tribal language that are at risk of disappearing.