Technical Assistance is available through Tribal Tech for all OIED grants, please complete an in-take form here to register.
Notice of Funding Opportunity:  Living Language Grant Program (LLGP)
The FY2023 LLGP solicitation NOFO is now open on grants.gov, with a closing date for applications to be submitted to grants.gov on Friday, August 18th, 2023.  Here is a link to the summary solicitation notice on the Federal Register.  Please check this page for additional supporting documents as they can be provided.
Save the Date for our upcoming LLGP Pre-Application Training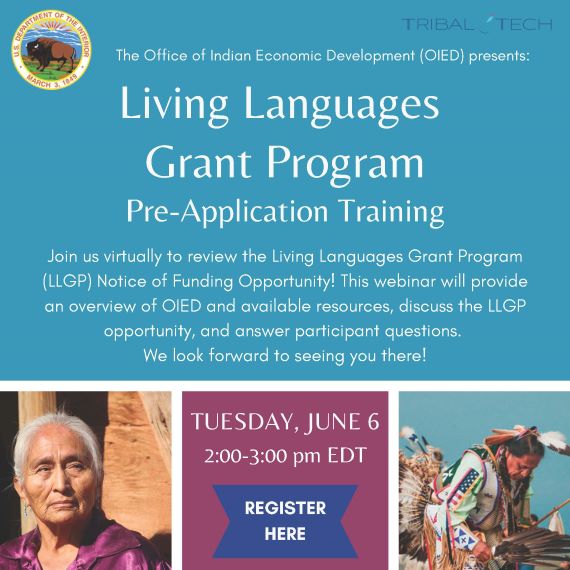 Eligibility Information
Eligible applicants are Indian Tribes and Tribal Organizations, as defined in Section 4 of the Indian Self-Determination and Education Assistance Act (ISDEAA) (25 U.S.C. 5304), including Tribal Consortia.  While only federally recognized Tribes or Tribal Organizations may apply for LLGP grants, grantees may select or retain for-profit or non-profit Tribal Organizations to perform a grant's scope of work for grant funding to support Tribal programs to document Native languages or build Tribal capacity to create or expand language preservation programs.  Schools funded by the Bureau of Indian Education (BIE) and BIE programs targeting students enrolled in those institutions are ineligible for LLGP financial support.
Indian Affairs Awarding $2.7 Million in Tribal Broadband…

Press Release

Grants to help shrink the digital divide in Indian Country

Haskell Indian Nations University announces new preside…

Press Release

Dr. Francis Arpan, a citizen of the Yankton Sioux Tribe, will serve as the new president of Haskell Indian Nations…

Indian Affairs accepting applications for Living Languag…

Press Release

Program updates include larger grant amounts and multi-year projects
News
Indian Affairs Makes Significant Investment to Protect a…

Press Release

Assistant Secretary for Indian Affairs Bryan Newland announced today that the Indian Affairs Office of Indian…

Indian Affairs OIED Seeking Applications for Living Lang…

Press Release

Funding sustains Indigenous knowledge by preserving Tribal languages. 
Additional Information
Related Services
Additional Resources
Contact Us
Division of Economic Development
1849 C Street, N.W., Room 4152
Washington, DC 20240
9:00 a.m.–4:00 p.m. EST, Monday–Friday