Fractionation results from the repudiated Federal Indian policy of Allotment. Under the General Allotment Act of 1887, Tribal lands were divided up and "allotted" to individual Tribal members. When the original Indian allotment owners passed away, their heirs inherited equal undivided ownership interests in the allotment. As the land passed through each successive generation, the number of owners of undivided interests in the land grew exponentially, as illustrated below.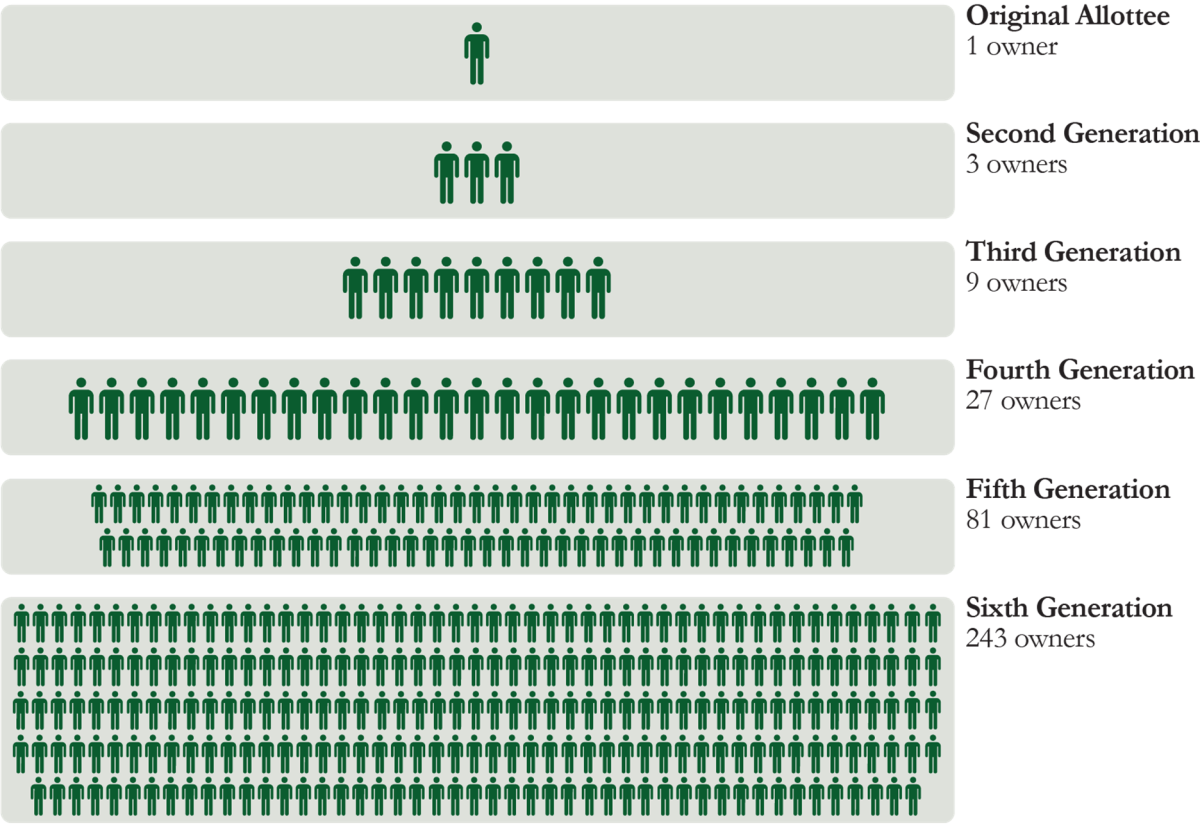 A fractional land interest is an undivided ownership "share" in a tract of land, not a physically identifiable portion of the property. For example, if you own a 1/16 fractional interest in an 80-acre tract of land, you do not own a specific 5-acre area within the tract. Instead, you share ownership in the entire tract with the other fifteen co-owners.
Although the Federal policy of Allotment ended with the passage of the Indian Reorganization Act of 1934, the fractionation process continued, resulting in the highly fractionated ownership of much Indian land today. Many allotments now have dozens or hundreds of individual co-owners.
Fractionation creates significant land management and administration challenges, and it undermines Tribal sovereignty and self-determination. Fractionation makes it difficult to use land for beneficial purposes, such as for agriculture, business, homes, or other uses that would improve the quality of life for Indian people. Because decisions on land use generally require majority consent of co-owners, and it can be impossible to obtain the level of consent necessary to lease or grant a right of way across highly fractionated land, much Indian land lies idle. Even when required consent is obtained, economic benefit is often limited because income earned on fractionated land is divided among so many co-owners, with some owners' shares of income amounting to just pennies.
Fractionation impacts approximately 150 reservations across Indian Country, with the majority occurring in the Bureau of Indian Affairs Great Plains and Rocky Mountain Regions. There are more than 100,000 fractionated tracts of trust or restricted Indian land. These tracts currently contain nearly 2.4 million fractional interests, comprising the equivalent of over 5.6 million acres.
The Division of Trust Land Consolidation seeks to reverse the adverse effects of the repudiated Allotment policy by reducing fractionation through voluntary sales that restore purchased land interests to Tribal trust ownership, in a manner that enhances Tribal sovereignty and self-determination.
Contact Us
Bureau of Indian Affairs, Division of Trust Land Consolidation
2021 4th Avenue North
Billings, MT 59101
8:30 a.m.–4:30 p.m. MST, Monday–Friday