District VIII interacts with a number of Tribal Law Enforcement Programs in the states of Oregon, Washington, Idaho, Western Montana, and Alaska. District VIII covers a very diverse area from the foot of the Rocky Mountains to Coastal Villages, all the way to Annette Island in Alaska.  The Tribal Police Departments in District VIII are as diverse as the area we cover.  Departments in the District range from a two (2) man Tribal Police Department in rural Idaho and a six man Tribal Police Department you can only get to by airplane or boat, to twenty five plus (25+) man/woman Tribal Police Departments in urban (city) environments in Washington.  The different jurisdictions range from areas of PL-280 to Fully Retroceded Tribal Lands.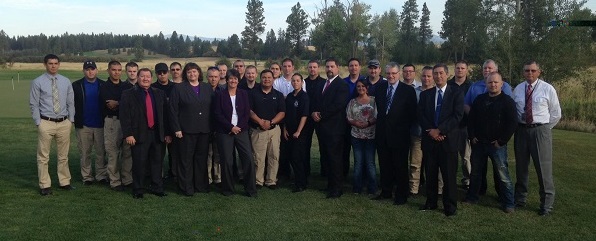 Forty One (41) Tribal law Enforcement Programs include: Burns Paiute (OR),Chehalis (WA),Coeur d'Alene (ID),Columbia River Intertribal (OR/WA),Conf. Tribes of Colville (WA),Conf. Tribes of Coquille (OR),Conf. Tribes of Coos, Confederated Tribes of the Umatilla (OR), Lower Umpqua & Siuslaw (OR),Conf. Kootenai Salish Tribes (MT),Grand Ronde (OR),Hoh (WA),Jamestown S'Klallam (WA),Kalispel (WA),Kootenai Tribe of Idaho (ID) Lower Elwha (WA),Lummi (WA),Metlakatla (AK),Makah (WA),Nez Perce (ID),Nisqually (WA),Nooksack (WA),Port Gamble S'Klallam (WA),Puyallup (WA),Quileute (WA),Quinault (WA),Sauk-Suiattle (WA),Shoalwater Bay (WA),Shoshone Bannock (ID),Siletz (OR),Skokomish (WA),Snoquamie (WA),Spokane (WA),Squaxin Island (WA),Stillaguamish (WA),Suquamish (WA),Swinomish (WA),Tulalip (WA), Upper Skagit (WA),Warm Springs (OR),Yakima (WA)
The District VIII Office Staff:
Jerin Falcon, Special Agent in charge District VIII. SAC Falcon lead the 7th District in providing supervision and direction for the Office of Justice Services law enforcement departments, criminal investigation, and telecommunication operations.  SAC Falcon's previous experience serving in Indian Country includes working as a Umatilla Tribal Police Officer in Oregon; a United States Probation Officer Assistant on the Ft. Berthold Reservation in the District of  North Dakota,  and a Detention Officer for the Yellowstone County Sheriff's Office in Montana.   SAC Falcon is a graduate of Minot State University in North Dakota and holds a Bachelor's of Science Degree in Criminal Justice.  SAC Falcon is also a graduate of the U.S. Indian Police Academy, the Federal Law Enforcement Training Center's Criminal Investigator's Program.  SAC Falcon has worked as a law enforcement officer with the BIA-OJS and other agencies in 9 different States on approximately 20 different reservations.  SAC Falcon also served for six years in the United States Army National Guard in North Dakota as a 12 Bravo, Combat Engineer. SAC Falcon is an enrolled member of the Turtle Mountain Band of Chippewa in North Dakota.
Assistant Special Agent in Charge (ASAC):  Charles Turner