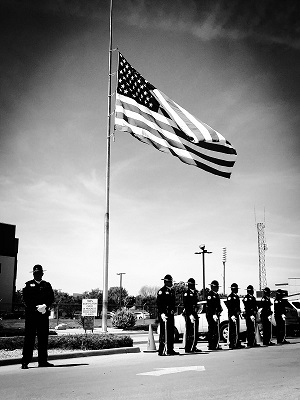 Indian Country Law Enforcement Memorial
The United States Indian Police Academy, Artesia, NM, is the home of the Indian Country Law Enforcement Officers Memorial which honors those officers who have made the supreme sacrifice in Indian Country. Each year on the first Thursday of May, a sacred ceremony is held at the IPA FLETC Artesia Site in remembrance of those enshrined on the memorial.
Memorial Sites:
The Memorial Design: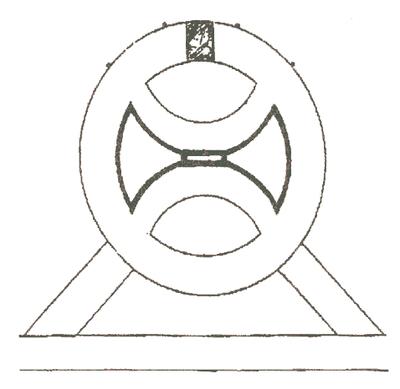 The Memorial Site was designed with the Native American traditions in mind. The Memorial is encompassed by the Circle of Life. The circle is broken in one location to allow for entrance and departure. There is sage planted in all four directions next to the Memorial to sanctify the site. The four planter areas are filled with white, yellow, black, and red rocks. This indicates that we are all brothers and sisters in the world. The formation area is done in earth-tone brown indicating Mother Earth. The foliage is configured in a manner relating to the Native American beliefs and traditions. Upon completion of the ceremonies conducted each year, the site remains sacred ground for all Indian Nations.
Paying Tribute:
Every training day, Academy Cadets bear the distinct honor of paying tribute to those officers on the memorial, in recognition of their supreme sacrifice. Cadets march in formation to the memorial for a moment of silence, render a salute, and individually file past the memorial. Cadets are instilled with the honor of service and affirmation of the significance of the profession.
Law Enforcement Officers Who Have Died in the Line of Duty Serving Indian Country

| Name | End of Watch | Agency |
| --- | --- | --- |
| | 01-10-1852 | Chickasaw Nation |
| | 09-20-1876 | Choctaw Nation |
| | 12-07-1878 | Chickasaw Nation |
| | 12-25-1878 | Cherokee Nation |
| | 07-20-1881 | Chickasaw Nation |
| | 07-30-1882 | Creek Nation |
| | 07-30-1882 | Creek Nation |
| | 11-03-1883 | Chickasaw Nation |
| | 03-29-1885 | Chickasaw Nation |
| | 03-31-1885 | Seminole Nation |
| | 12-17-1886 | Cherokee Nation |
| Sam Six Killer | 12-24-1886 | Union Agency Muskogee |
| Williams Will Fields | 12-24-1887 | Creek Nation |
| | 01-28-1888 | Cherokee Nation |
| | 01-28-1888 | Cherokee Nation |
| | 12-15-1890 | Standing Rock |
| | 12-15-1890 | Standing Rock |
| | 12-15-1890 | Standing Rock |
| | 12-15-1890 | Standing Rock |
| | 12-15-1890 | Standing Rock |
| | 12-15-1890 | Standing Rock |
| | 05-16-1891 | Choctaw Nation |
| | 06-17-1894 | Cherokee Nation |
| | 07-29-1894 | Cherokee Nation |
| | 09-10-1894 | Cherokee Nation |
| | 10-22-1895 | Union Agency Muskogee |
| | 08-10-1896 | Cherokee Nation |
| | 12-05-1900 | Choctaw Nation |
| | 07-17-1901 | Choctaw Nation |
| | 12-24-1904 | Choctaw Nation |
| | 08-01-1906 | Chickasaw Nation |
| | 09-19-1912 | Union Agency Muskogee |
| | 02-06-1925 | Osage Nation |
| | 04-12-1960 | San Carlos |
| | 07-14-1960 | Fort Berthold |
| | 10-03-1965 | Wind River Agency |
| Adolph Frederick Bush | 02-05-1967 | Uintah and Ouray |
| | 08-27-1973 | Colville Tribal Police Department |
| | 04-01-1975 | Ute Mountain |
| | 05-10-1979 | Navajo Nation |
| | 04-14-1983 | Ak-Chin |
| John K. Healy | 03-14-1986 | Ute Mountain |
| | 08-27-1986 | Colville Tribal Police Department |
| | 12-05-1987 | Navajo Nation |
| | 12-05-1987 | Navajo Nation |
| | 11-17-1975 | Navajo Nation |
| | 07-23-1988 | Crow Agency |
| | 09-17-1988 | Hopi Agency |
| | 09-20-1988 | Northern Cheyenne |
| | 11-22-1990 | Ute Mountain |
| Carl N. Wilson | 01-03-1991 | Seminole of Florida |
| Donald Dante Thornbury | 10-26-1991 | Miccosukee |
| | 03-30-1993 | Oneida Nation |
| | 05-08-1961 | Jicarilla |
| Milburn Williamson | 12-05-1976 | Choctaw Agency |
| | 12-05-1981 | Hannahville Tribal Police Department |
| | 09-14-1988 | Columbia River Fisheries |
| Kevin Tilman Lewis | 01-17-1993 | Pima Agency |
| | 04-15-1962 | Blackfeet Agency |
| | 04-10-1994 | San Ildefonso Pueblo |
| | 06-26-1975 | FBI, Pine Ridge |
| | 06-26-1975 | FBI, Pine Ridge |
| Louis Abeita | 01-12-1921 | Isleta Pueblo |
| | 02-21-1986 | U.S. Customs, Tohono O'Odham |
| | 08-28-1995 | BIA, Branch of Drug Enforcement |
| | 11-20-1995 | Ak-Chin Police Department |
| | 01-06-1996 | Navajo Nation |
| | 09-02-1996 | Navajo County Sheriff's Office |
| | 02-17-1997 | Navajo Nation |
| | 07-03-1992 | Arizona Department of Public Safety |
| | 07-26-1976 | Rosebud Tribal Police Department |
| | 04-09-1998 | Tohono O'Odham Nation Police Department |
| | 09-05-1998 | BIA, Western Nevada Agency |
| | 12-20-1998 | Otoe-Missouria Tribal Police Department |
| Esther Todacheene | 06-08-1998 | Navajo Nation Department of Public Safety |
| | 04-02-1999 | Navajo Nation Department of Public Safety |
| | 12-09-1999 | Whiteriver Tribal Police Department |
| Kelmar One Feather | 07-01-2000 | Oglala Lakota Nation |
| | 03-25-2001 | BIA, Eastern Nevada Agency |
| | 11-06-2001 | Cherokee Nation Marshal Service |
| | 11-16-1894 | Pine Ridge Reservation |
| | 08-01-2001 | New Mexico State Police |
| Glenn Hollow Horn | 04-05-1980 | Oglala Lakota Nation |
| | 05-27-2002 | Chippewa Cree Law Enforcement |
| | 02-28-1910 | Quinault Tribal Police Department |
| | 02-28-1910 | Quinault Tribal Police Department |
| | 03-14-2006 | U.S. Border Patrol |
| | 07-04-2007 | Fallon Paiute Shoshone Tribal Police Department |
| | 03-10-1910 | Pine Ridge Reservation |
| | 06-22-1925 | BIA, Department of the Interior |
| | 06-07-2010 | Uintah and Ouray Tribal Police Department |
| | 08-29-2010 | Hoonah Village Police Department |
| | 08-28-2010 | Hoonah Village Police Department |
| | 12-19-2004 | U.S. Border Patrol |
| | 09-02-2010 | U.S. Border Patrol |
| | 10-09-2010 | Cheyenne River Sioux Tribal Police Department |
| | 12-04-1935 | Bureau of Alcohol, Firearms, Tobacco |
| | 02-13-2011 | San Carlos Apache Tribe |
| | 06-26-2011 | Navajo Nation Police Department |
| | 01-26-2013 | Chitimacha Tribal Police Department |
| | 08-09-2010 | Mahnomen County Sheriff's Office |
| | 03-19-2013 | Village Public Safety Officer |
| | 12-06-2013 | Sandoval County Sheriff's Office |
| | 10-22-1986 | Village Public Safety Officer |
| Colin Clark, Jr. | 03-21-2004 | BIA-Office of Justice Services |
| | 05-01-2014 | Alaska State Troopers |
| | 05-01-2014 | Alaska State Troopers |
| | 05-24-2014 | Salt River Police Department |
| | 04-11-1952 | New Mexico State Police |
| | 03-19-2015 | Navajo Nation Police Department |
| | 10-06-2015 | Cherokee Indian Police Department |
| | 10-21-1949 | Navajo Nation Police Department |
| | 03-07-2008 | Chickasaw Nation Lighthorse Police Department |
| | 08-30-2016 | Navajo Nation Police Department |
| | 03-12-2017 | Navajo Nation Police Department |
| | 04-11-1980 | Yakama Nation Department of Public Safety |
| | 01-24-2017 | Sac & Fox Nation Police Department |
| | 03-26-2017 | Omaha Nation Law Enforcement Services |
| | 01-08-2019 | Salt River Police Department |