Division of Natural Resources:
(605) 226-7621
The Division of Natural Resources is responsible for providing direct services and technical assistance to 16 Native American Tribes and the associated BIA staff in Nebraska, North Dakota and South Dakota.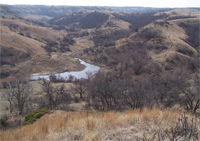 Fort Berthold
The Division provides services related to planning, coordinating, and evaluating programs in the field of natural resource management and provides assistance to protect and enhance the value of the Indian agronomic, environmental, and natural resources. Emphasis is placed on maximizing income while maintaining and/or improving the Indian resources on trust lands and managing the Indian natural resources through technical assistance to BIA agency offices, tribes, individual Indian landowners, and operators of trust properties.
Division personnel provide technical assistance on a broad spectrum of natural resource issues including: dam safety, range management, wildland fire management, geographical information system (GIS) mapping and tribal trust land information, water resources, and fish, wildlife and recreation issues.
This Division also provides to field agencies and tribes, technical assistance, and oversight of Public Law 93-638 contracts. This assistance and oversight is in support of the BIA goal for promoting Indian self-determination.
Natural Resource Management
There are 6 million acres of trust land with more than 1200 permitted range units and 8000 farm/pasture leases in the Great Plains Region. The Division of Natural Resources provides technical assistance to BIA Agencies and Great Plains Tribes in the development of:
Integrated Resource Management Plans (IRMP)
Integrated Resource Management Plans covering all land and natural resource uses within the Reservation have been promoted by BIA
Agricultural Resource Management Plans (ARMP)
ARMP covering all agricultural resource uses within the Reservation is required to be developed in accordance with an IRMP for agricultural land pursuant to the American Indian Agricultural Resource Management Act of 1993.
Conservation plans for each permit/lease
A Conservation Plan to protect the trust land used for agricultural purposes must be developed in accordance with the ARMP for each permits/leases in the Region.
Agriculture and Rangeland Management
Rangeland Management

Range management and operation
Range leasing and permitting
Appeal

Noxious weed control
Black Cow

Biocontrol projects throughout region
Initiation of a bio-control distribution center in Great Plains Region
Noxious weed control coordination and study

Forestry

Forestry Management Plans
Noxious Weed Control
Timber sales analysis and preparation
Wildland Fire Management

Conduct about 45 Prescribed burns annually for 10,000 acres

Prescribed burn plans with compliances for ecosystem restoration according to National Fire Plan (2001)

Wildland fire response and All Risk response

There are 12 active fire management offices within region
Responding to 1800-2000 fires annually and to all risk responses such as Columbia Shuttle recovery and Hurricanes

Fire Prevention –

goal is to reduce incidence of fire to approximately 200 annually through prevention education, fire investigation and prosecution, and Tip line use.

Fire training provided through Region and Nation.
Fire GIS Specialist provides technical assistance for GIS development and use.
Fire Archeologist provides cultural and traditional use protection for fire projects.
Fire Dispatcher is supported at the Great Plains Dispatch Center as part of Inter Agency Coordination.



Water Resource Management

Water Resource Projects

Water rights quantification
Water quality
Irrigation projects

Development and maintenance of irrigation projects

Safety of Dams
Monitoring and Analysis of approximately 20 high hazard dams as well as other government constructed dams
Emergency Action Plans for high hazard dams and implementation practices
Maintenance and Repair of Dams
Fish, Wildlife, and Recreation

Conservation Law Enforcement
Fish and Wildlife restoration and enhancement
Wildlife disease investigation
Buffalo management
Endangered Species

Section 7 consultation
Restoration projects