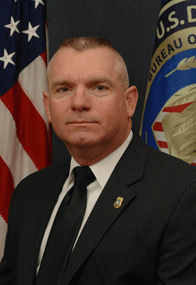 Jason Thompson
Jason Thompson, an enrolled member of the Cherokee Nation of Oklahoma, became the Assistant Director of the Office of Justice Services in May of 2011.
Thompson brings a wide range of experience to the Assistant Director position, beginning as a patrolman / Canine Handler in 1993 with the Mayes County Sheriff's Department in Pryor, Oklahoma until he was hired by the BIA and assigned to the Wind River Agency in 1998 as a uniformed police officer.
In 2000, he was promoted to the rank of Supervisory Police Officer and assigned to the United States Indian Police Academy (IPA), located at the Federal Law Enforcement Training Center (FLETC) in Artesia, N.M. There he provided law enforcement training to newly hired police, detention and telecommunications officers working in Indian Country.
In 2002, Thompson was promoted to Chief of Police assigned to the Truxton Canon Agency in Peach Springs, Arizona. As the Chief of Police, Thompson supervised Uniformed Police, Uniformed Corrections, Uniformed Telecommunications, Investigations and Administration.
Thompson's next promotion was as the Supervisory Special Agent (Assistant Special Agent in Charge) at the District-III office in Phoenix, Arizona. Thompson managed Uniform Operations as well as Criminal Investigations as well as conducted program and Contract reviews for both Bureau of Indian Affairs and Tribal law enforcement programs.
In 2010, Thompson was asked to serve on a team assigned to the Director of the Bureau of Indian Affairs at the Main Interior in Washington, DC, and subsequently was detailed to act as the Director of the Office of Justice Services.
In 2011, Thompson was selected as the Assistant Director of the Office of Justice Services to serve under Director Darren Cruzan.
In 2012 the acting Assistant Secretary, and finally Kevin Washburn the new Assistant Secretary, Indian Affairs detailed Thompson to serve him as the Chief of Staff, Thompson managed Indian affairs functions including BIA, and BIE as well as managed day to day operations in the ASIA administration for approximately eleven months before returning to OJS in April of 2013.
Thompson is a graduate of the Federal Bureau of Investigation National Academy (FBINA), Class 230 (2007). He is a graduate of the United States Indian Police Academy Class 80 (1998), and a Graduate of the Counsel on Law Enforcement Education and Training (CLEET) in 1995.
Jason and his wife and youngest son live in the Washington, DC area.