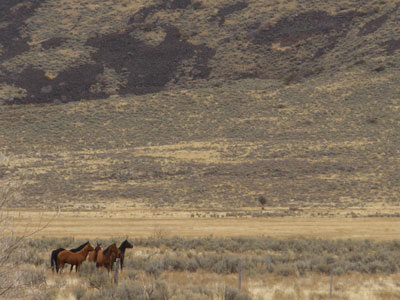 A Typical Eastern Nevada Scene - Picture, Joe McDade, 2011
Agency News
Eastern Nevada Agency Fire Management Plan a Pilot Project for new Fire Plan Format   
January 5, 2012 - The BIA Eastern Nevada Agency has been selected as the pilot project location for a new style of Fire Management Plan.  Taking a cue from the U.S. Fish and Wildlife Southwest Region, BIA Western Region and National Interagency Fire Center staff are working from a plan format created by Australian Fire and Emergency Services Response and modified to fit the United States standard wild land fire plan template.  
The goal of the simplified plan is reducing required nation-wide standard elements to web page citations, summarizing the Western Region description to two pages and a map.  A high percentage of local information is captured on large format maps suitable for review and use by units responding to local fires and other incidents.  The remaining information is captured on a few pages of summarized text.  Plans can be reduced from multi-hundred page documents to fold out pages with most critical local information mapped and described by text.  These plans are easier to modify than the existing template that tends to change frequently, requiring rewriting.  There is lots of interest from throughout Indian Country in this new format.   
BIA Western Region funds the Bureau of Land Management Elko Fiedl Office for Wildland Fire response for the Eastern Nevada Agency.  This plan will provide modified national template standards from BIA for wildland fire response in Eastern Nevada.  Once the plan Environmental Assessment is completed and maps finalized, the document will be available for review.    
Superintendent
Administration
Indian Self-Determination
Social Services
Tribal Operations
Realty/Probate
Criminal Investigator
Facility Management – Owyhee, NV
Roads – Owyhee, NV
Probate
Office of Law Enforcement
Contact Us
Mailing/Physical Address: Eastern Nevada Agency 2719-4 Argent Ave. Elko, NV 89801 Elko, NV 89801
Telephone: (775) 738-5165
Tribes Served
Duckwater Tribal Council P. O. Box 140068, Duckwater, NV 89314 (775) 863-0227
Ely Shoshone Tribal Council 16 Shoshone Circle, Ely, NV 89301 (775) 289-3013
Goshute Business Council P. O. Box 6104, Ibapah, UT 84034 (435) 234-1138
Shoshone Paiute Business Council P.O. Box 219, Owyhee, NV 89832 (208) 759-3100
Tribal Council of the Te-Moak Western Shoshone Indians of Nevada 525 Sunset Street, Elko, NV 89801 (775) 738-9251
Battle Mountain Band Council 37 Mtn. View Dr., Battle Mtn., NV 89820 (775) 635-2004
Elko Band Council 1745 Silver Eagle Drive, Elko, NV 89801 (775) 757-8889
South Fork Band Council HC 30, Box-B-13-Lee, Spring Creek, NV 89815 (775) 744-4273
Wells Indian Colony Band Council P.O. Box 809, Wells, NV 89835 (775) 752-3045