8:00 A.M. – 5:00 P.M. CST
 

Lyndon Desjarlais, Superintendent


Turtle Mountain Agency

Mailing Address:
Bureau of Indian Affairs
P.O. Box 60
Belcourt, North Dakota 58316

Physical Address
Bureau of Indian Affairs
BIA Road #7
Belcourt, North Dakota 58316

Telephone: (701) 477-3191
Telefax:       (701) 477-6628

Tribe Served:
Turtle Mountain Band of Chippewa
Jamie Azure, Chairman
P.O. Box 900
4180 HWY 281
Belcourt, North Dakota 58316

Telephone: (701) 477-2600
Telefax:      (701) 477-8768

Trust Land Base: 79,176 acres

Estimated Tribal Enrollment: 30,100 members


Tornado July 7, 2008
The Turtle Mountain Agency is located in the community of Belcourt, North Dakota, which is geographically located in the far north central part of the State, approximately 10 miles southeast of the International Peace Garden. The land base of the reservation is entirely within Rolette County, measuring 12 miles long by 6 miles wide. When the Federal Government issued allotments to tribal members, the land approved by Congress was insufficient to meet the allotments needs of the Tribe. As a result, Congress authorized members of the Band to take allotments on the Public Domain in Montana, South Dakota and North Dakota. Today, the land holdings of the Turtle Mountain Band of Chippewa and individual tribal members stand at approximately 79,176 acres with an equal amount located in Montana and South Dakota. The agency is staffed with approximately 50 employees, the vast majority being tribal members.
MISSION STATEMENT
It is the BIA's responsibility to provide services to the Turtle Mountain Tribe and its members. The BIA's objective is to develop solutions to complex problems, by integrating new and innovative ideas and concepts with existing BIA policy and procedures. The Superintendent is assisted by a Deputy Superintendent for Trust Services and a Deputy Superintendent for Indian Services in administering trust and non-trust functions for the Turtle Mountain Agency. The BIA provides services to approximately 30,100 enrolled Tribal members.
TRUST SERVICES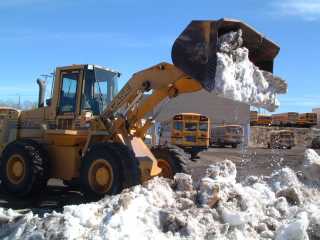 Moving Snow Turtle Mtn Agency
Trust Services is responsible for the administration of the Agency's trust programs. We provide support and technical assistance to the Turtle Mountain Tribe and its members in the administration of Trust functions. It is our responsibility to generate income, protect and improve trust assets of the Turtle Mountain Tribe. This is accomplished through the delivery of quality services while maintaining government to government relationships within the spirit of self determination.
The Turtle Mountain Agency provides the following Trust Service programs to the Turtle Mountain Tribe and its members: Real Estate Services, Wildland Fire Protection, Land Operations, Probate & Estate Services.
INDIAN SERVICES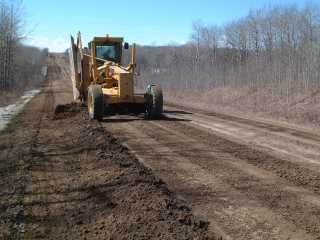 Turtle Mountain Road
Indian Service is responsible for the administration of Indian service programs. Indian Services is responsible for the proper execution of Acquisition and Property management, personnel, budget, financial management and self determination. Acts as a liaison with Public Health, various state, county and other federal agencies and with the Tribal organizations, committees, tribal officials and the general public.
Indian Services provides the following services to the Turtle Mountain Tribe and its members: Facilities Management, Human Services, Job Placement & Training, Human Resources, Probation and Parole, Transportation & Tribal Operations.