Rick Clifford, Acting Superintendent


Fort Berthold Agency

Mailing Address:
Bureau of Indian Affairs
P.O. Box 370
New Town, North Dakota 58763

Physical Address:
Bureau of Indian Affairs
202 Main St.
New Town, North Dakota 58763

Telephone: (701) 627-4707
Telefax:       (701) 627-2696


Bridge over the Missouri River

Tribe(s) Served:
Three Affiliated Tribes
Mark Fox, Chairman
404 Frontage Rd.
New Town, North Dakota 58763

 

Telephone: (701) 627-4781
Telefax:       (701) 627-3503

Trust Land Base: 422,830 acres

Estimated Tribal Enrollment: 16,056 members


Fort Berthold Reservation
The Agency is located in New Town, North Dakota in central North Dakota on the Missouri River system. The Agency serves the Three Affiliated Tribes, the Arikara, Hidatsa and Mandan Tribes. Enrollment is 10,249 and approximately 4,053 members reside on the reservation. The Trust acreage managed by the Bureau of Indian Affairs is 343,000 allotted and 80,000 Tribal acres. The total reservation is 980,000 acres.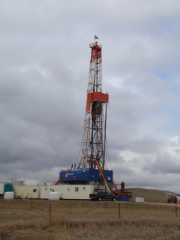 Oil and Gas Economic Opportunities 
July 22 Letter to Landowners - As owners of Indian trust lands on the Fort Berthold Indian Reservation (FBIR) you are in a   position to benefit on economic opportunities as oil and gas production develops
Notable accomplishments: Approved over 1,700 Oil and Gas leases and distributed over $80,000,000.00 in bonus payments. The Bakken formation is considered to be one of the largest oil producing formations in the lower 48 states. Strengths: We have developed staff expertise in Oil and Gas related activities. Challenges: We are now into the drilling phase of the Bakken Play and expect approximately 1000 wells to be drilled over the next 10 years. The environmental effects on the reservation will be substantial. The Agency staff when at full strength is 25 FTEs. This is counting 6 new positions added because of the mineral activity.
Image: Fort Berthold Oil Rig