Overview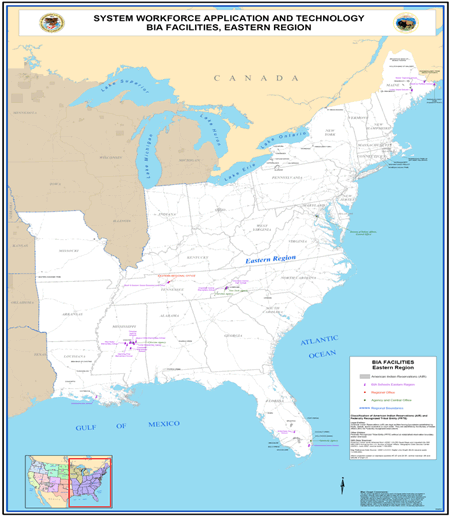 The Eastern Regional Office is under the direction of the Regional Director, who is responsible to the Deputy Director, of Field Operations, in Washington, D.C. The Regional Director represents the Eastern Region in dealing with other governmental entities and tribal entities. The Regional Director serves as the representative for the Director, with the responsibility to work toward strengthening intergovernmental assistance to all the Federally-recognized tribes under the jurisdiction of the Eastern Regional Office. The Eastern Region has a Deputy Regional Director, who works directly under the Regional Director.
The Deputy Regional Director serves as the designated official for maintaining and discharging the trust responsibility of the Secretary of the Interior through public laws and restricted requirements concerning tribally owned lands. He works closely with the Regional Trust Administrator to administer trust asset management activities within the Region. He is responsible for budgeting, program planning, and developing mutual relationships with Natural Resources, Forestry and Real Estate Services groups.
The Eastern Regional Office is located in Nashville, Tennessee. Under the Regional office are Agencies located in Cherokee, North Carolina, Hollywood, Florida, and Philadelphia, Mississippi. The New York Field Office formerly located in Syracuse, New York, is temporarily located in Cherokee, North Carolina.
The Eastern Region encompasses a dynamic and diverse mix of Tribes and natural resources. There are over 62,000 Tribal Members that make up the 34 Tribes under the Eastern Region's jurisdiction. The service area includes 460,980 acres held in trust, and 102,677 acres of restricted lands. The Eastern Region's jurisdictional area consists of the states from Maine to Florida over to Louisiana and up to Illinois. Despite covering twenty-seven states, there are only twelve states inhabited by federally recognized tribes in the Eastern Region.
The following tribes are served by the Regional Office
Tribes
Location

Aroostook Band of Micmacs
Catawba Indian Tribe
Cayuga Nation
Chickahominy Indian Tribe
Chickahominy Indians - Eastern Division
Chitimacha Tribe of Louisiana
Coushatta Indian Tribe of Louisiana
Eastern Band of Cherokee
Houlton Band of Maliseet Indians
Jena Band of Choctaw Indians
Mashantucket Pequot Tribe
Mashpee Wampanoag Tribe
Miccosukee Tribe
Mississippi Band of Choctaw Indians
Mohegan Indian Tribe
Monacan Indian Nation
Nansemond Indian Tribe
Narragansett Indian Tribe
Oneida Indian Nation
Onondaga Indian Nation
Pamunkey Indian Tribe
Passamaquoddy Tribe – Indian Township
Passamaquoddy Tribe – Pleasant Point
Penobscot Nation
Poarch Band of Creek Indians
Rappahannock Tribe, Inc.
Saint Regis Mohawk Tribe
Seminole Tribe of Florida
Seneca Nation of Indians
Shinnecock Indian Nation
Upper Mattaponi Tribe
Tonawanda Band of Seneca Indians
Tunica/Biloxi Indians of Louisiana
Tuscarora Nation
Wampanoag Tribe of Gay Head (Aquinnah)

Maine
South Carolina
New York
Virginia
Virginia
Louisiana
Louisiana
North Carolina
Maine
Louisiana
Connecticut
Massachusetts
Florida
Mississippi
Connecticut
Virginia
Virginia
Rhode Island
New York
New York
Virginia
Maine
Maine
Maine
Alabama
Virginia
New York
Florida
New York
New York
Virginia
New York
Louisiana
New York
Massachusetts