Public Hearing Information 
You are invited to attend the virtual public meetings hosted by the BIA to provide comments on the Draft Programmatic Environmental Impact Statement (PEIS) for the Navajo Nation Integrated Weed Management Plan. The public meetings will present the findings of the resource analysis and consider comments for the development of the Final PEIS. To protect the public and limit the spread of COVID-19, virtual public meetings will be held which will include a short presentation by project team members who can discuss and answer questions.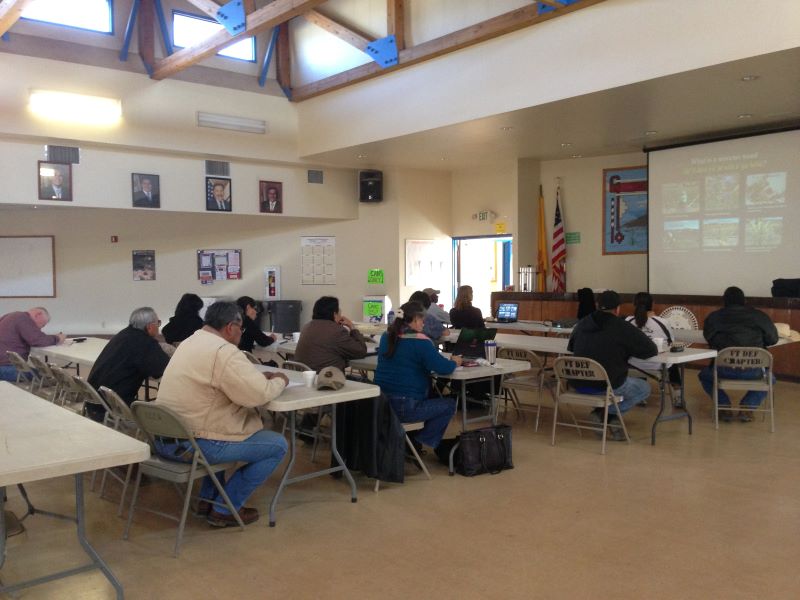 Members of the public at a Public Scoping meeting in Fort Defiance, AZ. 
If you are interested in attending one of the scheduled meetings, please use the link below to register. A phone number will be provided for all meetings in case attendees are unable to view the live stream. A copy of the Power Point presentation is also available below so those on the phone can follow along.  
The BIA will also record the presentation and a copy of the English and Navajo versions of the presentation will be made available during the public comment period using the links below. You may also request a paper copy of the meeting materials by submitting a request on the "Submit Your Comments" page. 
Meeting Schedule
You are invited to participate in any of the virtual public meetings being held for this project.  Meetings will take place at the following dates and times on Zoom.  
Monday, November 15 at 10 am MST (Zoom Information Below)

Tuesday, November 16 at 10 am MST (Zoom Information Below)
Wednesday, November 17 at 6 pm MST (Zoom Information Below)

Thursday, November 18 at 6 pm MST (Zoom Information Below)

Saturday, November 20 at 10 am MST (Zoom Information Below)
Zoom Information
Document Links