The Navajo Partitioned Lands (NPL) provides quality services to the Navajo Indian people within the NPL region of the Navajo Nation. The NPL area encompasses three precincts with a total number of 914,554 acres. In October of 1973, the U.S. District Court of Arizona issued an Order of Compliance that cancelled all grazing permits on the former Navajo Hopi Joint Use Area (Redhouse 2002). Since then, with the collaboration of the Navajo Nation permits have been issued based on a specific criterion provided by congress and the Navajo Nation. Trust services programs are under the general supervision of the Regional Program Divisions, whom report to the Deputy Regional Director, Trust Services. The Agency Office is located in Pinon, Arizona. The contact information for the NPL are as follows:
Natural Resources:
Telephone: (928) 725-3343/3368
Telefax: (928) 725 3546
Mailing Address: P.O. Box 67 Pinon, AZ 86510
Physical Address: 1/4 mile South N4 and Main
Map of the Navajo Partitioned Lands (NPL)
Three Precincts shown along with the number of range units.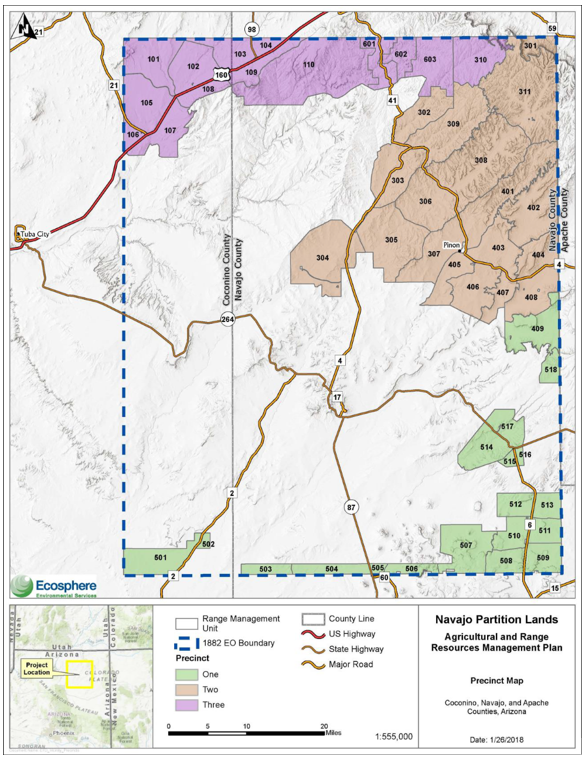 NPL's permit and capacity data for each precinct.
Agency
No. of Grazing Permits
No. of Permittees
No. of sheep Units permitted (in SUYL)
Navajo Partitioned Lands
Precinct 1
10
10
100
Precinct 2
0
0
0
Precinct 3
0
0
0
NPL Total
10
10
100