Open announcements are posted on our home page, not here. Application periods are typically in the winter or early spring.
If you are unable to apply online, require reasonable accommodation in the application process if you are an applicant with a disability, or need to fax a document you do not have in electronic form, view the following link for information regarding an Alternate Application.
USAJobs
All Pathways student trainee openings are posted to USAJobs.gov. You can check this website for openings, or search USAJobs for announcements open to students, or search for "student trainee." There are multiple Pathways programs throughout government; the ones in our program will be for Department of the Interior, Bureau of Indian Affairs.
An example posting below: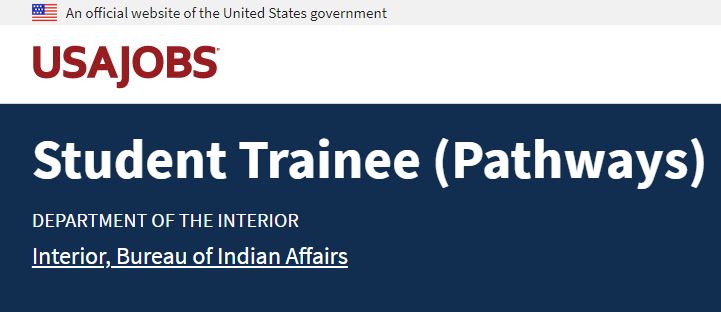 Be sure you keep track of closing dates and announcement status. An example below: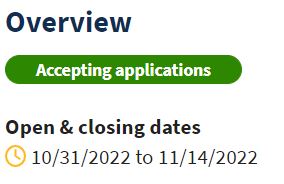 ALL DOCUMENTS MUST BE RECEIVED BY 11:59 PM Eastern Time ON THE CLOSING DATE OF THIS ANNOUNCEMENT. If your application package is incomplete in any way, you will not be considered for this position, and requests for extensions will not be granted. Please double check your application package before you submit it.
Key Requirements
Application Requirements:
U.S. Citizenship Required
Indian Preference applies
Be at least 18 years of age
Eligibility Documentation Required (DD-214, BIA Form 4432, etc.)
You may be required to successfully complete a probationary/trial period
Must be suitable for Federal employment and pass a Security investigation
Must be registered for Selective Service, if applicable (www.sss.gov)
Must complete and maintain a Pathways Program Participant Agreement
Must be enrolled full-time or accepted for enrollment full-time or part-time basis as identified by your academic institution
Seeking a degree in a career field directly related to the program area you are hired for
Pathways Participant Requirements:
Currently Enrolled or Accepted for Enrollment on a Full-time or Part-time basis as identified by your academic institution.

Cumulative GPA of 2.0 or higher

Compliance with the terms and conditions of the Pathways Internship Program Participant Agreement
Related Degree Fields
Internship work assignment opportunities are based on BIA needs. The following fields will be given priority consideration:
Real estate services
Land titles and records
Minerals and energy
Forestry management
However, selections may be made for other program areas, including for the following targeted positions.
Environmental
Archeology
Natural Resources Management and Biological Sciences
Cartographic
Rangeland or Agriculture Management
Soil Conservation
Forestry
Accounting
Civil Engineering
Petroleum Engineering
Legal Instruments Examining
Realty
Irrigation System Operation
Hydrology
Applicants must either be enrolled in an accredited college or university and seeking a bachelor's degree or higher that is directly related to the program area (see education section below) OR students who have not declared yet or is seeking a degree that is unrelated to the program area, may be hired under the Pathways Internship Program. However, their continued participation and employment is contingent upon them obtaining the educational eligibility requirements for the program they were hired under within a prescribed timeframe.
Feel free to check the programs under Trust Services in the sidebar of this page.
Required Documents
Your Resume and On-line Assessment Questionnaire will be completed during the application process on USAJobs. You will build your resume on your USAJobs profile (which can be used for other announcements), and the questionnaire will be presented during your application process. In addition, the following are required unless stated otherwise:
Transcripts (if using education to qualify) - Unofficial transcripts are acceptable; however, an official transcript may be requested at a later time.
Veteran's documentation - (if applicable) VA letter on VA letterhead stating your overall combined rating, SF-15, DD-214 (copy 4) reflecting an honorable discharge and dates of active duty military service.
Special Appointing Authority documentation (if applying under a special hiring authority)
BIA Form 4432 (if claiming Indian preference)
Performance Appraisal (if applying under the Land Management Flexibility Act)
Current & Former Federal Employees

If you are a current career or career-conditional Federal employee OR a former Federal employee who has reinstatement eligibility, you must submit the following by the closing date of this announcement, or you will not receive consideration as such: -- a copy of a recent SF-50 "Notification of Personnel Action" documenting proof of competitive status, tenure, position title, occupational series, grade level and step; -- And your most recent performance appraisal (if you do not have your most recent performance appraisal, please submit an explanation as to why it is unavailable); and -- if applicable, a list of any awards you received in the last 5 years (i.e., superior performance awards, special act or achievement awards, quality step increase, etc.).
Example below of a partial Indian preference form, BIA Form 4432: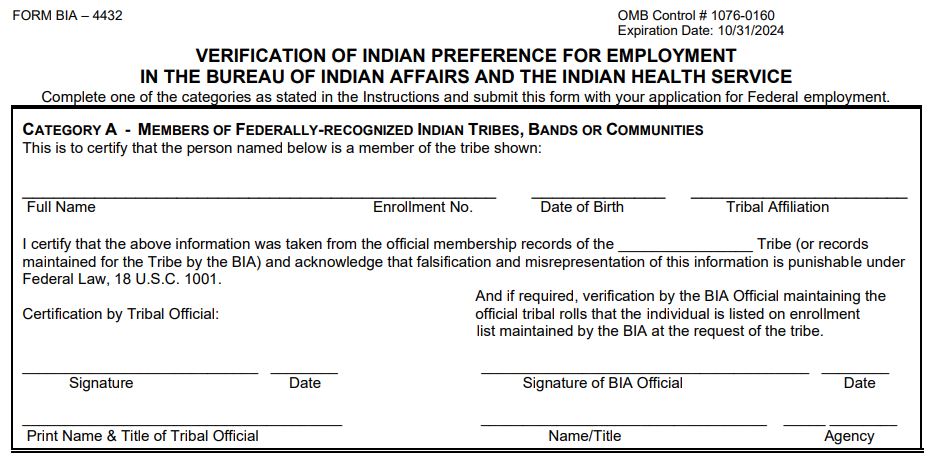 Contact Us
BIA Pathways
301 NW 6th Ste 311
Oklahoma City, OK 73102
Open 8:30 a.m.–4:30 p.m. CST, Monday–Friday.