Firefighters – Modern Day "Warriors"
Modern day firefighters are sometimes equated to Indian Country's modern day warriors. This is because tribal communities look to wildland firefighters to protect the people, land and resources they hold dear for their survival. This requires wildland firefighters to be physically, mentally and emotionally fit so they can work long hours in the dirt and soot, frequently travel away from home and family, and answer the call of service when they least expect to.
---
Frequently Asked Questions
---
Applying for a BIA Position
All BIA job vacancies are advertised online through BIA Fire & Forestry Job Openings Applicants need to apply to each job vacancy they are interested in. The details to a specific job are in each announcement. Applicants are strongly encouraged to read announcements carefully.
All BIA fire job applications require the following documents. Download and complete these forms prior to loading them to USAJobs. Tools to complete these resources are listed under Application Resources. For additional instructions on how to apply through USAJobs, take a look at BIA's USA Jobs Brochure for Wildland Firefighters.
If applying for a position in person at a hiring event, print the Hiring Checklist to ensure the appropriate forms are downloaded for your application package. 
The following forms are required when applying for a wildland fire jobs with the BIA.
 

Application Forms

Application Resources

Required in Application

Other Supporting Documents

Security Clearance Initiation Paperwork
These forms are done after a firefighter is selected:

Pre-employment

All firefighters must pass a medical exam each year. These standards are established by the Department of the Interior Medical Standards Program.

Drug Testing

Many wildland fire positions require a drug test in accordance with Executive Order 12564, and under the Department's Drug Free Workplace Program. Applicant(s) tentatively selected for qualifying positions will be required to submit a urinalysis to screen for illegal drug use and to pass the test prior to appointment.

 

Assistance with Writing BIA Resume

USAJobs Help Center

Notification of Personnel Action

Indian Preference Documentation

One must submit Form BIA-4432 Verification of Indian Preference for Employment if claiming Indian Preference. Learn more at bia.gov/jobs/Indian_Preference

Veteran's Preference

Veterans who are disabled, or who served on active duty in the armed forces during certain time periods or in military campaigns, are entitled to preference over non-Veterans for Federal positions. Learn more at bia.gov/jobs/veterans.

 

 

 

 

 
---
Pursuing a Career in Wildland Fire Management
Serving as an entry-level firefighter is just the beginning of a rewarding career in wildland fire management. In addition to hiring temporary (seasonal) employees, BIA hires full time employees to run and support a unit's fire management program. These positions include fire management officers, fire operation specialists, fire ecologists, prevention specialists and technicians, natural resource specialists, GIS specialists, dispatchers, budget analysts, business support staff, contracting specialists and human resource specialists all work to protect and preserve the precious lands held in trust for the tribes we serve.
---
Apply to our Student Internship Program for Wildland Firefighters
If you're a student in high school, college, trade school or other qualifying educational institutions, the BIA Office of Trust Services Pathways Internship Program is for you! This program offers paid opportunities to work as a wildland firefighter or foresters with us or a tribe to explore federal / tribal careers while completing your education.
---
Get ahead working on an Initial Attack Workforce Development Crew
Each year, BIA provides funding to employee three 20-person initial attack workforce development crews responsible for developing Indian Country's future fire management leaders. These crews respond to wildfires and perform fuels, emergency stabilization, burned area rehabilitation and forestry activities. Unlike Indian Country's Interagency Hotshot Crews, workforce development crews measure their success by their training accomplishments. This includes giving employees training and experience that helps them compete for year-round employment in fire management.
BIA sponsors three workforce development crews. The Confederated Salish and Kootenai Tribes (CSKT) host the Mission Valley T2IA Crew; the Yakama Nation hosts the Signal Peak Crew and the Bay Mills Indian Community hosts the Bay Mills Crew. These crews are required to carry fewer qualified people, which enables them to train firefighters and help them develop their qualifications faster. Learn more about these crews at our Workforce Development page.
---
Recruiting a Militia Workforce to Support Fire Management
Sometimes all hands are needed to help handle the nation's growing wildland fire workload. As federal employee with the BIA, regardless of your grade, regular job or your background, employees can become part of our militia workforce if they are willing to invest some time to get training and experience. Once done, firefighters can take occasional and assignments that usually last one to two weeks, with work days lasting between 12 and 16 hours. The National Wildfire Coordinating Group recognizes more than 110 incident positions filled by militia members. You can learn more about these positions by checking out the Wildland Fire Qualifications System Guide.
---
Answers to Frequently Asked Questions
What do wildland firefighters do?
Firefighters are responsible for safely managing wildfires. This means when fires threaten communities and values, firefighters put them out as quickly as possible. It also means they learn how to use fire as a tool to meet siviculture treatments, such as conducting prescribed fires.
All firefighters learn simple fire science during basic fire school. During the 40-hour training, firefighters learn about fire behavior, weather patterns, the incident command system, how to safely construct hand line, take care of tools, leadership fundamentals and how to work as a crew.
Once trained, they certify as basic firefighters (FFT2). These firefighters staff fire engines, helitack crews or hand crews. As firefighters gain experience and leadership skills, they become advanced firefighters (FFT1). These firefighters have leadership training to supervise small squads of 5-10 firefighters and have additional experience managing small wildfires. It addition to holding a FFT1 certification, they may also be certified to serve as Incident Commanders (ICT5-ICT1), sawyers (FAL3-1), and medical responders (MEDL). 
What type of fire crews are there?
Engine Crews are the backbone of Indian Country's wildfire response workforce. Three to seven firefighters work together to respond to wildfires across Indian Country. Crewmembers are taught how to safely drive and use heavy water-filled trucks in remote areas to put fires out by spraying water and constructing handline to keep wildfires from spreading. Crewmembers are familiar with how to draft and pump water using various equipment and are experts in packing backpacks to quickly lay out hoses to deliver water to remote areas.

Firefighters on engine crews start out as Engine Operators (ENOPs) and work their way up to engine bosses (ENGB), who then become engine strike team leaders (STEN). These leaders may oversee two to five engines at a time during wildfire operations. Visit BIA's Engine Program to learn more.
Hand Crews are made up of 20 firefighters who work as a single unit or in smaller squads. Often hiking far distances to reach remote areas carrying up to 50 pounds of gear, these firefighters specialize in using saws, pumps, water hoses, Pulaski's, shovels, drip torches and other equipment used in managing wildfires.

First and second year crew members work on earning their FFT1 qualification and ICT5 qualifications. Once accomplished, firefighters begin working on tasks and responsibilities to lead the entire crew. This qualification is called a crew boss (CRWB). Once achieved, they may advance to become a strike team crew leader (STCR), a leader for several crews.

BIA provides funding for and sponsors 10 hand crews across Indian Country. The most experienced of these crews are called Interagency Hotshot Crews (IHCs). Several crew members hold year-round appointments to organize and lead fire training for other programs. BIA sponsors seven IHCs, four of which are hosted by tribes. Learn more about these crews online at BIA's Hand Crew Program.

BIA also sponsors three workforce development crews. The Confederated Salish and Kootenai Tribes (CSKT)host the Mission Valley T2IA Crew; the Yakama Nation hosts the Signal Peak Crew and the Bay Mills Indian Community hosts the Bay Mills Crew. These crews are required to carry fewer qualified people, which enables them to train firefighters and help them develop their qualifications faster. Learn more about these crews at our Workforce Development page.

Helitack Crews are made of 7-12 crew members who work with pilots and maintenance crews to respond to and support wildfires. In addition to becoming advanced firefighters, crew members specialize in aviation safety and are responsible for developing crew and cargo manifests, briefing all passengers on flight safety, correctly loading and unloading cargo and marshalling helicopters during takeoff and landing operations. They are also relied upon to cut landing zones to allow helicopters safe access to remote areas, perform aerial ignitions for prescribed burns and providing transport services for special projects such as reseeding burned areas. Helitack crewmembers frequently facilitate tribal officials and administrative flights, wilderness study flights, search and rescues, and forest management flights.

Helitack crew members are FFT2s and FFT1s when they start on a helitack crew. They begin earning helitack qualifications as a basic crew member (HECM) and work their way to a helicopter manager (HMGB). After learning to manage a helicopter, HMGBs will certify as helibase managers (HEBM) who will manage the airspace and operations of several helicopters.

The BIA manages nine national helitack programs, two of which are managed by tribes. It is the only program in BIA fire management that has a career ladder that takes an entry level firefighter and develops them throughout their career to become a national program manager. Visit BIA's Aviation Program to learn more.
What physical requirements are there if I want to become a wildland firefighter?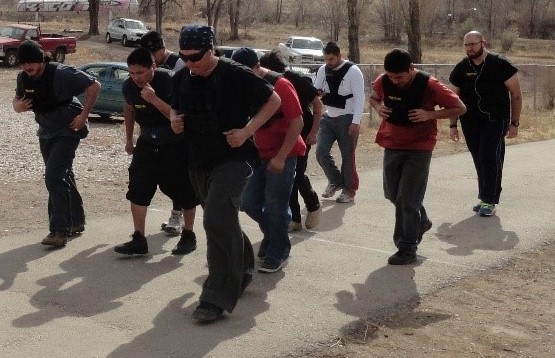 Becoming a wildland firefighter doesn't require previous experience or a college education, but it does help if you are familiar with using mechanized equipment, enjoying working outdoors and with a group of people, and are not afraid to travel.
Because work as wildland firefighter can be extremely arduous, applicants must be at least 18 years of age, hold a valid driver's license and pass a required drug test. If in an arduous firefighting position, employees are also required to pass a medical examination and the arduous physical pack test (carrying a 45 pound pack three miles in 45 minutes). Learn more about fitness standards and tests at the Wildland Firefighter Department of the Interior Medical Standards Program.
What are work conditions like?
The wildland fire environment can be very stressful. Long hours in hot, dry and windy conditions full of smoke and dust is normal. Firefighters carry their own packs across steep rugged terrain that often weigh between 40-80 pounds. When working in the backcountry, showers and hot meals may not be readily available. Because conditions offer little privacy and require long days with co-workers, firefighters often develop deep bonds of friendship that lasts their whole lives.
What is the work schedule like?
Forestry or Range Technicians in fire usually work a five-day, 40-hour week, but do not necessarily have weekends off, and during fire emergencies, a firefighter's weekend may get cancelled. During high fire activity, duty officers may extend work schedules, asking firefighters to work a 16-18 hour day. Firefighters know they have to stay flexible and work hard. In return, any hours worked over the 40-hour work week is paid as "overtime", meaning a firefighter can earn one and a half times their hourly rate. Additionally, if working in the fire area, firefighters may also receive hazardous pay.
What responsibilities will my supervisor have of me?
Working in the wildland fire environment is both complex and dynamic. These conditions mean firefighters need to have and take personal responsibility for themselves and others. Key responsibilities include:
Being committed, ready and able to work.

Having proper equipment and gear ready for work each day

Reporting to work on time.

Come to work presentable with clothes neat, clean and respectable.

Follow established guidelines and expectations. They are there for your safety and that of the Bureau's.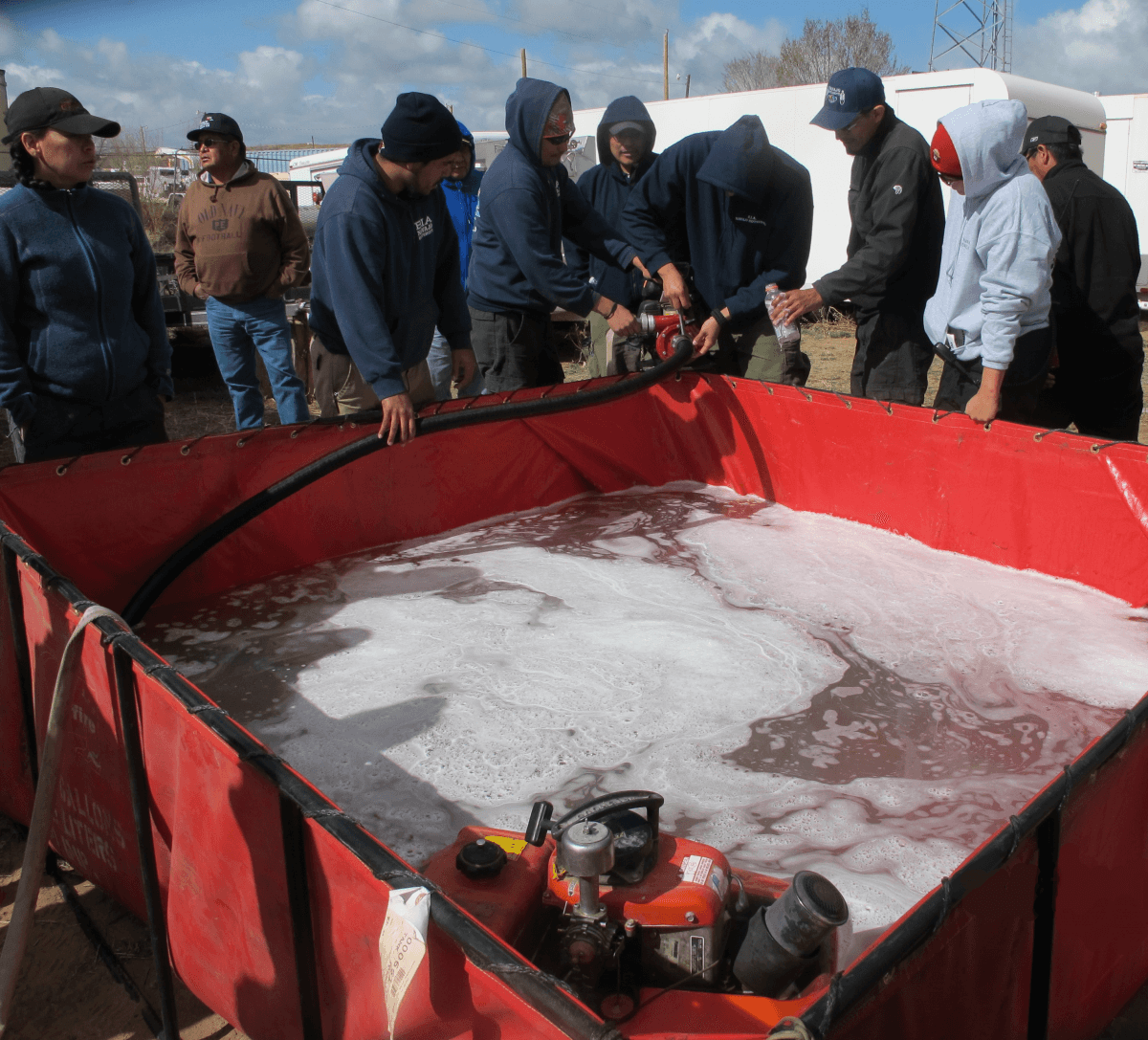 Do I need specialized training before I apply?
After being hired as a Forestry or Range Technician for fire, employees will be given numerous hands-on and classroom training courses to ensure their safety. While participation is required, all course are graded on a pass/fail bases and are given to help employees become skilled members of a fire crew. First year firefighters go through substantial training, but each returning year, training becomes more specialized to advance their fire qualifications.
Do I have to purchase my own boots and fire equipment?
If required by their incident qualification to hold a fitness rating of "Arduous" or "Moderate, an annual payment of $100.00 is provided as a "stipend" who on condition of employment are required to purchase footwear that meets NWCG standards.
Once becoming a firefighter, the BIA will issue personal protective shirts and pants (nomex), sleeping bag, fire packs, canteens first aid kits and other essential items. Employees are responsible for returning this equipment at the end of the year. Individuals need to purchase personal toiletries, including under garments, socks and jackets so they can be prepared to camp for periods of two to three weeks.
Are there educational requirements I need to worry about for an entry firefighter position?
If entering into the wildland fire without previous experience, you may want to complete some basic classes locally or online. These include Introduction to the Incident Command System (I-100), Firefighter Training (S-130) and Introduction to Wildland Fire Behavior (S-190). Contact your local fire management office to see if they offer any of these classes in person.
An applicant can be hired at a higher pay if they have earned college coursework, certificates or a college degree, but it is not required to get an entry level position. Coursework or degrees can be in a variety of fields, but many employees choose to study fire management, forestry, natural resource management, or other science-based field.
What are the benefits of working for the BIA as a wildland firefighter?
Federal employees receive many benefits for being civil servants. Temporary and permanent employees receive sick leave, paid vacation, paid holidays, and training. Permanent employees also receive health and life insurance and are covered by the Federal Employee Retirement System. Some fire positions qualify for retirement after 20 years.
Pay ranges from about $12.00 per hour to over $17.00 per hour, depending upon the position and your experience. Firefighting positions are paid overtime for any hours worked beyond the regular shift. Learn more about federal benefits at the Office of Personnel Management.
---
Nation Map
Click on a state to find job opportunities in that area.
---
Outreach Assistance