The Bureau of Indian Affairs (BIA) National Aviation Office (NAO) is responsible for all aviation oversight within the BIA and supports Indian Affairs as a whole. This includes aviation related to wildland fire management, as well as personnel transport and other emergency and non-emergency operations.
Overview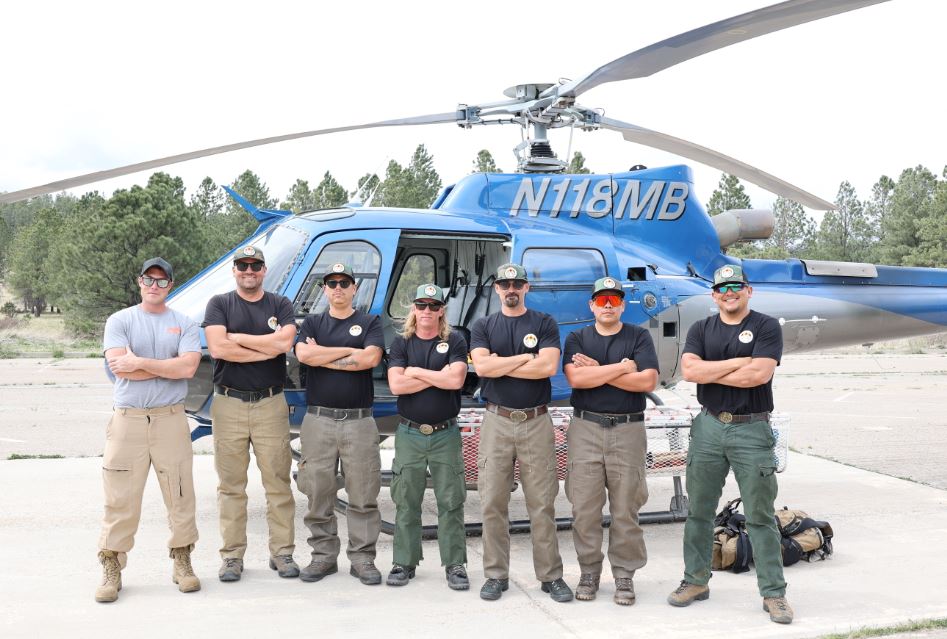 The Vulcan Peak Helitack crew at a May 2023 dignitary visit in Mescalero, New Mexico.
The Bureau of Indian Affairs (BIA) National Aviation Office (NAO), trains pilots, aviation managers, operations specialists, and other support staff in their areas of expertise, as well as fire safety, aviation safety, and risk minimization.  Although wildland fire management is the primary mission, the NAO may also offer aerial support to a variety of non-fire activities such as wildlife management and law enforcement operations. 
The NAO is also part of the National Interagency Fire Center (NIFC), a network of eight agencies and organizations who share firefighting resources and work collaboratively towards national wildfire management, as well as other national emergency response situations.
The BIA NAO headquarters is located at the NIFC Campus in Boise, Idaho, and a field office located Albuquerque, New Mexico.
Fleet
The BIA NAO maintains a Wildland fire aircraft fleet that includes Air Attack Platforms (ATGS), single engine air tankers (SEAT), Fire Boss airtankers and Type 3 (light) helicopters. These aircraft are under Department of Interior (DOI) Office of Aviation Services (OAS) Exclusive Use Fire Contracts. This means that they are contracted to be available for exclusive use by the NAO during fire season, which is typically late spring to late fall.
Air Attack planes perform aerial supervision of the overall fire incident and assist with fire retardant deployment, locating access points for ground crews, radio communication and reconnaissance.
Single engine air tankers (SEATs) and Fire Boss air tankers, which are SEATs equipped with amphibious water floats, are capable of delivering fire retardant, gel or water. These aircraft support areas of Indian Country with an abundance of water sources.
The BIA Division of Wildland Fire Management supports eight regional helitack, or "helicopter initial attack," programs: 
Red Lake Helitack (Redlake Tribe) - Redlake, MN
Crow Helitack – Crow Agency, MT
Vulcan Peak Helitack – Albuquerque, NM
Ute Mountain Helitack – Towaoc, CO
Billings Helitack – Billins, MT
Fort Apache Helitack – Whiteriver, AZ
Navajo Helitack – Window Rock, AZ
Mission Valley Helitack (Confederated Salish and Kootenai Tribes) - Ronan, MT
Helitack crews participate in wildland fire response, prescribed burning and fire rehabilitation.  They also transport personnel during Tribal Official and Administrative flights, wilderness studies, search and rescue operations, and forest management flights. 
Additional Information
Related Pages
Contact Us
Division of Wildland Fire Management
National Interagency Fire Center, 3383 S. Development Ave.
Boise, ID 83705
Open 8:30 a.m.–4:30 p.m., Monday–Friday.