The Zuni became a fully certified Bureau of Indian Affairs (BIA) Interagency Hotshot Crew (IHC) in December 2003.  It is sponsored and managed by the BIA  Zuni Agency in Zuni, NM. 
History of the Crew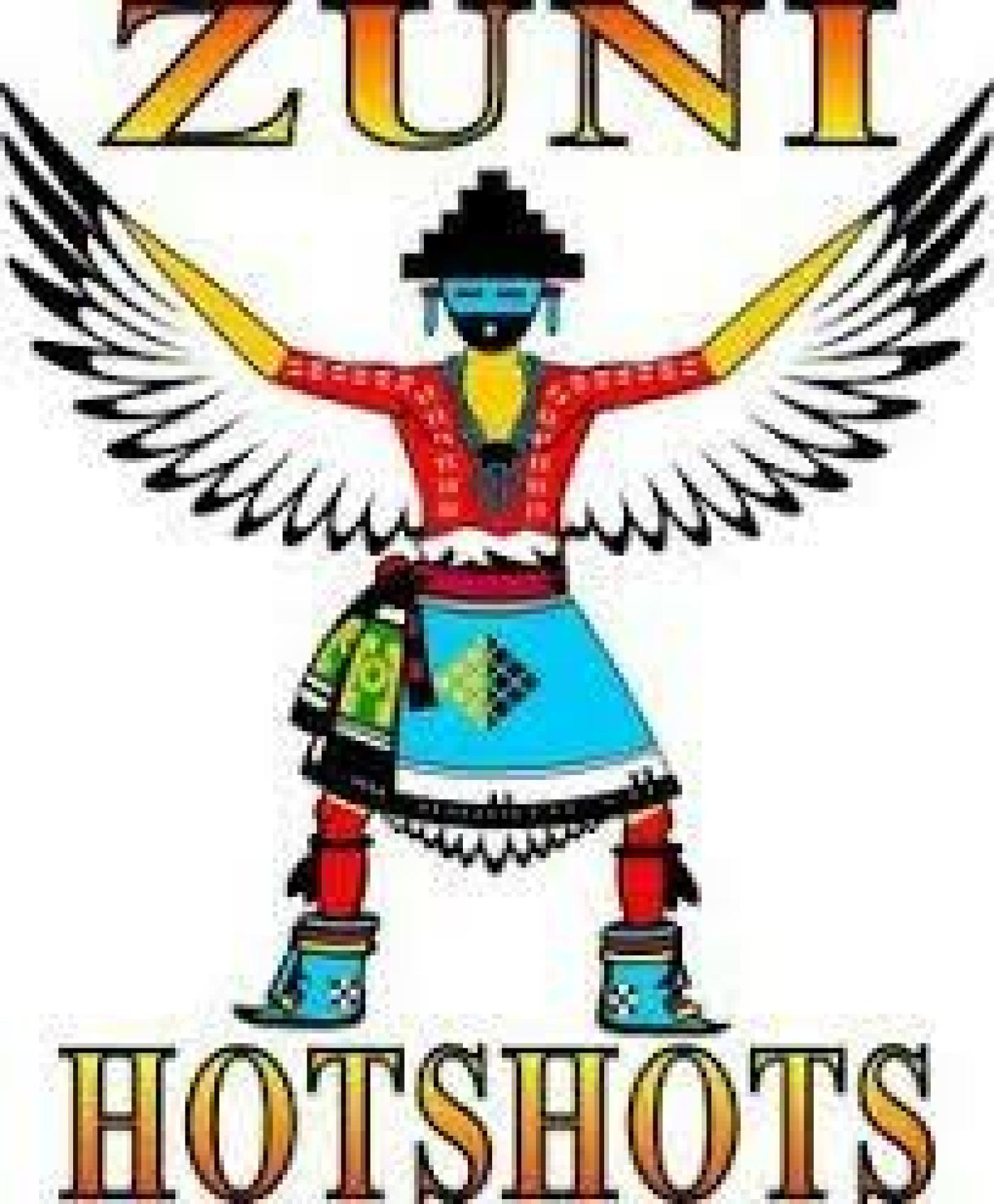 The Zuni Pueblo Knife Wing is a symbol of the Zuni Warrior Society and is a protector of the land and its inhabitants. It represents courage, honor, wisdom and strength. The spirit of this symbol is carried into battle or other life-threatening situations. The Knife Wing is also a guardian angel watching over each and every one of us.
Historically, the Knife Wing symbol was blessed and placed on warriors' shields to protect the warriors. This ancient tradition continues to this day with the Zuni IHC. The symbol is part of the crew uniform and is placed on crew vehicles.
The BIA Zuni Agency established the Zuni Interagency Hotshot Crew (IHC) Program in September 2001. The Crew is based out of west-central New Mexico on the Zuni Indian Reservation, Zuni, NM. Zuni is one of 19 pueblos in the state. The Reservation is estimated at 463,270 acres, which includes 242,766 acres of forest.
To gain the crew leadership needed for an elite hand crew, supervisory candidates including Paley Coonsis, Sr., Troy Cachini and Todd Etsate detailed to the Mescalero Hotshots in Mescalero, New Mexico and the Redmond Hotshot Crew in Redmond, Oregon to gain knowledge and skills in supervising a hotshot crew.
The crew went through a training period from September 2001 to December 2003. The IHC's very first assignment was led by Carl Crawford to the devastated World Trade Center in 2001. Mr. Crawford was the Assistant Superintendent of the Chief Mountain Hotshot Crew for numerous years prior to accepting the Zuni IHC Superintendent position.
In December 2003, the Zuni IHC gained full qualification as a National Incident Hotshot Crew and has served as a national resource ever since.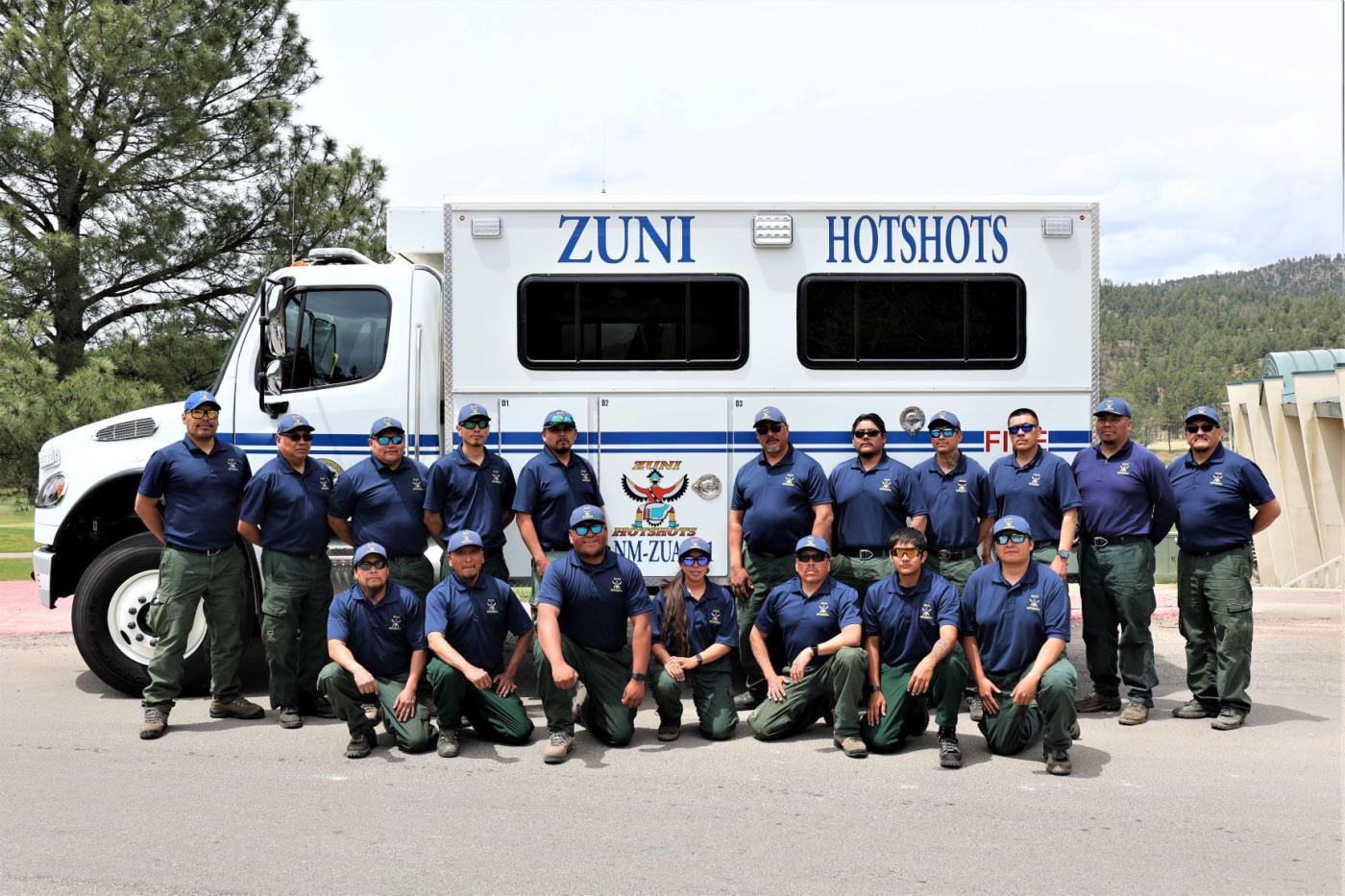 2023 Zuni Interagency Hotshot Crew
Superintendents Past and Present
2018 – Present: Rickey Booqua Jr.
2014 – 2018  Todd Etsate
2010 – 2014 Myron Sheche
2006 – 2014 Troy J. Cachini
2004 – 2005 Tony Parks
2001 – 2003 Carl Crawford
Assistant Superintendents Past and Present
2022 – Present: Golden Moore
2018 – 2022 Geraldine Antonio
2016 – 2018 Rickey Booqua Jr.
2015 – 2016 Chad F. Nastacio
2011 – 2014 Todd Etsate
2007 – 2010 Myron Sheche
2006 – 2007 Wadell Kenseah
2003 – 2006 Troy Cachini
2001 – 2003 Paley Coonsis Jr.
Additional Information
Related Pages
Contact Us
Zuni IHC
BIA Zuni Agency, P.O. Box 369 301, N Bldg 54
Zuni, NM 87327