We use a competitive review system with well-defined criteria to select the most qualified projects for funding. Awards are based on the individual merit of the proposal, but we also aim to provide funding to a diverse range of Tribes living in various areas.
We often receive more proposals than can be funded by our annual budget, which is determined by Congress and varies on a year-to-year basis.
For FY2022, we provided $2.5 million in funding. View past funding levels. Learn more by reading the TEDC Press Release. 
Download 2015-2023 TEDC Projects Map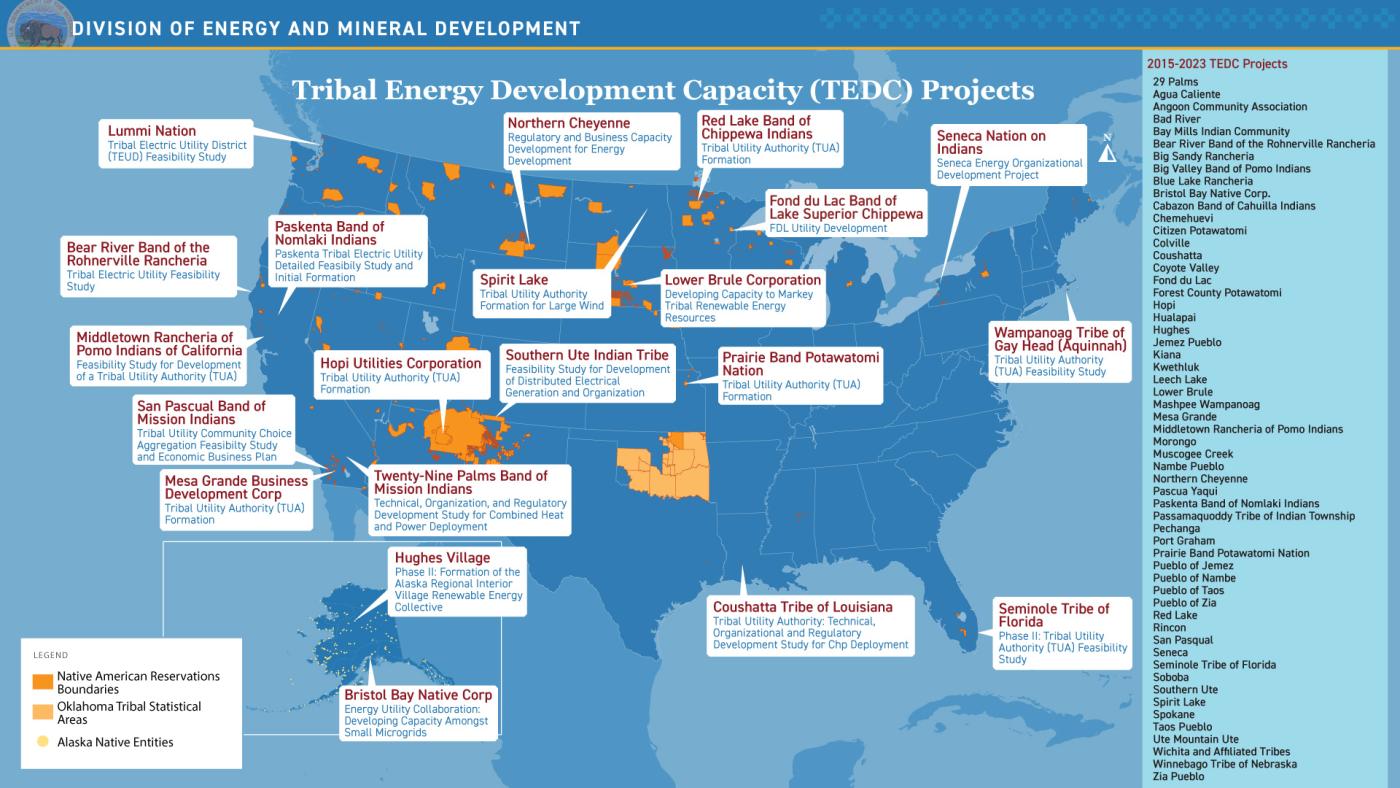 Funded in 2022
Grantee
State
Amount
Project
Bristol Bay Native Corporation
Alaska
$300,000
Electric Utility Collaboration: Developing Capacity Amongst Small Microgrids in Bristol Bay
Otoe-Missouria Tribe of Indians
Oklahoma
$209,845
Tribal Utility Authority Feasibility Study Project
Fort Independence Community of the Paiute Indians
California
$165,000
Energy Sovereignty: Development for the Fort Independence Community's Tribal Utility Authority Feasibility Study
Lac Courte Orielles Band of Lake Superior Chippewa Indians
Wisconsin
$165,000
Lac Courte Oreilles Band of Lake Superior Chippewa Tribal Utility Study
Seminole Tribe of Florida
Florida
$160,889
Tribal Utility Authority Phase III Feasibility Study
Seneca Nation of Indians
New York
$150,050
Energy Organizational Development Project
Reno-Sparks Indian Colony
Nevada
$150,000
Hungry Valley Tribal Utility Authority, and Reno Government Complex Energy Infrastructure Feasibility Project
Lummi Nation
Washington
$150,000
Tribal Electric Utility District Feasibility Study Project
Minnesota Chippewa Tribe - White Earth Band of Chippewa Indians
Minnesota
$150,000
Tribal Energy Development Capacity Grant
Standing Rock Sioux Tribe
North Dakota
$149,680
Standing Rock (SAGE) Renewable Energy Power Authority Capacity Building
Picuris Pueblo
New Mexico
$118,000
Form a Pueblo Tribal Utility and Develop Appropriate Utility Code Provisions
Spirit Lake Tribe
North Dakota
$117,720
Phase II Tribal Utility Formation & Execution for the Spirit Lake Tribe 2022
Menominee Indian Tribe of Wisconsin
Wisconsin
$100,000

Tribal Energy Development Capacity Grant - Feasibility Study

 

Little River Band of Ottawa Indians
Michigan
$99,420
Tribal Utility Authority Feasibility Study 2022
Pechanga Band of Indians
California
$94,200
Study the Feasibility of Expanding Pechanga Western Electric to Supply Wholesale Natural Gas to the Reservation
Morongo Band of Mission Indians
California
$92,000
Continuation of Tribal Utility Authority Feasibility – Special Utility District
Bear River Band of the Rohnverville Rancheria
California
$87,382
Bear River Energy Regulatory Capacity
Paskenta Band of Nomlaki Indians
California
$72,320
Paskenta Tribal Utility and Microgrid Planning Project
Prior Funded Years
Prior Funded Years
For FY2019, $4.6 million was requested and we provided $1 million in funding. View past funding levels.
| | | | |
| --- | --- | --- | --- |
| Reservation  | State  | Amount  | Purpose  |
| Angoon Community Association  | Alaska  | $85,000  | Investigate the feasibility of forming a Tribal utility authority and assess current energy costs   |
| Hughes Village  | Alaska  | $109,000  | Form an intertribal energy agency to improve electric service to villages  |
| Kwethluk, Inc.  | Alaska  | $98,000  | Develop Tribal policies and regulations to deploy renewable energy   |
| Leech Lake Band of Ojibwe  | Minnesota  | $85,000  | Conduct a Phase 1 Tribal utility authority feasibility analysis  |
| Morongo Band of Mission Indians  | California  | $70,000  | Explore the possibility of developing a Tribal electric utility   |
| Muscogee (Creek) Nation  | Oklahoma  | $100,000  | Conduct a Phase 2 Tribal utility authority feasibility analysis  |
| Native Village of Kiana  | Alaska  | $125,000  | Conduct a phase 2 study on forming a regional energy authority  |
| San Luis Rey Indian Water Authority  | California  | $100,000  | Conduct a Phase 1 Tribal utility authority study to include management of energy resources  |
| Seminole Tribe of Florida  | Florida  | $100,000  | Conduct a study on expanding the Tribal public works department to include a Tribal utility authority  |
| Soboba Band of Luiseno Indians  | California  | $85,000  | Conduct a Tribal utility authority feasibility study  |
| Twenty-Nine Palms Band of Mission Indians  | California  | $75,000  | Conduct a phase 2 Tribal utility authority study to assess potential off-reservation power sales  |
Additional Information
Related Pages
Related Documents
Contact Us
Division of Energy and Mineral Development
13922 Denver West Parkway, Suite 200
Lakewood, CO 80401
9:00 a.m. – 4:00 p.m. MST, Monday–Friday