Dates:
September 19, 2023 9:50am to October 02, 2023 9:51am
📣 Searching for: a new Co-Vice President of the NCAI Youth Commission
📆 Deadline: October 2, 2023 
📲 Apply here: https://bit.ly/NCAIYC
National Congress of American Indians Seeks New Co-Vice President for Youth Commission
Ready to be a driving force for #NativeYouth advocacy?
The National Congress of American Indians (NCAI) Youth Commission is looking for a dedicated Co-Vice President to join their team. Spread the word and join us in empowering future generations to shape a brighter future for Indian Country.
In order to run for Co-Vice President, you must:
Be 16-22 years of age on the date of the election;
Submit an application for the NCAI Youth Commission Co-Vice President position by October 2, 2023;
Participate in a panel interview with two current or former Tribal leaders, a leader of a national Native non-profit, and a former NCAI Youth Commission Officer; and 
Present a three- to five-minute speech on the issues you will advocate for, also known as a policy platform.
About the NCAI
Founded in 1944, the National Congress of American Indians (NCAI) is the oldest, largest, and most representative American Indian and Alaska Native organization serving the broad interests of tribal governments and communities.
NCAI, a non-profit organization, advocates for a bright future for generations to come by taking the lead to gain consensus on a constructive and promising vision for Indian Country. The organization's policy issues and initiatives are driven by the consensus of our diverse membership, which consists of American Indian and Alaska Native tribal governments, tribal citizens, individuals, and Native and non-Native organizations.
About the NCAI Youth Commission
The NCAI Youth Commission is designed specifically for college and high school students ages 16-23 with an interest in political science, Tribal government and Native American legislative and governmental affairs.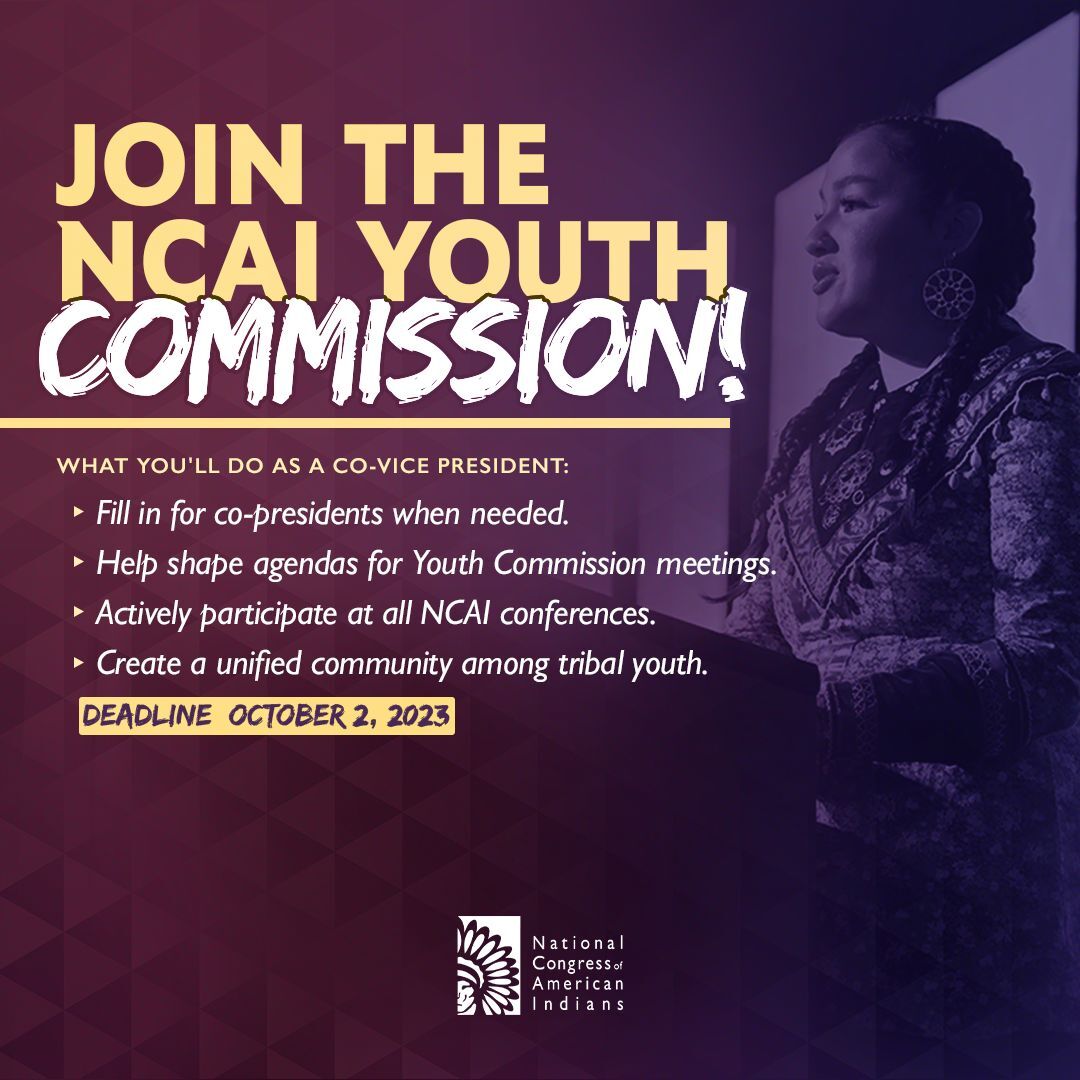 NCAI Youth Commission flyer with details about Co-Vice President election
Related Page or Document
Contact Us
Branch of Tribal Climate Resilience
1001 Indian School Rd NW
Albuquerque, NM 87104
Hours
Open 8:30 a.m.–4:30 p.m., Monday–Friday.