Dates:
June 28, 2023 5:00pm to 5:00pm
By: Lessa Peter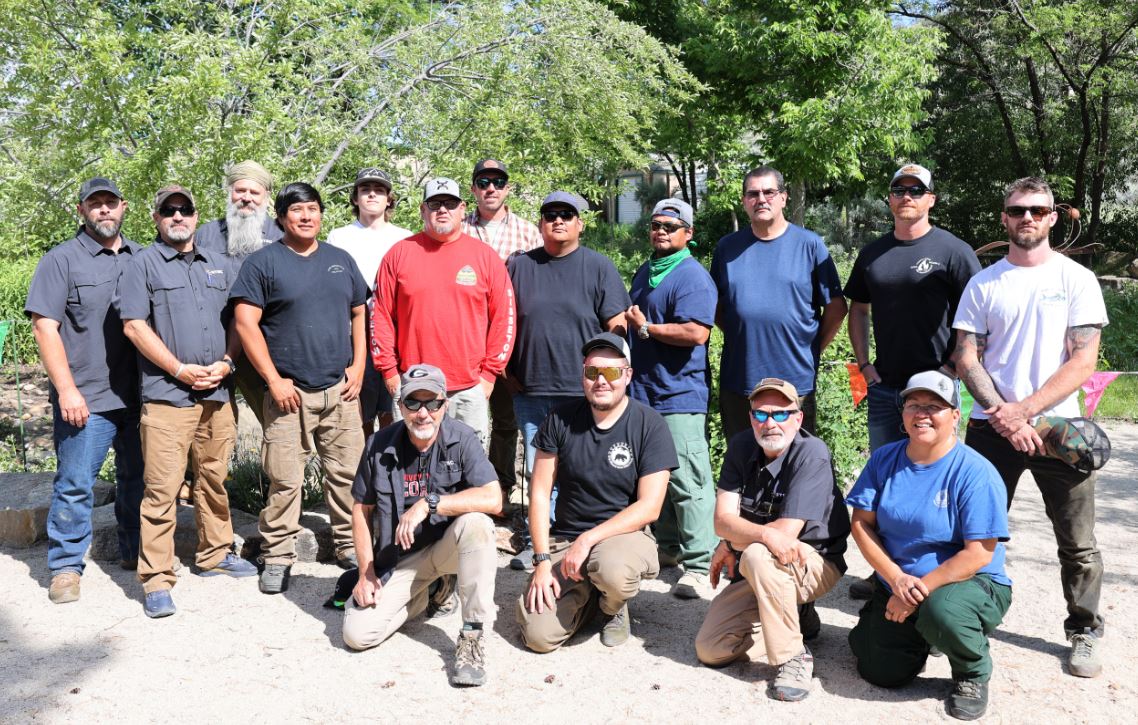 You're a wildland firefighter in a remote area with rough terrain and come across one of your crew members who has fallen from a ravine and landed on their back. They are alert but don't seem to know where they are. They broke a leg in the fall and incurred a deep laceration. What do you do? Medical Incident Technician training for wildland firefighters provides the knowledge to identify and treat minor medical incidents, but also the skills and leadership confidence to stabilize, transport and request medical support for an individual who is experiencing a major medical incident.
All wildland firefighters adhere to dangerous and arduous work environments in vastly different weather and terrain depending on where they are and what time of year. Dehydration, acute hypothermia, altitude sickness and other minor medical incidents can happen on the job and although rare, there can also be injuries such as dislocations, traumatic brain injuries, massive blood loss, and broken bones.
In late May, wildland fire responders including helitack staff, smokejumpers, fire engine operators and technicians attended a 40-hour Medical Incident Technician (MIT) training at the Jim Hall Foothills Learning Center Boise, Idaho, to gain the skills necessary to help their fellow crew members in an emergency. The training itself was led by ETS Consulting, Inc. whose trainers have years of experience responding to medical incidents in various capacities. The MIT training is a combination of lectures and hands-on real-world medical scenarios that can happen while responding to a fire, also known as an incident within an incident. Trainees practice identifying medical incidents and how to accurately respond throughout the training, including how to radio in a medical incident report to the appropriate chain of command. 
"I wanted to learn how to do a [medical incident report], how to identify an injury and get them where they need to be. I've also heard of emergency medical situations that firefighters experienced and it made me think of what I would do if I was in that situation," said participant, Cory Tsosie of Ute Mountain Helitack, when asked why he decided to take part in the training. "I would recommend this class to other firefighters, because it provides a lot of information about things that can happen on the job and gives you the confidence to do what needs to be done to get the patient to the right medical care."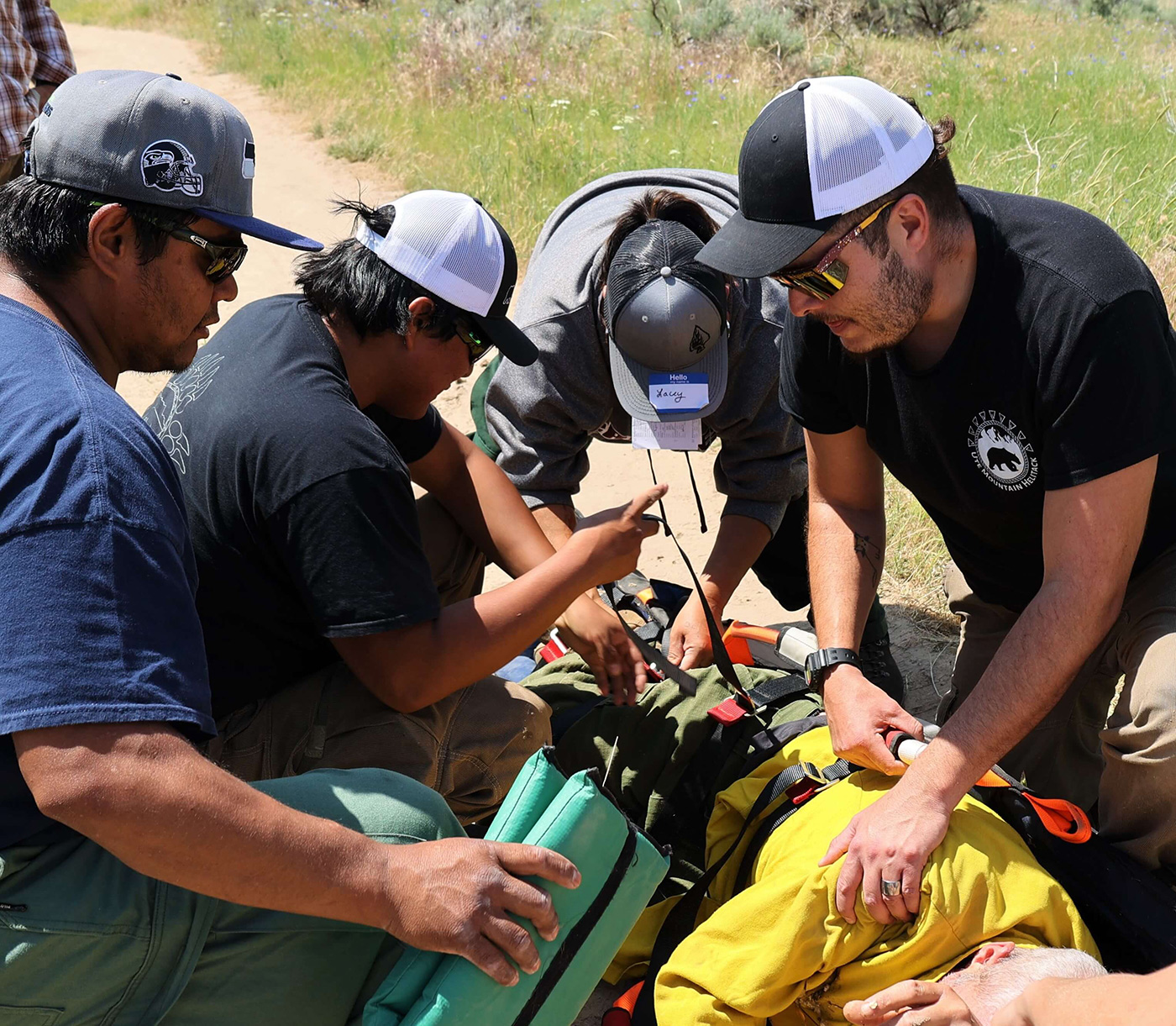 "The hands-on experience helped a lot of us put things together that we may not have understood in class. Breaking down the terminology helped a lot," said participant, Kyle Golus, BIA Sisseton-Wahpeton Agency wildland fire operations specialist. "Going through each portion of information at the time then doing the practice situations really pulled everything together for something that could happen in a real-life situation."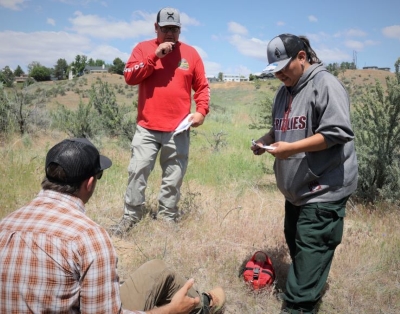 "Wilderness first aid training is vitally important for anyone that ventures into the field, especially in a higher risk job role, like Wildland Firefighting," noted Tom Rader, ETS Consulting, Inc. Operations Director. "Accidents happen and having trained people as close to the point of injury as possible saves lives and lessens the potential for things to get worse."
The BIA hosted MIT trainings have been taking place since 2007 when BIA medical standards specialist, Michelle Moore, brought her knowledge from previous positions held in her experience with wildland fire management. Since first implementing the training 16 years ago with the BIA, the training has grown into the Wildland Fire First Program, a program that supports the needs of the wildland firefighting environment at a national and interagency level.
As of March 2023, the MIT training meets the National Wildfire Coordinating Group's standards for Wildland Fire First Aid (PMS 560), a new standard course for all wildland firefighters in addition to OSHA safety training. In the standard, Wildland Fire First Aid is described as including complementary duties of leadership and medical skills for common operational injury and illness, tailored to the unique nature and austere wildland fire occupational work environments not addressed in contemporary first aid training outlined by OSHA.
Learn more about the Wildland Fire First Aid Program at www.bia.gov/guide/wildland-fire-first-aid-program. To inquire about upcoming trainings, contact fire.management@bia.gov.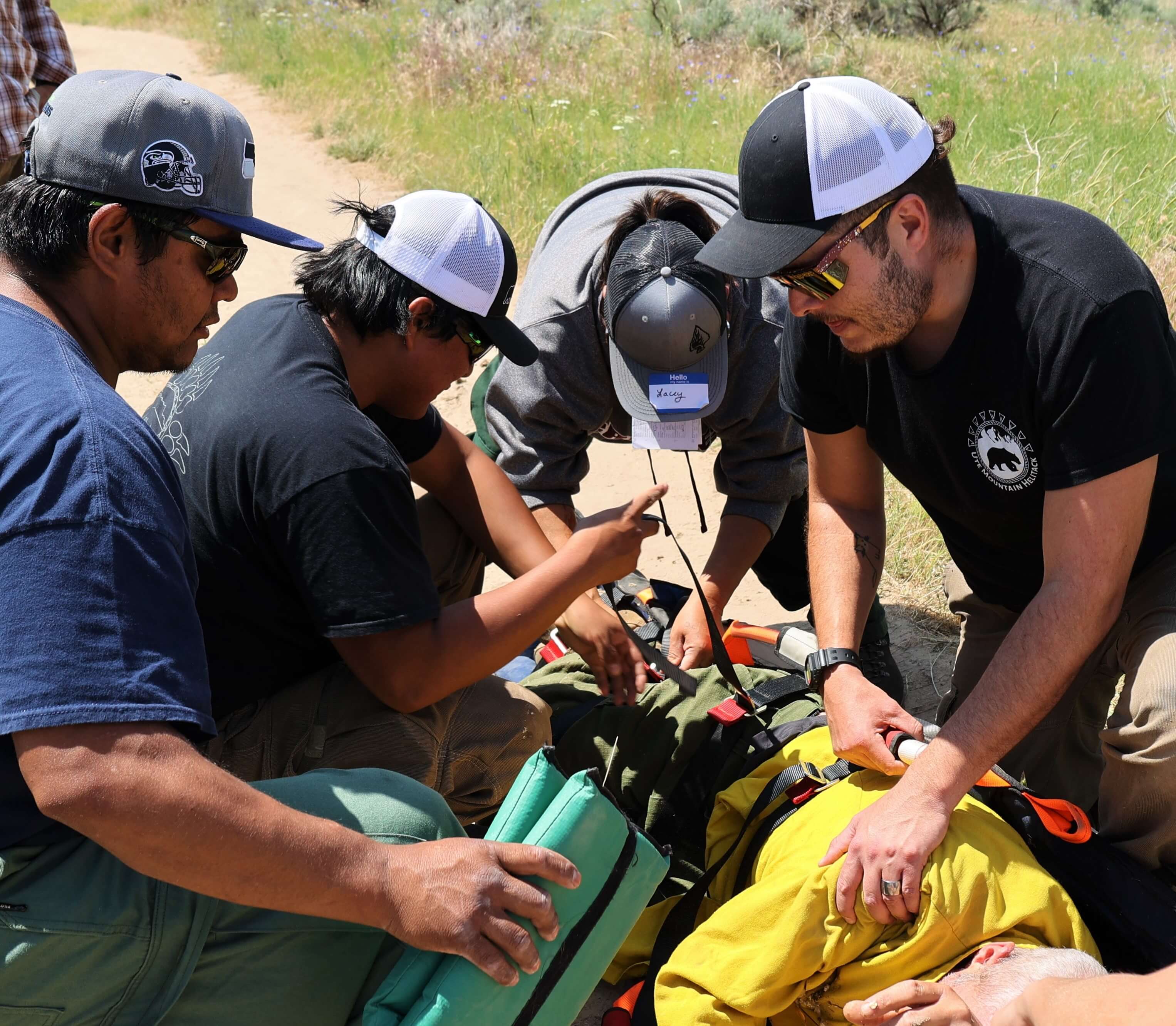 Medical Incident Technician training participants take part in a practice medical scenario outdoors.
Contact Us
Hours
Open 8:30 a.m.–4:30 p.m., Monday–Friday.