For Immediate Release:
May 05, 2022
ANCHORAGE, Alaska — Department of the Interior Assistant Secretary for Indian Affairs Bryan Newland wrapped up a weeklong tour of Alaska where he met Tribal leaders and community members to discuss investments from President Biden's Bipartisan Infrastructure Law for Tribal climate resilience and the Department of the Interior's ongoing efforts to support Alaska Native communities. Assistant Secretary Newland's visit follows Secretary Haaland's recent trip to Alaska where she highlighted ongoing efforts to support sustainable economies across the state.
Throughout the visit, Assistant Secretary Newland highlighted the Law's $13 billion investment in Tribal communities across America, including $216 million for climate resilience programs that will support collaborative and community-led planning, relocation expenses, infrastructure investments and other forms of assistance to Tribal communities; and $250 million for the construction, repair, improvement and maintenance of irrigation and power systems, safety of dams, water sanitation, and other facilities.
Assistant Secretary Newland began his Alaska trip on Saturday, April 23, with a meeting with the Ketchikan Indian Community and the Organized Village of Saxman. On Sunday, April 24, he met with the Metlakatla Indian Community. These meetings focused on the protection of subsistence rights, improving the land into trust process for Alaska Native Tribes, and public safety and infrastructure improvements.
On Tuesday, April 26, Assistant Secretary Newland met with the Arctic Yukon-Kuskokwim Tribal Consortium to discuss subsistence policies. Earlier this year, the Bureau of Indian Affairs completed nation-to-nation consultations with federally recognized Tribes, Alaska Native Corporations and Tribal Consortia regarding how to improve the Federal Subsistence Management Program. Later in the day, Assistant Secretary Newland traveled to the Native Village of Napakiak where he witnessed the immediate challenges Tribes are facing from the climate crisis. The Department of the Interior recently announced $46 million in funding from the Bipartisan Infrastructure Law for Tribal communities to address the unique impacts of climate change in Indigenous communities.
On Wednesday, April 27, Assistant Secretary Newland traveled to Bethel where he met with leaders of the Association of Village Council Presidents, the Kuskokwim River Inter-Tribal Fish Commission, Orutsararmiut Native Council, Bethel Native Corporation and Yuut Elitnaurviat to discuss issues of public safety, housing, salmon conservation and subsistence policies. He later traveled to St. Mary's to meet with leaders and community members from the Algaaciq Native Village (St. Mary's), Yupiit of Andreafski and Asa'carsarmiut Tribe (Mountain Village), Pitka's Point Traditional Council and Iqugmiut Traditional Council. The meeting in St. Mary's focused primarily on how Interior can support Tribes to address the devastating impacts of the Yukon-Kuskokwim Delta salmon crash on traditional subsistence practices.
On Thursday, April 28, Assistant Secretary Newland traveled to Kivalina to meet with Tribal leadership and tour a road project jointly funded by the Bureau of Indian Affairs and the Alaska Department of Transportation. Situated on a barrier reef island between the Kivalina River and the Chukchi Sea, Kivalina is threatened by the impacts of the climate crisis. In October 2020, construction of the 8-mile gravel evacuation road from the Village of Kivalina to higher ground known as Kisimigiiqtuq Hill was completed.  The road allowed Kivalina to relocate its school to Kisimigiiqtuq Hill to ensure the safety of students and provide for an evacuation site in the event of a severe storm or ocean surge.  Assistant Secretary Newland also toured the school construction site. Construction of the school is expected to be complete in October 2022.
Assistant Secretary Newland wrapped up his Alaska trip on Friday, April 29, with a visit to Kotzebue where he met with the representatives of Maniilaq Association, Northwest Arctic Borough, Native Village of Kotzebue and NANA Corporation. Assistant Secretary Newland also visited the Native Village of Kotzebue's Nikaitchuat IIisavgviat Inupiak Immersion Pre-School. Later in the day, he traveled to Fairbanks to meet with the Tanana Chiefs Conference and Fairbanks Native Association. These meetings in Kotzebue and Fairbanks focused on improving public safety and law enforcement, community and social services, tribal court infrastructure, culturally centered education, climate change impacts and subsistence policies.
Newland's visit followed one by Secretary of the Interior Deb Haaland the previous week, where she underscored the importance of critical infrastructure investments and funding opportunities that will help ensure Alaskan communities have healthy lands and waters, continued access to the outdoors and the foundation for future jobs and economic opportunity.
                                                                                                                                 ####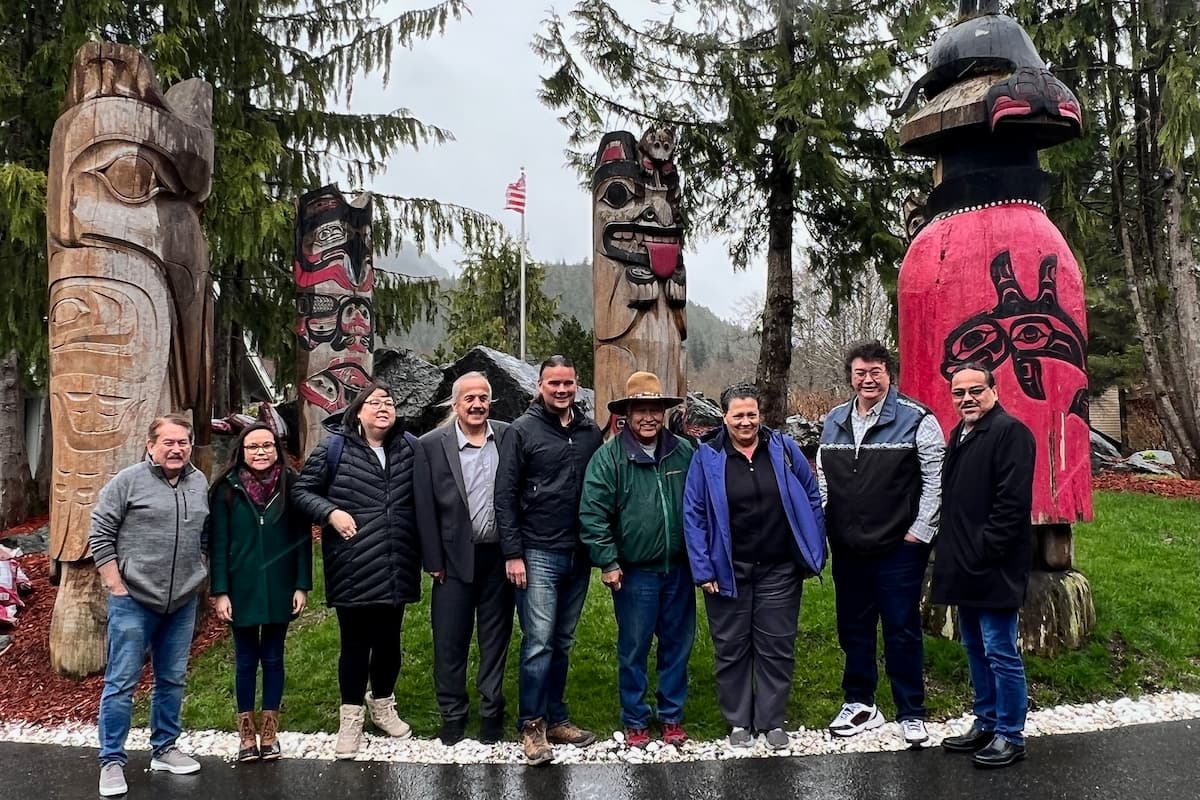 Anchorage, Alaska
Contact Us
Indian Affairs - Public Affairs
1849 C Street Northwest MS-4660 MIB
Washington , DC 20240
Hours
Open 8:30 a.m.–4:30 p.m., Monday–Friday.