The Warm Spring Hotshots are the second oldest IHC crew in Indian Country. Started in 1984, the crew came into form first as a type 2 Forestry crew as a means for the Forestry program to leverage employment opportunities on the Warm Springs Indian Reservation.

Initially funded thru contracts with the Confederated Tribes of Warm Springs and neighboring agencies, the Warm Springs Fire Management staff saw potential and went forward with developing a formal type 2 handcrew. By working on miscellaneous contract work throughout the Region, the crew accomplished training goals and recognition as a competitive type 1 crew.

After two successful fire seasons, and with the support of the Confederated Tribes of Warm Springs, the organization elected to pursue Type 1 IHC status. From 1986 to 1987, the Warm Springs Forest Crew operated as a type 1 training crew in Region 6. In March of 1988, the BIA recognized the Warm Springs Agency Forest Crew as a national Type 1 Interagency hotshot crew.

The Warm Springs Hotshots have predominantly been members of the Confederated Tribes, but also consist of individuals whom have married into the tribe, other natives and non-natives.

Once fire season is complete for the year, the crew is used throughout the community of Warm Springs for various types of projects such as tree thinning, hazard fuel reduction, prescribed fire and other community events that consist of cutting and distributing firewood for the senior citizens. The IHC also assist the community by delivering holiday food baskets and working with local community school functions.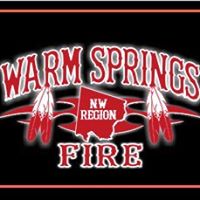 Crew Superintendent Past And Present:
2019-2021: Renso Rodriguez
2009 - 2018: Gary Sampson Jr.
2004 – 2008: Tony Holliday Sr
1988 – 2003: Luther Clements
1984-1987: Michael Gomez
Assistants Superintendents
2019-2021: Racin Johnson
2010-2018: Renso Rodriguez
2009 – 2010: William Wilson
2007-2008: Gary Sampson
2006–2007: Jabbar Davis
2004-2005: Edmund Francis
1998-2003: Tony Holliday
1995-1997: Eric Powers
1991-1994: Trey Leonard
1988-1990: Vernon Tias
1984-1987: Luther Clements
Visit our Contact Us page for mailing address information.