Crews are differentiated between Type 1, Type 2 Initial Attack, and Type 2. Their typing is based on experience, leadership, and availability. Each crew consists of 18-20 firefighters. A crew boss and three squad bosses supervise the crew's actual work.
Firefighting is hot, dirty work, and crews are often in the field for long periods of time. Sometimes crews may sleep in remote areas, eat pre-packaged food, and are lucky to get a shower every couple of days. On large fires, crews often stay in fire camps where hot meals, showers, and sometimes laundry facilities are available. At times, firefighters may be required to work at night, as temperatures are lower and humidity is higher. This may allow crews to conduct burn out operations and be more effective than during the daytime. Fire crews are available 24 hours per day, 7 days a week during the fire season, which typically lasts six months. Crews normally work a 14-day assignment and receive rest time of 2-4 days between assignments.
Frequently Asked Questions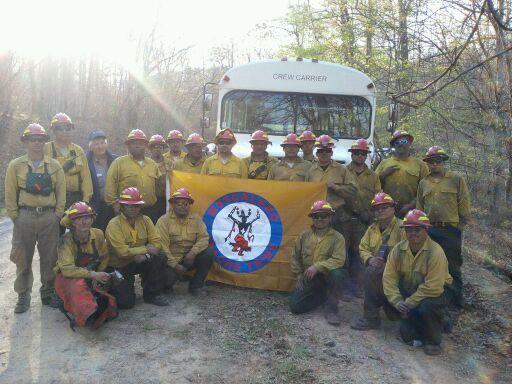 History of Tribal Fire Crews and Interagency Hotshot Crews
The Forest Service was formed in 1905 to protect America's timberlands. The BIA soon followed suit and developed its Division of Forestry in 1910 with the goal that forests should be used to help tribes become self-supporting (Newell,Clow and Ellis 1986).  In order to protect the timber holdings of the tribes, the Indian Division of the Citizen Conservation Corps (ID-CCC) was created in 1933 as part of President's Roosevelt's plan to put people back to work during the Great Depression. Throughout the nine years the program was funded, 80,000 Native American and Alaskan Native workers built forest protection infrastructure, including roads, trails, telephone lines, lookout towers, and fire cabins. They also became trained experts in preventing, detecting, and fighting wildfires (Dejong 2004;Newell, Clow and Ellis 1986; Kimmer Kanawha 2001 Shaw 2005).
When veterans returned home from the Second World War, forest protection continued to be a valuable source of income and provided veterans a natural niche in which to apply their skills and energy. In the postwar era, Native American fire suppression crews sprang up across the Western States and Alaska. In Arizona and New Mexico, 2,000 Southwest Indian forest firefighters became available. In 1955, several reservations in Montana and Idaho formed the Montana Indian Firefighters, and in 1957, the Bureau of Land Management formed crews using Native Americans and Alaskan Natives.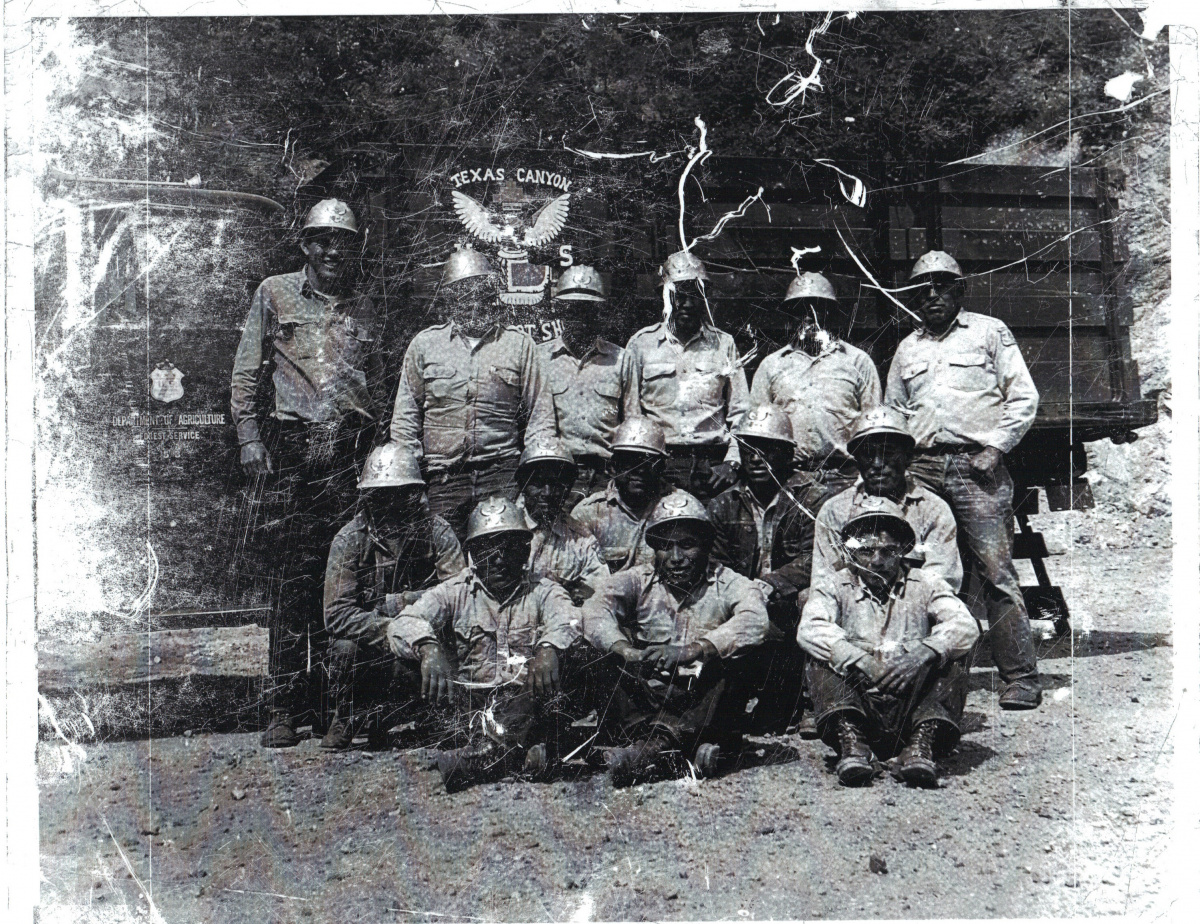 Well known native crews, include the Mescalero Red Hats, Taos Snowballs and the Texas Canyon Crews, all in service during the 1950's.
Hotshot crews were first established in Southern California in the late 1940s on the Cleveland and Angeles National Forests. They were called "Hotshot" crews because they worked on the hottest part of wildfires.
The Bureau of Indian Affairs (BIA) established the Bureau's first IHC at Fort Apache Reservation in Arizona in March of 1982. It was the first nationally funded all-Native American IHC in the country.
Dick Dorn, Superintendent for the Texas Canyon IHC (1933-1942) was tasked by the Forest Service with developing the Texas Canyon IHC. Rather than hire locals, Dorn opted to recruit Native Americans from the Zuni Indian Reservation in New Mexico. According to Dorn, one of the Zuni crew members would sketch the Zuni tribal symbol (Achi ya lada:ba),onto the hardhats and another would hand-paint the symbol in fine detail. The Knife Wing Kachina became the official symbol of the Texas Canyon IHC, where Zuni Indians served as firefighters with the crew until the 1977 fire season. Today, the Texas Canyon IHC is a sister crew to the present day Zuni IHC. Both the Texas Canyon and Zuni IHCs use the Knife Wing Kachina logo, yet each contains subtle differences.
BIA Hotshot Crews
Hotshot Crews are a Type 1 hand crew. They are the most experienced, fit, and highly trained of any of the Type 2, or Type 2 Initial Attack hand crews. The Bureau of Indian Affairs hosts seven Interagency Hotshot Crews (IHC). The seven hotshot crew programs represent elite fire fighting resources that build their professional reputations on integrity, quality and productivity. Crew members use their skills and experience to mentor and provide training for fire suppression and prescribed fire activities throughout the nation. Their mission is to provide a safe, organized, mobile and highly skilled professional hand crew for all wildland fire management activities.  
BIA at one time had 11 IHCs, but four retired during the last 10 years. The BIA now funds, sponsors and contributes seven IHCs to the interagency wildland fire program. Fort Apache, Navajo and Zuni IHCs are hosted by BIA. Chief Mountain, Geronimo, Golden Eagles, and Warm Springs IHCs are hosted by tribes. 
All seven crews are located on Native American Reservations.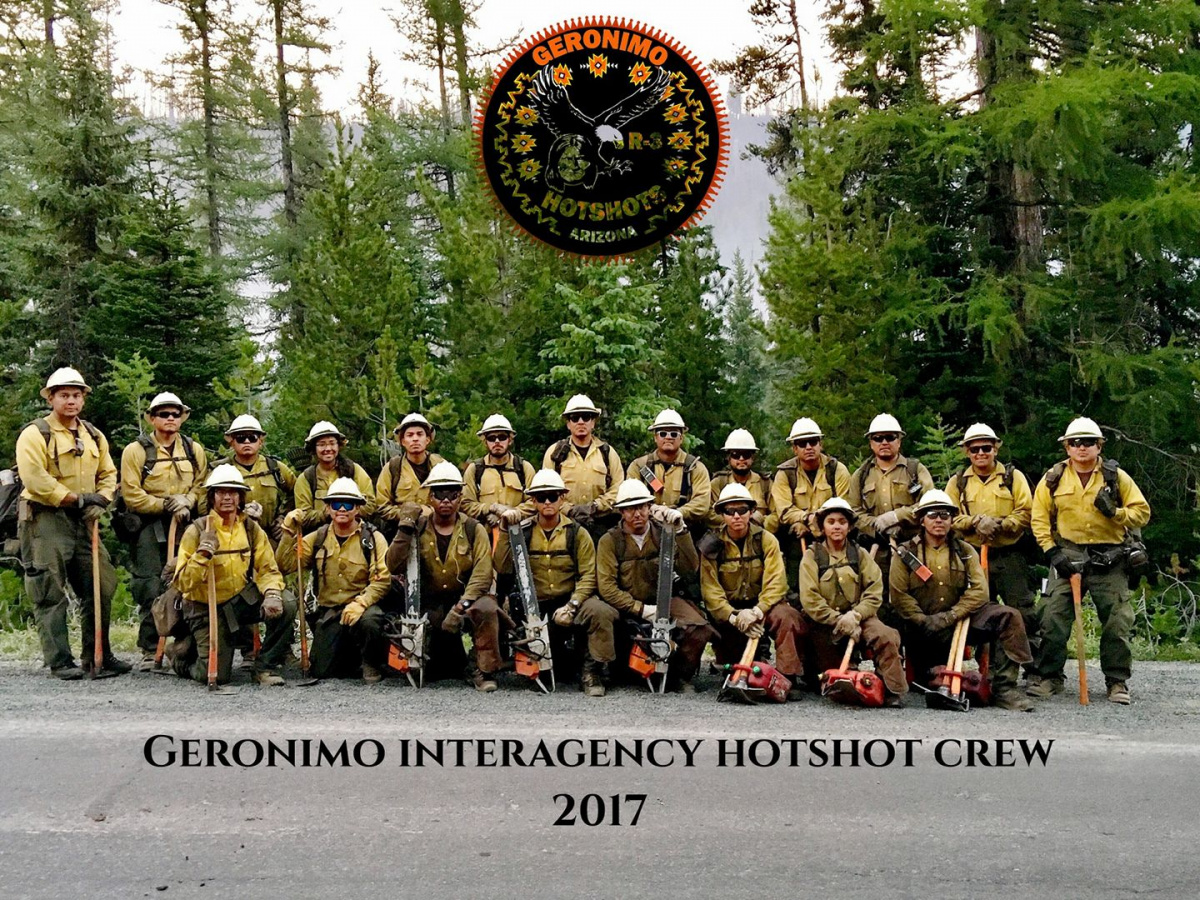 Learn more about each crew by visiting their pages.
* Denotes Tribal Program
Frequently Asked Questions about Hand Crews
Is each crew specific to a tribe?
No, but due to the location, most IHCs are comprised of crew members from the local tribe. There are instances where crew members are not from the local tribe and are either a native from other tribes or non-natives.
IHCs hosted by tribes are operated through Public Law 93-638, which gives the tribes the ability to operate federal programs such as the IHC program. Those tribal IHC programs perform their own hiring of employees, and are required to meet or exceed BIA standards for qualifications and operations of an IHC.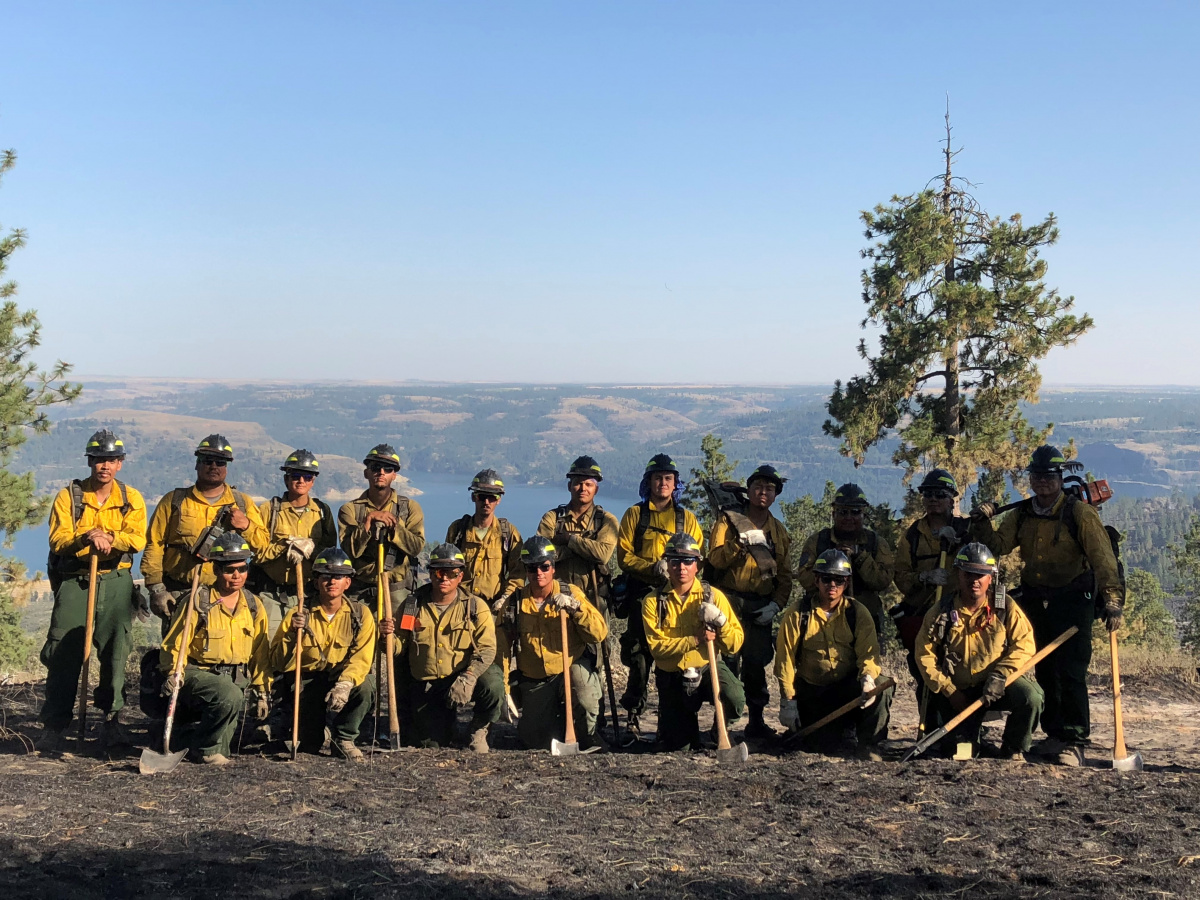 Which IHC is the oldest and youngest?
Of the existing seven IHCs BIA currently sponsors, the Fort Apache Hotshots have been certified as an IHC the longest, starting in 1982.
The most recently certified IHC the BIA sponsors is the Navajo Hotshots who earned their IHC certification in 2002.
How many fires a year will a crew go to?
On average IHCs may support 10 to 15 fire incidents, yet due to the nature of fire assignments, it is not possible to determine the exact number of wildfires a crew is assigned to in any given year. 
How many days a year on average are they on assignment?
In 2018, IHCs spent an average of 106 days on assignment.
Where do crews go to manage fires?
Internationally and the continental US, IHCs can work in any state there is a need.
Where do IHCs get funding?
The Department of the Interior, Wildland Fire Management (WFM) Preparedness program provides funding to Bureau programs (Bureau of Indian Affairs, Bureau of Land Management, National Park Service, Fish and Wildlife Service). The Bureaus then allocate funding to BIA agencies and tribes so they have the capability to effectively and cost-efficiently respond to wildfires to meet protection objectives. This includes providing for public and firefighter safety.
How much training do crews undergo?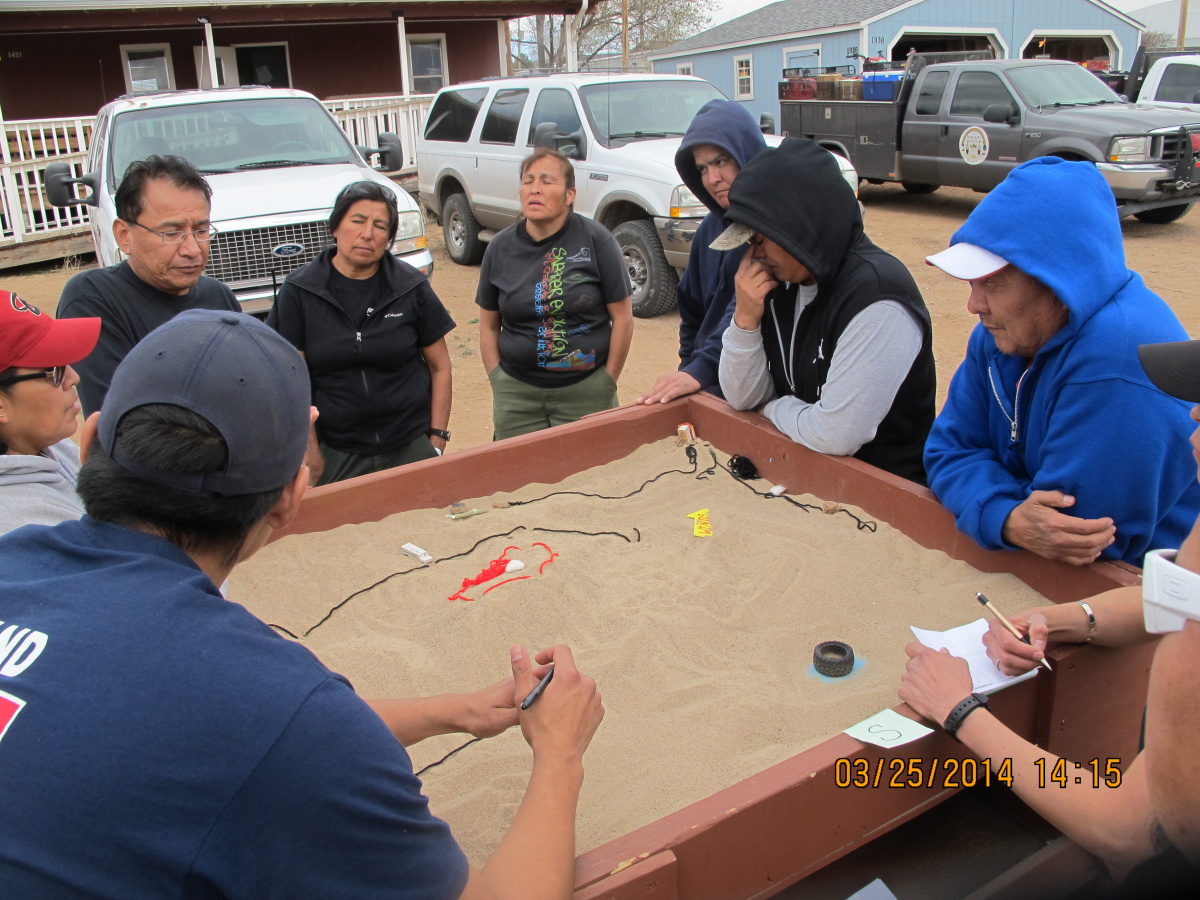 All IHCs must meet the same stringent standards for physical fitness, training, leadership, qualifications, and operational procedures. Which can be 80 hours or more of annual training prior to being made available each year. These are outlined in Chapter 3 of the Standards for Interagency Hotshot Crew Operations.
Have IHCs ever lost anyone in the line of duty?
Yes, we have lost IHC crew members over the years.
On June 29, 2008 Michael MacDonald, a crewmember of the Chief Mountain IHC died in a mid-air collision between two medical helicopters at Flagstaff, AZ. He was being transported to the local hospital for an allergic reaction to a bee sting.
On July 23, 2011, Fort Apache Hotshot, Deon "Dino" Classay, experienced a fatal heart attack exacerbated by environmental heat exposure while working on the Diamond Fire on the Fort Apache Reservation. You can read about this incident in depth on Wildland Fire Lessons Learned Center.
What do firefighters do when it's not fire season?
The majority have other outdoor jobs they perform in the off season. We have some that are very experienced outdoor hunting guides. Some are cattle ranchers, truck drivers, college students and instructors.
What's a typical day like for an IHC?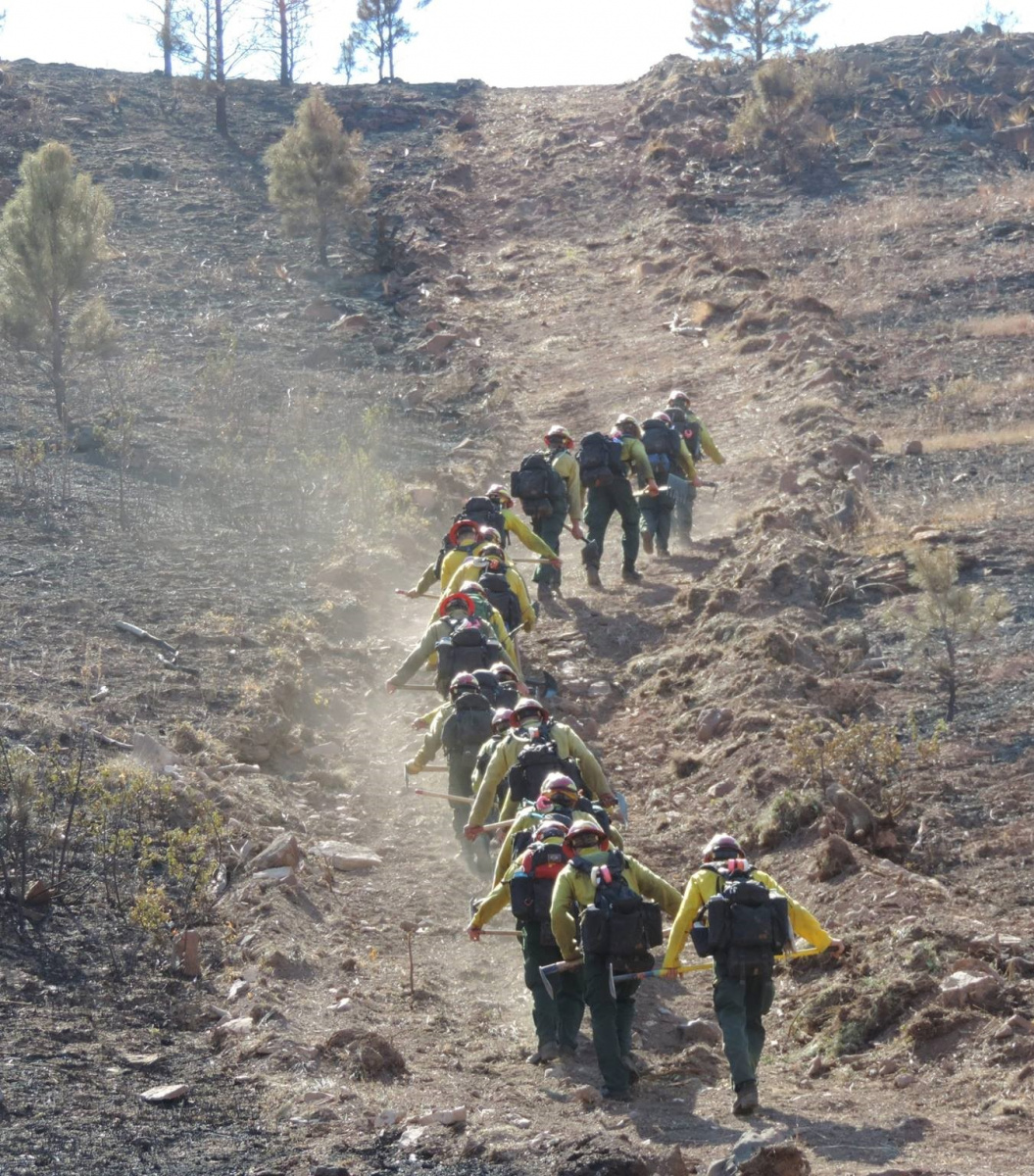 *General time frames apply
5a.m. – Prepare for days assignment (Each crewmember has a task to support the overall crew)
6a.m.  – Attend morning briefing. This meeting provides critical information to help firefighters maintain situational awareness on the fire line so they are always aware of current and predicted conditions that may threaten their safety. Key information includes learning what the weather is going to be like. If there are changes in the medical plan. Tactical assignments. Other information that lets them know what's going on around them they may need to know.
Crewmembers also take this time to grab morning breakfast and prepare for the day. Do they have lunch, water, Gatorade, tools needed for tactical mission?
6:30a.m.-8:a.m. – Transport to assignment.  This may mean driving or hiking several miles to the fireline or catching a helicopter flight for a remote mission.
Firefighters will work typically 12-16 hours a day.  It depends on how much daylight there is (the longer the days, the longer the burn period).  By legal standards, firefighters get lunch and a break every 4 hours. In reality, fatigue management is closely managed and good leaders monitor their crews and mitigate risk to ensure their crew is kept in the best condition possible.
Work for crewmembers include constructing hand line using various hand tools, creating containment lines using power saws to cut trees/brush, conducting burning operations to remove vegetation ahead of a fire, deploying nylon hose lays and connecting pump equipment to deliver water to remote areas, or keeping watch over containment lines to ensure the fire doesn't cross into unwanted areas. They also work closely with helicopters and air tankers to guide them in dropping water and retardant. They may also work nightshifts where visibility is limited and hazards, such as dead and falling trees, are abundant.
6-8p.m. – Firefighters return to fire camp. When they come in, they discuss the day, identify lessons learned, what they can improve, how better to prepare for tomorrow. They also resupply their equipment and ensure it is in good working order. Sometimes this means sharpening hand tools and saws or replacing broken handles. Once their equipment is taken care of, they will get some food and if available, a shower to clean up.
8-10pm – Bed down for the night and do it over again.
Hotshot Crew History in America
Visit our Contact Us page for Hotshot Crew contact information.