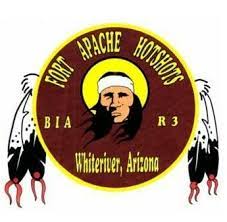 The home base for the Fort Apache Interagency Hotshot Crew (IHC) is in Whiteriver, Arizona on the White Mountain Apache Reservation, where the majority of the crew personnel are tribal members.
The Fort Apache Hotshot Program was the first nationally funded all-Native American Hotshot crew in the country. Starting out as a Type 2 hand crew in March 1982 the crew developed a strong reputation for consistently providing outstanding performance on the fire line. This performance caught the eye of several Incident Management Teams who suggested to BIA leadership to develop a Hotshot crew from these firefighters.
The first Fort Apache Superintendent was Gibson Pinal, who served on the crew from 1982 to 1983, In 1985, Varnell Gatewood led the crew through its Type 1 trainee status, and in 1985, he handed the feather to a new superintendent, Ralph Thomas, who was the first Superintendent to manage the newly certified IHC. Through the leadership and guidance of Thomas, the crew earned a reputation for being a tough and highly skilled handcrew. Through the years, the crew saw plenty of activity throughout the country. The most memorable was the summer of 1988 during the Yellowstone fires, in which the Crew worked three 30-day assignments, all in Yellowstone National Park. In 2002 they received recognition for their outstanding efforts that stopped the Rodeo-Chediski Fire from jumping containment lines that would have done great damage to the Show Low and Pinetop communities in Arizona.
The late Rick Lupe, a crewmember since 78', was the Superintendent from 1992-2001. In 2003, a year after he transferred to the Fort Apache Fuels Management Department, he was fatally injured in a prescribe burn incident.
Superintendents Past and Present
2012- Present Brian Quintero (Acting) 2006-2011 Trenton Prins 2003-2006 Dan Philbin 2002-2003 Marco Minjarez (Detailed) 1992-2001 Rick Lupe 1985-1992 Ralph Thomas 1984-1985 Varnell Gatewood 1982-1983 Gibson Pinal
Visit our Contact Us page for mailing address information.