The U.S. Forest Service's National Advanced Silviculture Program (NASP) is a graduate-level training program for professional foresters to improve their knowledge, skills, and abilities in the field of silviculture. The goal of the program is for the candidates to attain the level of certified silviculturist once they have successfully completed all course modules and a Silviculture Position Task Book.
Enrollment
Enrollment in NASP is open to U.S. Forest Service employees, as well as professional foresters in other federal and state government agencies.
Toward the end of each calendar year, the Branch of Forest Inventory and Planning selects up to five Bureau of Indian Affairs (BIA) or Tribal foresters, based on regional office priorities, to attend the upcoming NASP session and its associated modules. If you are interested, contact your BIA regional forester.
Curriculum
The NASP curriculum consists of four modules taught at four universities over an 8-week period. The four modules are:
Ecological Systems conducted by the University of Minnesota (76-hour module).
Inventory and Decision Support conducted by the Oregon State University (76-hour module).
Landscape Ecology conducted by the University of Massachusetts at the Northern Arizona University (76-hour module).
Advanced Silviculture Topics conducted by the University of Tennessee (85-hour module).
Candidates seeking certification will also complete a fifth module on local silvics and other training, such as Forest Vegetation Simulator software and US Forest Service Regional Silviculture modules.
When training requirements have been met, candidates are encouraged to complete a Silviculture Certification Position Task Book within two years following the completion of training, or as regionally directed. Certification is granted upon completion of the Silviculture Certification Position Task Book.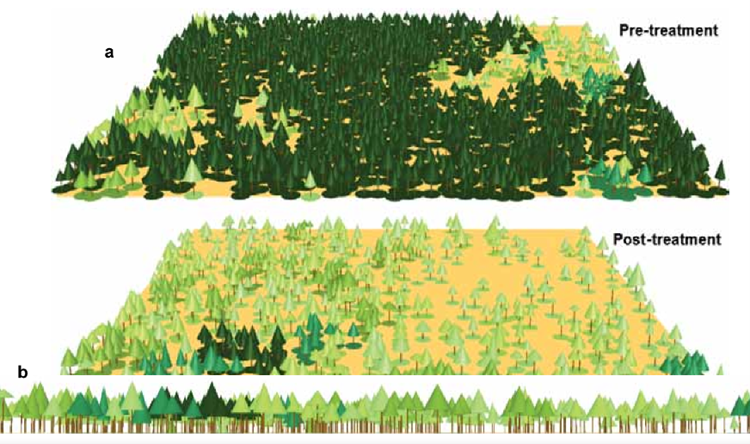 Within the Forest Vegetation Simulator, the Stand Visualization System (SVS) generates images depicting stand conditions. The SVS can be used to simulate forest treatments using various silvicultural systems. Depicted is a pre-treatment stand and the resulting post-treatment stand after a silvicultural treatment.
Additional Information
Additional Resources
Contact Us
Branch of Forest Inventory and Planning
13922 Denver West Parkway, Suite 300
Lakewood, CO 80401
8:00 a.m. - 4:30 p.m. MST, Monday – Friday