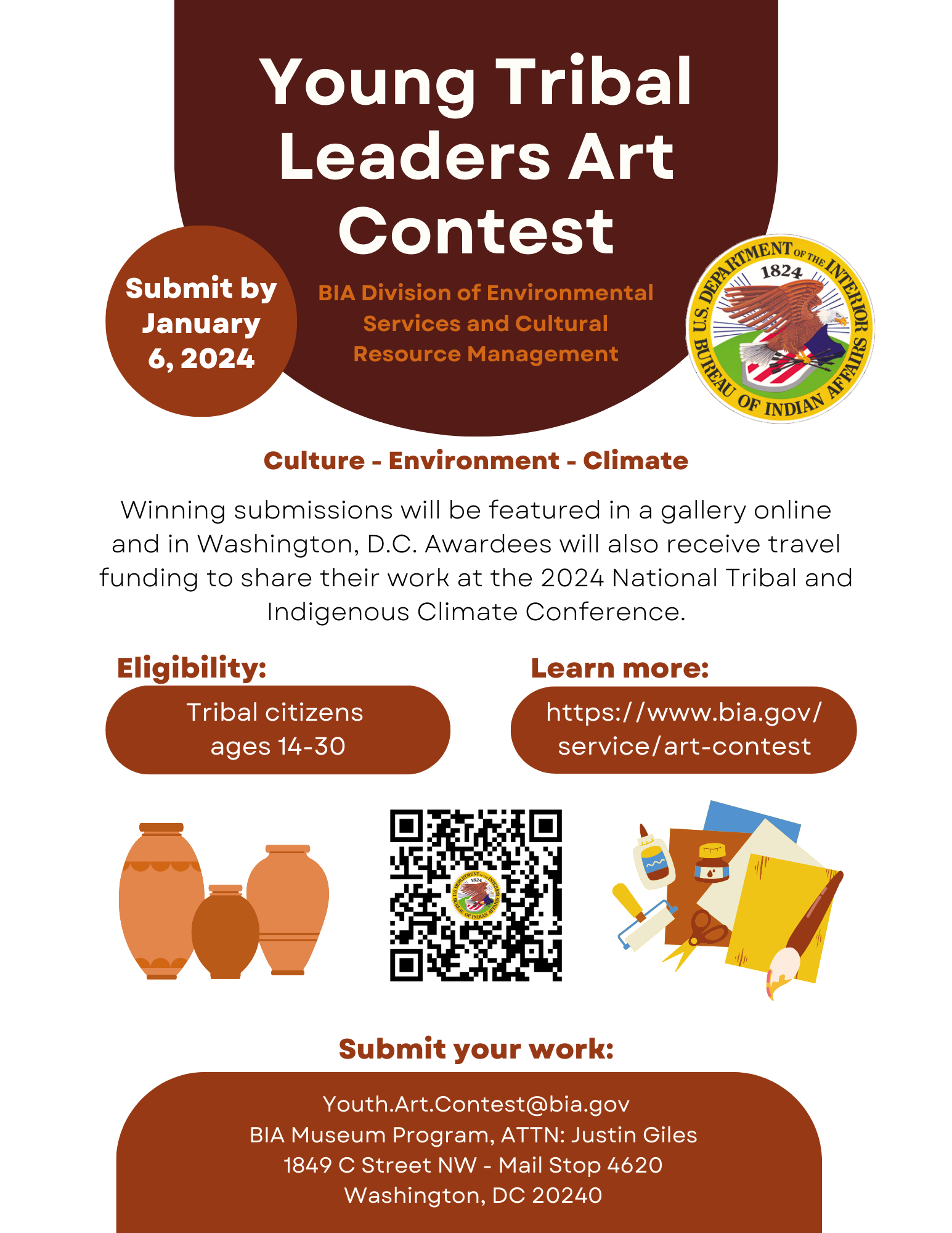 The Bureau of Indian Affairs (BIA) Division of Environmental Services and Cultural Resources Management (DESCRM) is hosting a Young Tribal Leaders Art Contest to further highlight the perspectives and creativity of Native youth and young professionals across the nation within themes of culture, environment, and climate. See below for eligibility guidelines and additional information. Submissions are due by Saturday January 6, 2024, and winners will be announced in February 2024. Winning submissions will be featured in Washington, D.C. as well as on the DESCRM website. Additionally, awardees will receive travel funding to attend the 2024 National Tribal and Indigenous Climate Conference to share their work.
Background
DESCRM includes the Branch of Cultural Resources Management, the Branch of Environmental Services, and the Branch of Tribal Climate Resilience. Our mission is to work with Tribes to protect, develop, manage and enhance American Indian and Alaska Native environmental, cultural and historical resources. 
Eligibility
Submissions are open to citizens of federally-recognized Tribes and Alaska Native Villages who are 14-30 years old as of January 1, 2024. A list of federally-recognized Tribes can be found in the August 11, 2023 edition of the Federal Register.
Artwork Submissions
Artwork submissions should center themes of culture, environment, and climate. Submissions must be original creations and they may be two-dimensional or three-dimensional.
Submissions may include, but are not limited to, photography, digital art, drawings and paintings, basketry, pottery, beadwork, and quillwork. Photographs that include identifiable individuals must include a signed photo release for each individual.
There is no limit to the number of submissions per participant. However, you may receive a monetary prize for only one. Additional work selected will still be featured. Collaborative submissions are permitted. The prize for a collaborative submission will be granted to the individual who submits the artwork.
Submissions may not include nudity, paraphernalia, or explicit material. We encourage you to consider viewers with visual impairment by submitting artwork that uses high color contrast and distinctive shapes.
How to Enter
To enter, please take a photograph or scan of your artwork. Photos of three-dimensional submissions should have a neutral background, be well-lit, and clearly showcase your art. For more help with photographing your art, the National Archive offers a Digital Photography Guide. Email scans and digital photos of your artwork to Youth.Art.Contest@bia.gov.
If you can't send a photograph of your artwork, you may also mail your submission to be digitally photographed by the contest organizers. Mail physical submissions to the following address:
BIA Museum Program, ATTN: Justin Giles
1849 C Street NW - Mail Stop 4620
Washington, DC 20240
If you would like your artwork returned, please include a return mailing address with your submission.
With each submission, please include:
A signed Indian Affairs Photo Release Form, including: 

Your name (first and last),
Tribal affiliation(s),
Mailing address,

Contact information, such as phone number or email address,
The title of your submission and a brief description of your artwork (1-3 sentences).
 All submissions must be received by the end of the day Saturday January 6, 2024.
Example Gallery

From left to right: Mixed media by Genevieve Muldoon; "The Seven R's" beadwork by Lara Jacobs (Muscogee Creek), Coral Avery (Shawnee Tribe), Rhode Salonen (Muscogee Creek) and Kathryn Champagne (Muscogee Creek); digital photograph by Jenni Jose.
Contact Us
Division of Environmental Services and Cultural Resources Management
1001 Indian School Road NW MB 44
Albuquerque, NM 87104