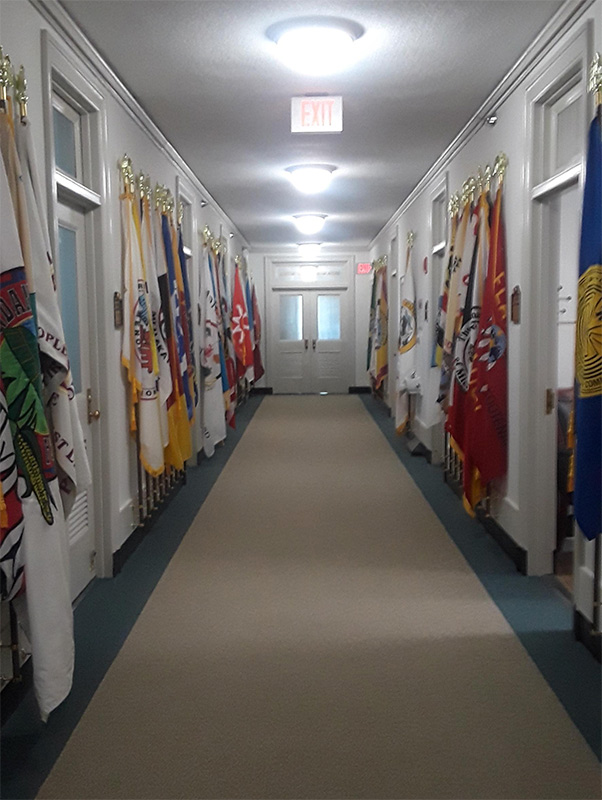 The Hall of Tribal Nations is a permanent exhibit of over 150 Tribal flags of federally recognized American Indian and Alaskan Native Tribes on display in the Indian Affairs corridor in the U.S. Department of the Interior's main Interior building in Washington, D.C.
The hall was dedicated on September 8, 2000, coinciding with Bureau of Indian Affairs' 175th anniversary celebration. In his remarks, former Assistant Secretary – Indian Affairs' Kevin Gover described the Hall as a way to remind Bureau of Indian Affairs (BIA) employees and educate others in the department about the government-to-government relationship with Indian tribes and the trust responsibility that the BIA has to the tribes. The flags call upon us to honor these commitments every day.
Add Your Flag to the Hall of Tribal Nations
The BIA encourages Tribes to contribute their flags for the hall. For more information on the Hall of Tribal Nations or on contributing a tribal flag, please contact Bureau of Indian Affairs Museum Program.
Additional Information
Related Documents
Contact Us
Branch of Environmental and Cultural Resources Management
BIA Museum Program 12220 Sunrise Valley Dr #6084
Reston, VA 20191
9:00 a.m. – 5:00 p.m. EST, Monday-Friday