Dates:
January 13, 2021 6:15pm to 6:15pm
WASHINGTON – In a virtual ceremony today with tribal leaders, Assistant Secretary – Indian Affairs Tara Katuk Mac Lean Sweeney announced the opening of the Operation Lady Justice Task Force's cold case office in Nashville, TN.  The Nashville office follows six that were opened in 2020: Bloomington, MN, on July 27; Rapid City, SD, on August 4; Billings, MT, on August 6; Albuquerque, NM, on August 11; Phoenix, AZ, on August 13; and Anchorage, AK, on August 26. 
Sweeney was joined by Assistant to the President and White House Intergovernmental Affairs Director Doug Hoelscher; Interior Deputy Secretary Kate MacGregor; Jeannie Hovland, Deputy Assistant Secretary for Native American Affairs and Administration for Native American Affairs Commissioner in the U.S. Department of Health and Human Services; as well as Bureau of Indian Affairs Office of Justice Services Deputy Bureau Director Charles Addington, OJS Agent William Horton, OJS Special Agent in Charge Terry Leonard, and acting BIA Eastern Regional Director Kimberly Bouchard. 
"The last four years the Administration has prioritized the long-overlooked issue of missing and murdered Native Americans and the Nashville Cold Case office will serve as a beacon of hope to the families impacted," said Director Hoelscher. 
"I'm very pleased to announce the opening of the Operation Lady Justice Task Force's cold case office in Nashville, Tennessee, a continuation of the Operation Lady Justice efforts to meet the mandates of Executive Order 13898 to address the crisis of missing and murdered  American Indians and Alaska Natives" said Assistant Secretary Sweeney, who also serves on the Task Force.  "I strongly encourage the new administration to continue this commitment to bringing justice to victims and their families." 
"Operation Lady Justice has been one of the most rewarding lines of effort that I have worked on in my time at the Department of the Interior," said Deputy Secretary MacGregor.  "With the leadership of Assistant Secretary Tara Sweeney and BIA law enforcement professionals, we have been able to stand up all seven cold case task force units throughout our country under this Administration - and it is my sincere hope that they will continue to flourish under the next Administration to resolve cases for those who have waited for justice for far too long." 
"The Bureau of Indian Affairs Office of Justice Services will continue to seek justice for the missing and murdered through its support of these cold case offices," said Deputy Bureau Director Addington.  "Along with our federal, state, local, and tribal law enforcement partners, we will not rest until these cases can be properly resolved for victims and their loved ones." 
President Trump's Executive Order established the Operation Lady Justice Task Force, a multi-agency effort co-chaired by Secretary Bernhardt and U.S. Attorney General William P. Barr. Its purpose is to enhance the operation of the criminal justice system and address the number of missing and murdered American Indians and Alaska Natives in tribal communities. 
The cold case teams have been established in accordance with Executive Order 13898 which President Trump signed on November 26, 2019, to address this crisis.  They are staffed with law enforcement personnel and newly appointed special agents from the BIA-OJS. 
A way for top federal officials to engage, coordinate and work with tribal governments on developing strategies to address the crisis, the Operation Lady Justice Task Force is working to collect and manage data across jurisdictions; establish protocols for new and unsolved cases; establish multi-jurisdictional cold case teams; improve the response to investigative challenges; and provide clarity on the roles, authorities and jurisdiction for those involved.  It is also charged with providing a report to the President of its work and accomplishments in meeting the executive order's mandate. 
Since 2019, the Department of the Interior and the BIA have undertaken a number of efforts to address the crisis such as conducting criminal investigations and solving missing and murdered cases. 
The BIA-OJS and its partners have opened 200 percent more drug cases across Indian Country than in the last year of the Obama Administration, and their tribal law enforcement officers have seized approximately 6,000 pounds of narcotics worth $30 million in the past two years. Ending illicit drug activities, alcohol abuse and sex trafficking that afflict too many tribal communities would help in reducing further violence against American Indians and Alaska Natives. 
The BIA-OJS's partnership with the U.S. Department of Justice's National Missing and Unidentified Persons System, known as NamUs, has led to the development and implementation of new tribal-affiliation data fields to assist law enforcement with capturing information to track missing persons in Indian Country.  Since the addition of these new data fields last year and NamUs' extensive outreach to states with large tribal populations with the result that they are inputting data directly into the system, there has been a 60 percent increase in Native-person entries in NamUs. 
The Assistant Secretary – Indian Affairs advises the Secretary of the Interior on Indian Affairs policy issues; communicates policy to and oversees the programs of the BIA and the BIE; provides leadership in consultations with tribes; and serves as the DOI official for intra- and inter-departmental coordination and liaison within the Executive Branch on Indian matters. 
Established in 1974 through the Native American Programs Act (NAPA), the Administration for Native Americans (ANA) serves all Native Americans, including state and federally recognized tribes, American Indian and Alaska Native organizations, Native Hawaiian organizations and Native populations throughout the Pacific Basin (including American Samoa, Guam, and the Commonwealth of the Northern Mariana Islands).  ANA promotes self-sufficiency for Native Americans by providing discretionary grant funding for community based projects, and training and technical assistance to eligible tribes and native organizations. 
####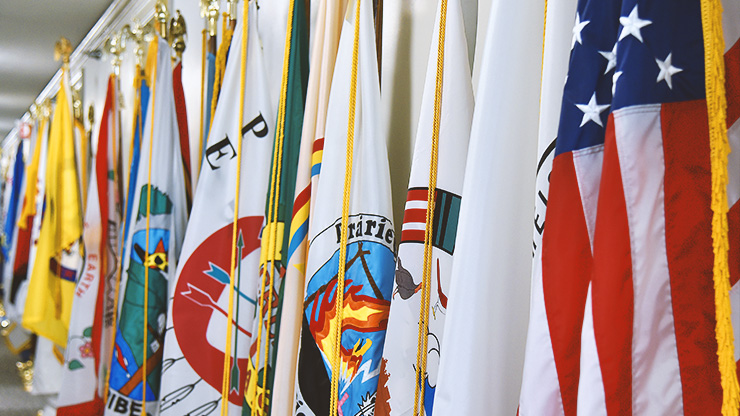 Tribal Flags Next to the American Flag
Related Page or Document
Contact Us
Office of the Assistant Secretary - Indian Affairs
1849 C Street, N.W. MS-4004-MIB
Washington, DC 20240
Hours
Open 8:30 a.m.–4:30 p.m., Monday–Friday.