For Immediate Release:
June 17, 2021
WASHINGTON – Today, Principal Deputy Assistant Secretary – Indian Affairs Bryan Newland announced appointments to two key leadership posts within the Bureau of Indian Affairs (BIA): Bartholomew "Bart" Stevens, an enrolled member of the San Carlos Apache Tribe in Arizona with ancestry from the Gila River Indian Community in Arizona, the Shoshone-Bannock Tribes in Idaho and the Ute Tribe in Utah, as Deputy Bureau Director for Field Operations in Albuquerque, N.M., and Kimberly Bouchard, of the Red Cliff Band of Lake Superior Chippewa Indians in Wisconsin, as Eastern Regional Office Regional Director in Nashville, Tenn. Both appointments became effective this month. 
"I am very excited to announce the appointment of two experienced managers to our leadership team: Bart Stevens as Deputy Bureau Director of Field Operations and Kimberly Bouchard as Regional Director of the Eastern Regional Office," Newland said. "They bring a wealth of knowledge and experience to these management positions and will provide important continuity within the BIA's operations and regulations." 
"I am extremely pleased Bart Stevens and Kimberly Bouchard, who are both well-established and respected leaders in the Bureau, have chosen to move into these key positions," said BIA Director Darryl LaCounte. "Their many years of experience from working at agency and regional office levels show how they have created effective and sustained tribal and employee relationships over time, which are invaluable as we work to meet the evolving demands of our employees and the important tribal priorities which they serve." 
Prior to accepting the deputy bureau director position, Stevens worked as regional director for the BIA's Navajo Regional Office in Gallup, N.M., where he served for over two years. From 2014 to 2016, he served as superintendent of the Bureau's Uintah and Ouray Agency in Fort Duchesne, Utah.  Before starting at the Navajo Region, he worked for the Bureau of Indian Education (BIE) serving in various leadership positions since 2006 including Deputy Bureau Director for School Operations and in BIE associate deputy directorships – acting Associate Deputy Director-East, acting Associate Deputy Director-West and acting Associate Deputy Director-Navajo – where he was responsible for the line management, direction and supervision of 16 Education Line Offices overseeing BIE-funded schools in 23 states. 
"Throughout my career, I have pledged not only to uphold the federal trust responsibilities to the tribes, but to leave Indian Country a better place than when I joined federal service," Stevens said. "I am honored to serve as the BIA's next Deputy Director for Field Operations, and I deeply appreciate the confidence placed in me to fulfill this vision. I will do my utmost to ensure that the BIA's mission is implemented to the best of our ability." 
The Office of Field Operations, located in Albuquerque, supports the BIA's 12 regions and 83 agencies in delivering program services to the 574 federally recognized American Indian and Alaska Native tribes, as well as individuals, either directly or through contracts, grants or compacts. 
Bouchard has 27 years of BIA experience. She began her federal career in 1990 with the Bureau's Great Lakes Agency in Ashland, Wisc. In 2004, she was named the agency's deputy superintendent, where she served as principal advisor to the superintendent for all phases of activities within the agency's trust service programs of forestry, natural resources, probate, and real estate services. Beginning in November 2009, she served as acting superintendent until she was officially appointed superintendent in September 2010. In 2019, Bouchard accepted the deputy regional director position at the Eastern Regional Office during which time she also served as acting regional director until her current appointment. 
"I want to thank Principal Deputy Assistant Secretary Newland and Director LaCounte for this opportunity to continue serving in the Eastern Regional Office," Bouchard said. "I am committed to continuing the BIA's mission of supporting all tribes in their desire for self-determination while ensuring their economic development goals are realized." 
The Eastern Regional Office, located in Nashville, serves 34 federally recognized American Indian tribes and has a service area that includes 460,980 acres held in trust and 102,677 acres of restricted fee lands. The region's jurisdictional area is comprised of states located east of the Mississippi River from Maine to Florida and from Illinois to Louisiana. Of the region's 27 states, 12 are home to the tribes. 
As the oldest bureau in the U.S. Department of the Interior, the BIA, established in 1824, falls, along with the BIE, under the Assistant Secretary – Indian Affairs. The BIA provides services, directly or through contracts, grants or compacts, to approximately 1.9 million American Indians and Alaska Natives from the federally recognized tribes. With close to 5,000 employees, the BIA carries out its core mission of service through four offices: 
Office of Field Operations: Which oversees 12 regional offices and 83 agencies that carry out the BIA mission at the tribal level; 

Office of Indian Services: Which operates general assistance, disaster relief, Indian child welfare, tribal government, Indian Self-Determination, and reservation roads programs; 
Office of Justice Services: Which operates or funds law enforcement, tribal courts, and detention facilities on federal Indian lands; and 

Office of Trust Services: Which works directly with tribes and individual American Indians and Alaska Natives in the management of their trust lands, assets and resources. 
####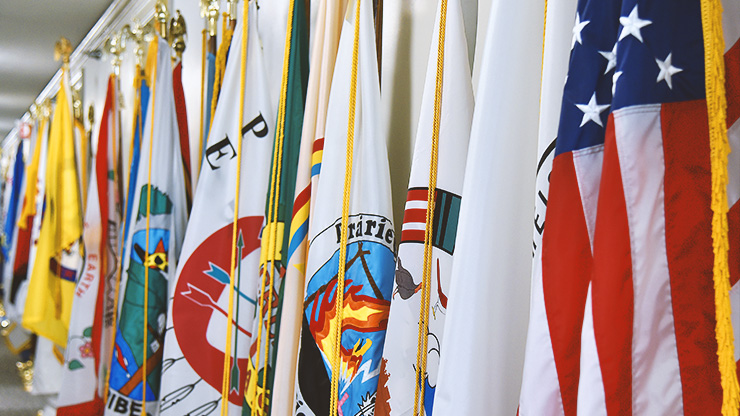 Hall of Tribal Nations
Contact Us
Office of the Assistant Secretary-Indian Affairs
1849 C Street, N.W. MS-4660-MIB
Washington, DC 20240
Hours
Open 8:30 a.m.–4:30 p.m., Monday–Friday.