Dates:
June 30, 2023 8:00am to July 14, 2023 8:00am
By: Lessa Peter
June 30 marks the first day of the national annual week of remembrance, and this year, marked the 10th anniversary of the Yarnell Hill Fire which tragically took the lives of 19 of 20 Granite Mountain Hotshot crewmembers. Bureau of Indian Affairs (BIA) Pima and Salt River Agencies Fire Management Officer Koreena Manthei served as operations section chief for the incident management team that coordinated the memorial services for the Prescott-based hotshot crew and backfill of positions for the day, at the request of the Prescott Fire Department. Two separate memorial services took place in Prescott, a short drive from the 8,400-acre incident location near Yarnell, Arizona.
On the morning of June 30, family members of the fallen crewmembers gathered at the Granite Mountain Hotshots Cemetery Memorial in the Arizona Pioneers Home Cemetery for a private memorial service. At the private service for family members, individuals close to the families, including the 16-year-old Ryder Ashcraft, son of Granite Mountain Hotshot Andrew Ashcraft who was killed in the fire, sole surviving crewmember, Brendan McDonough, and former Prescott Fire Chief Dan Fraijo, spoke in honor of the 10th anniversary of the tragic event. Children of the late crewmembers were presented with belt buckles imprinted with the 2013 Granite Mountain Hotshots insignia.
Pictured above: A child viewing the Granite Mountain Hotshots Cemetery Memorial in the Arizona Pioneers Home Cemetery in Prescott, AZ.
In the afternoon, a public memorial service was held at the Yavapai County Courthouse where hundreds of people attended the event where Brendan McDonough started the service by reading the Hotshot Prayer. Ryder Ashcraft spoke in front of a photo of his late father, followed by scheduled dignitaries including Gov. Katie Hobbs, State Forester Thomas Torres, Prescott Mayor Phil Goode and Prescott Fire Chief Holger Durre.
City of Prescott Mayor Phil Goode formally proclaimed June 30 as Granite Mountain Hotshots Day "to honor and remember the fallen heroes, and honor their memory for their families and the community."
Arizona Governor Katie Hobbs, who also attended the public event, previously ordered flags at all state buildings to be lowered to half-staff from sunrise to sunset in honor of the sacrifice of the Granite Mountain Hotshots.
"Ten years ago, our lives forever changed when 19 men selflessly answered the call to protect the people of Yarnell and Peeples Valley. With each year that passes, our admiration for the Granite Mountain Hotshots endures and their memory will forever live on," stated Governor Hobbs.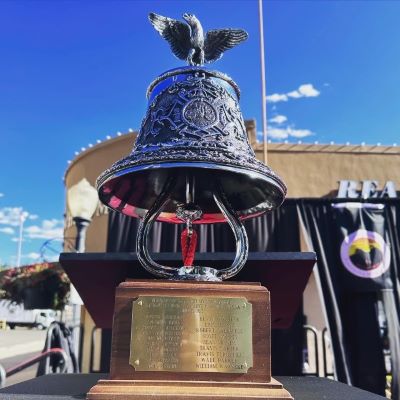 At both events, a 250-person honor guard comprising of fire departments around the state presented the posting of colors with the Central Arizona Fire Honor Guard Pipes and Drums chapter. The services ended with 19 bell tolls recognizing the 19 fallen hotshots.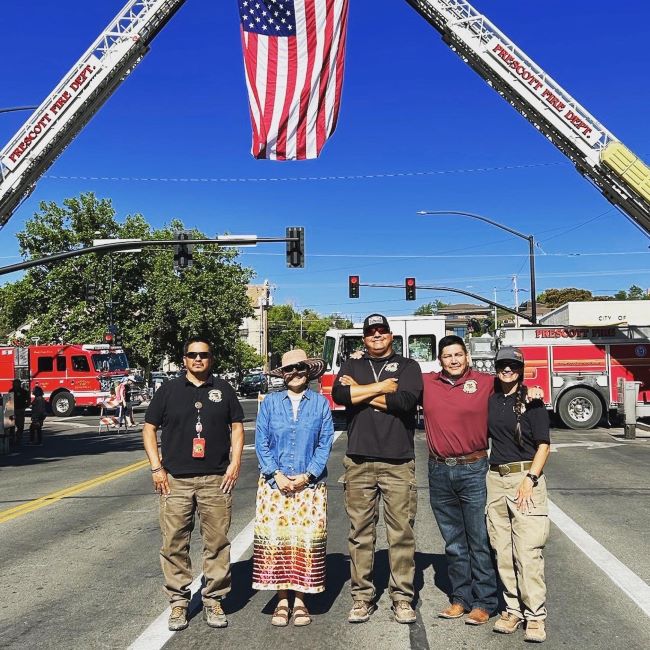 Pictured left to right: BIA Western Region Fire Management Officer Carlos Nosie, Jr., BIA Western Region Acting Regional Director Joelynn Ashley, BIA Western Region Assistant Fire Management Officer Leander Real Bird, BIA Western Region Forester Melvin Hunter, Jr. and BIA Pima and Salt River Agencies Fire Management Officer Koreena Manthei.
"These events honored the fallen and provided an opportunity for reconnection, closure, and hope in their path forward for families and those impacted by the tragedy," stated Chief 57 Koreena Manthei.
The national week of remembrance, June 30 – July 6, not only honors those who have tragically died battling wildfires, but provides an opportunity to remember, reflect and learn from the tragic incidents that have taken the lives of wildland firefighters.
The June 30, 2023, 10th anniversary memorial services recognized the 19 Granite Mountain Hotshot crewmembers lost in the Yarnell Hill Fire on June 30, 2013: Andrew Ashcraft, age 29; Robert Caldwell, age 23; Travis Carter, age 31; Dustin Deford, age 24; Christopher MacKenzie, age 30; Eric Marsh, age 43; Grant McKee, age 21; Sean Misner, age 26; Scott Norris, age 28; Wade Parker, age 22; John Percin, age 24; Anthony Rose, age 23; Jesse Steed, age 36; Joe Thurston, age 32; Travis Turbyfill, age 27; William Warneke, age 25; Clayton Whitted, age 28, Kevin Woyjeck, age 21; and Garret Zuppiger, age 27.
In addition to the BIA, supporting agencies included local, state, and federal cooperators; City of Prescott, Arizona Department of Forestry and Fire Management, Prescott Fire Department, Prescott Police Department, Central Arizona Fire and Medical Authority, Prescott National Forest, Bureau of Land Management, the City of Scottsdale, and various Phoenix-area fire departments.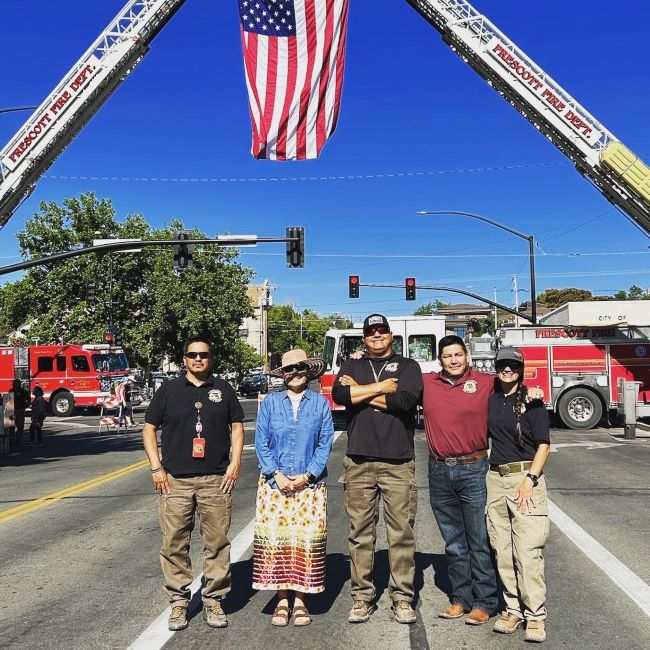 Contact Us
Hours
Open 8:30 a.m.–4:30 p.m., Monday–Friday.