For Immediate Release:
September 01, 2021
WASHINGTON – The Bureau of Indian Affairs (BIA) announced today that regulations submitted by three federally-recognized Tribes under the Helping Expedite and Advance Responsible Tribal Home Ownership (HEARTH) Act of 2012 have been approved. 
With this action, the three Tribes – Pascua Yaqui Tribe of Arizona, Pueblo of Jemez in New Mexico, and Table Mountain Rancheria in California – now have the authority to govern and manage the leasing of their Indian trust and restricted fee lands for agriculture, business, residential, solar and wind energy evaluation purposes without additional review by the Department. 
"Since its enactment almost a decade ago, the HEARTH Act has been living up to Congress's intent that Tribal nations decide how best to utilize and protect trust and restricted lands for the benefit of their peoples," said Assistant Secretary – Indian Affairs Bryan Newland. "The HEARTH Act continues to aid Tribal efforts in building sustainable economies that support their self-determination and sovereignty." 
The types of leasing regulations approved are: 
Pascua Yaqui Tribe of Arizona: business site leasing ordinance, residential leasing ordinance and wind and solar leasing code. 
Table Mountain Rancheria: residential leasing regulations. 
The three approvals announced today are among the 69 Tribal nations that have received Secretarial approval for leasing regulations, with another 21 awaiting approval. 
The HEARTH Act, which amended the Indian Long-Term Leasing Act of 1955 (25 U.S.C. 415), promotes Tribal self-determination by making a voluntary, alternative land-leasing process available to federally recognized Tribes through the Interior Department. It restored the authority of those Tribes to develop and implement their own laws governing the long-term leasing of Indian trust lands for agricultural, business, renewable m energy, residential and other purposes. 
Under the HEARTH Act, the Secretary is authorized to approve Tribal regulations if they are consistent with the Department's leasing regulations and provide for an environmental review process that meets requirements set forth in the Act. Once a Tribe's HEARTH application is approved, it can negotiate and enter into leases without further approvals. 
Tribes may submit HEARTH applications to BIA for agricultural and business leases of Tribal trust lands for a primary term of 25 years, and up to two renewal terms of 25 years each. Leases of Tribal trust lands for residential, recreational, religious or educational purposes may be executed for a primary term of up to 75 years. 
The BIA Office of Trust Services' Division of Real Estate Services (DRES) administers the HEARTH Act review process for tribal leasing regulations applications. Interested tribes may submit their regulations by mail to: 
U.S. Department of the Interior, Bureau of Indian Affairs 
Office of Trust Services 
Attention: Division of Real Estate Services 
1001 Indian School Road NW, Box 44 
Albuquerque, New Mexico 87104 
The Assistant Secretary – Indian Affairs advises the Secretary of the Interior on Indian Affairs policy issues, communicates policy to and oversees the programs of the Bureau of Indian Affairs (BIA), the Bureau of Indian Education (BIE), and the Bureau of Trust Funds Administration (BTFA), provides leadership in consultations with tribes, and serves as the DOI official for intra- and inter-departmental coordination and liaison within the Executive Branch on matters concerning American Indians and Alaska Natives and the federally-recognized Tribes in the United States. 
The Bureau of Indian Affairs directly administers and funds Tribally-operated infrastructure, law enforcement and justice, social services (including child welfare), Tribal governance, and trust land and natural and energy resources management programs for the nation's federally-recognized American Indian and Alaska Native Tribes through four offices: Indian Services, Justice Services, Trust Services and Field Operations. For more information and the list of Tribes with approved regulations, visit the HEARTH Act web page. 
####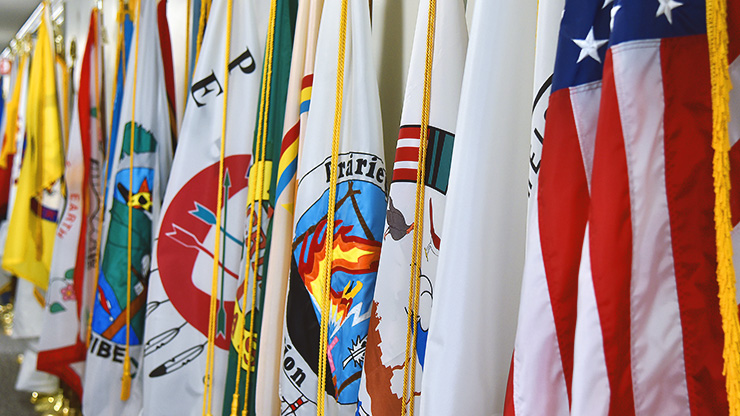 Hall of Tribal Nations
Related Page or Document
Contact Us
Office of the Assistant Secretary – Indian Affairs 
1849 C Street, N.W. MS-4660-MIB
Washington, DC 20240
Hours
Open 8:30 a.m.–4:30 p.m., Monday–Friday.