Dates:
November 22, 2022 12:00pm to 12:00pm
Author: Lessa Peter
In 2018, the DOF, through the support of BIA Leadership, assembled the Timber Team. The focus for the team is to help accomplish forestry field work for Tribes such as timber sales and continuous forest inventory (CFI) projects. 
In FY 22, The Timber Team spent 30 weeks traveling in response to Tribal forestry project needs. Between driving and flying to project locations, they traveled over 32,000 miles and successfully completed forestry work for 16 Tribes throughout the United States.
The Timber Team's support to Tribes included: 
Over 3,500 acres prepared for timber management with an estimated volume of over 20 million board feet. 
Gathered timber cruise/volume estimation data on 778 plots. 
120 stand exams measured. 
169 continuous forest inventory plots remeasured. 
Mapped tribal forestlands using GIS on 132,000 acres.   
These accomplishments didn't come easy as Tribes are located throughout the nation in varying weather and terrain. The Team is trained to work safely in most field conditions such as steep terrain, snowy winter weather (see Photo 1), insect infested woods, and hazardous vegetation such as poison ivy.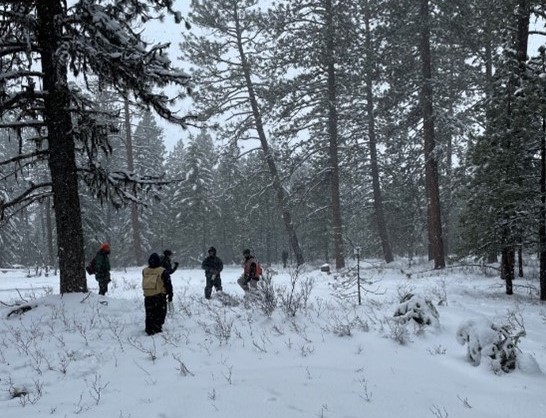 Photo 1: Timber Team assisting Umatilla Reservation with marking trees with paint that will be retained in the area post-harvest as a viable seed source for regeneration.
The Timber Team helped Tribes across the country, prioritizing fire salvage operations. Salvage operations took place in Montana, South Dakota, and Washington, where the team assisted local Tribal foresters with layout, marking, and cruising. Layout consists of determining how large cutting units can exist and the logging processes that will be required to harvest the timber. The next step of marking is when foresters will paint trees that need to be retained as a seed source once the cutting units have been harvested by the logger. After layout and any internal painting or marking has been completed, the team will then begin cruising the timber or using mathematical statistics to determine total sale volume and value based on local logging markets.
The team also had the opportunity to tour several mills that prioritized processing woody material before insects and disease targeted the integrity of the wood. It was an incredible learning experience for the Timber Team and  satisfying for the team to see Tribes work on salvage operations from start to finish (See photos 2 and 3).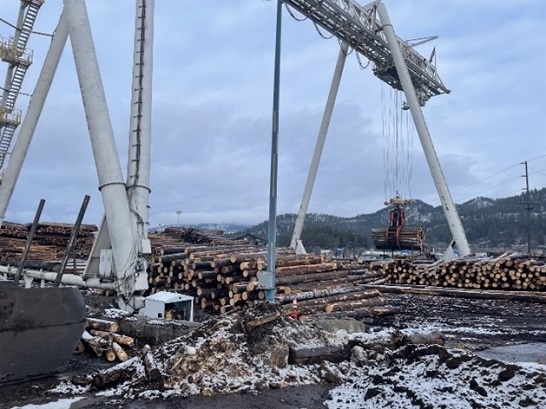 Photo 2: Timber Team touring the Vaagen Mill near the Colville Reservation in Washington.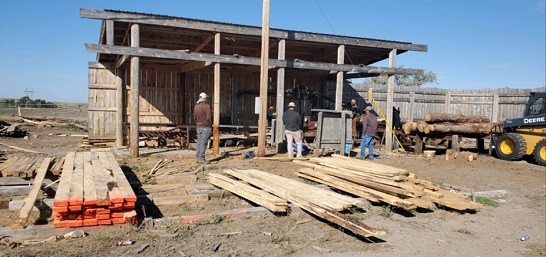 Photo 3: Timber Team touring the Rosebud Sioux Tribal mill in South Dakota.
The Timber Team also provided work experience for two BIA Pathways program interns (See Photo 4). One intern is a Cherokee Tribal member from Oklahoma and is currently enrolled at Oklahoma State University pursing a bachelor's degree in Forest Resource Management. The second intern is a member of the Confederated Tribes of Siletz Indians and is enrolled at Oregon State University pursuing a bachelor's degree in Natural Resources with a focus in Policy and Management. Both Pathways interns worked hard, gained incredible work experience and will be an asset to any program when they graduate.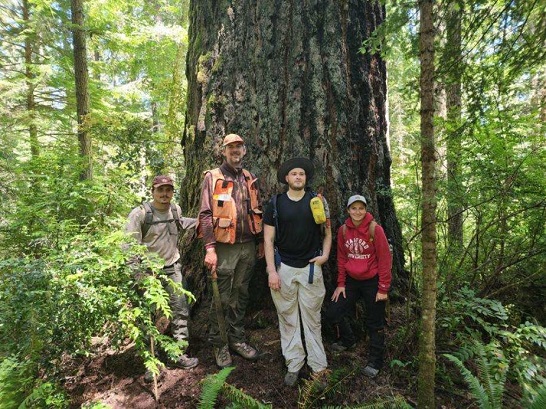 Photo 4: Timber Team assisting the Coquille Tribe in cruising to assess value and volume on Douglas-fir tree stands.
The DOF is currently seeking proposals for calendar year 2023 and federal/Tribal staff that would like to work with the Timber Team on any assignment this year. All proposals should be submitted to the Regional Forester or Regional Director. The Timber Team is already beginning to schedule trips for 2023. Trips include stand exams for the Chehalis Reservation in Washington, timber sale preparation for the Yurok Tribe in northern California, and CFI installation for the Alabama-Coushatta Tribe of southeastern Texas. The team has also started working on a large-scale geographic information system (GIS) cover type mapping project for the Southern Plains Region.
Visit the Timber Team's new webpage at https://www.bia.gov/service/timber-team. The webpage includes a project request form, contact information and additional information about the Timber Team.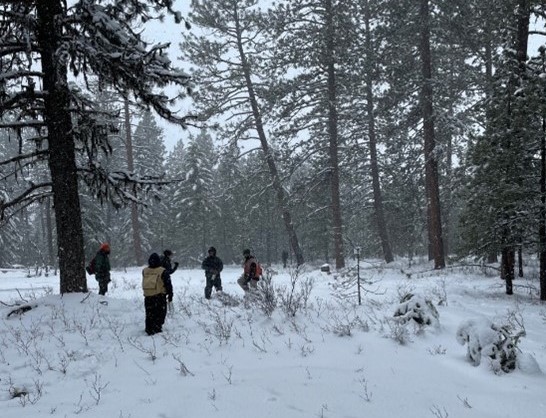 Contact Us
Division of Forestry
1001 Indian School Road NW, Building 1
Albuquerque, NM 87104
Hours
Open 8:30 a.m.–4:30 p.m., Monday–Friday.