For Immediate Release:
January 16, 2021
WASHINGTON – The U.S. Department of Interior's (DOI) Indian Affairs released the National Tribal Broadband Strategy (NTBS), a work product of the American Broadband Initiative. Designed as a roadmap for the Federal Government and the private sector, the NTBS highlights the strategic components to broadband deployment and expansion, and the necessary actions needed to spur investment within American Indian and Alaska Native (AI/AN) communities.  The Strategy was developed in collaboration with the White House Council on Native American Affairs (WHCNAA). 
On the release of the NTBS, Interior Deputy Secretary Katharine MacGregor remarked, "DOI has been at the forefront of expanding broadband access across the country for the American people.  The National Tribal Broadband Strategy appropriately focuses on how best to grow broadband capacity and access in Native American communities – which will support economic strength and educational opportunity.  I am thankful Indian Affairs was able to deliver this strategy as part of the American Broadband Initiative." 
"Connectivity within our Native communities has been a top priority for Indian Affairs, the Department of Interior and the Trump Administration.  I assembled a team of dedicated Indian Affairs employees to work collaboratively within the federal family to develop this roadmap," said Assistant Secretary Tara Sweeney.  She further stated, "Thank you to our federal partners and my team at Indian Affairs.  This strategy is the foundation upon which the executive and legislative branches can build to create certainty and attract investment for broadband growth within American Indian and Alaska Native communities." 
"Now more than ever, it is critical that the federal government join together to support tribal communities and bolster broadband connectivity," said Crosby Kemper, director of the Institute of Museum and Library Services (IMLS). "Tribal libraries and museums across Indian Country and Alaska Native communities provide essential access to the digital resources and services people need.  From facilitating internet connectivity to providing educational, health, digital literacy, and job information, these organizations are critical centers for their communities.  We must invest in, partner with, and empower them, and so IMLS is proud to support this new, actionable strategy to lower the barriers to broadband access for rural and tribal communities." 
Building on the work of the American Broadband Initiative, the Strategy focuses on seven strategic areas for development and proposes 28 actions for the U.S. Departments of Agriculture, Commerce, Education, and Interior, as well as the Federal Communications Commission (FCC), IMLS, and the White House Office of Science and Technology Policy. The strategic areas are: 
Coordination: Grow a Community of Practice  
Data: Improve Data Collection, Analysis, and Reporting  

Network Building Blocks: Expand Backhaul, Middle Mile, and Spectrum Resources  

Funding: Promote Public and Private Investment  

Permitting: Reduce Complexity and Delays  

Adoption: Bring Broadband into Homes and Businesses  
Economic Development: Leverage Broadband for Greater Impact  
The Strategy considers the diverse ecosystem for tribal broadband development, including more than 20 federal agencies; hundreds of local and national internet service providers; state, local, and tribal governments; schools, libraries, and cultural centers; banks; community financial development institutions; advocacy groups; and many others. 
The Strategy was guided by tribal input and in partnership with the White House Council on Native American Affairs, and synthesizes recommendations from government, academic, and industry sources.  Reports on barriers to tribal broadband development from the Government Accountability Office, the FCC's Native Nations Communications Task Force, the Institute for Local Self-Reliance, USTelecom, and the American Indian Policy Institute were instrumental in the formulation of this Strategy. 
The inter-agency Strategy seeks to overcome the broadband disparities facing tribal communities.  While over 99 percent of the population in urban areas has access to broadband service meeting a 25/3 Mbps speed threshold, only approximately 65 percent of the population on rural tribal lands has that same access as of the end of 2019.  Insufficient service on tribal lands not only inhibits individuals' access to education, healthcare, and economic resources, it also impedes tribes' efforts to achieve self-governance and self-determination. 
Please visit the Indian Affairs website for information about other Indian Affairs programs and services at www.indianaffairs.gov. 
The Assistant Secretary – Indian Affairs advises the Secretary of the Interior on Indian Affairs policy issues, communicates policy to and oversees the programs of the BIA and the BIE, provides leadership in consultations with tribes, and serves as the DOI official for intra- and inter-departmental coordination and liaison within the Executive Branch on Indian matters. 
####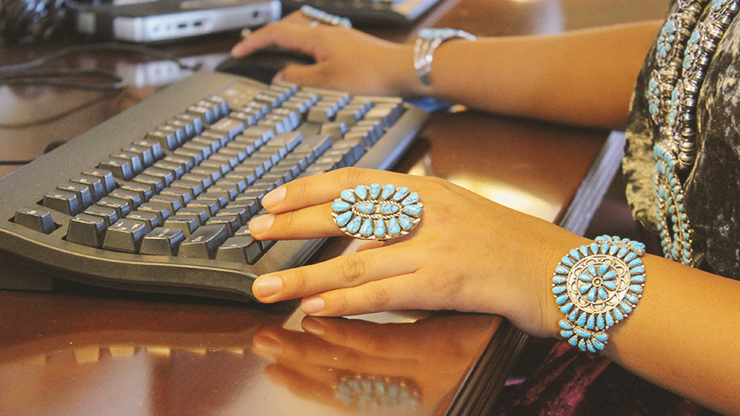 Young AI/AN Woman uses computer to access internet.
Related Page or Document
Contact Us
Office of the Assistant Secretary - Indian Affairs
1849 C Street, N.W. MS-4004-MIB
Washington, DC 20240
Hours
Open 8:30 a.m.–4:30 p.m., Monday–Friday.