Dates:
January 19, 2021 9:15pm
Upon U.S. Senate confirmation, I began my service as Assistant Secretary-Indian Affairs in July 2018, and it has been my distinct honor to serve Indian Country and Alaska Native villages in this position.
I have had the privilege to work alongside many Tribal leaders on many meaningful issues, and I appreciate the honest and spirited conversations we've had over the years. When I began my service, I sought partnership with, and transparency for, Tribal leadership across the country. Together we quickly identified program and services that Indian Affairs needed to more actively manage to ensure we delivered on our trust responsibility and treaty obligations to federally recognized Tribes.
Together we have made significant accomplishments, a few of which are identified below. Just as important, we made significant and much needed administrative realignments to modernize the Indian Affairs agencies. These accomplishments and administrative improvements lay the groundwork for the United States to better meet its trust responsibilities for years to come.
Every generation does its best in the face of challenges and opportunities that we face as Natives. These challenges and opportunities come like drifts of snow, sometimes gently, and sometimes like a fierce blizzard.
As I depart my tenure as your Assistant Secretary and return to my beloved Alaska and private life, I am reminded of the accomplishments made by Indian Affairs in partnership with Tribes across the country. Some initiatives are new, while some are built upon the legacy of previous Administrations. I am proud of the progress made and the hard work and dedication of all employees within the Indian Affairs enterprise.
The most recent accomplishment update was provided on September 30, 2020. Here are some additional updates:
Implemented Secretarial Order 3390, which directed the BIA to formally take the land associated with the National Bison Range (NBR) into trust for the Confederated Salish and Kootenai Tribes (CSKT) of Montana and restore the land to the Flathead Indian Reservation.
The total acreage taken into trust during the Trump Administration now exceeds 150,000 acres, which includes the NBR.
Stopping the scourge of illegal drugs in our communities:
Seizing more than: 8,000 pounds of illegal narcotics seized between the Opioid Task Force Operations and the BIA-OJS Canine Team Operations with an estimated street value of over $44 million; and,
Making over 1,000 arrests.
Helping preserve our cultures by repatriating artifacts and supporting language preservation.
Modernizing the infrastructure within the Bureau of Indian Education to support students and schools for distance learning.
Continuing to improve administration of our trust responsibility by streamlining management of trusts accounts, reforming probate, and improving safety.
Continuing to expand self-determination by increasing examination and approvals of the trio of self-determination modernization laws found in the HEARTH Act, Indian Trust Asset Management Plans (ITAMP), and Tribal Energy Resource Agreements (TERA). Since 2018:
29 HEARTH applications have been approved (nearly half of the applications approved since 2015);
2 ITAMP applications have been approved; and
TERA reforms were finalized in 2020.
Building capacity for broadband deployment through the development and release of the National Tribal Broadband Strategy.
Developing a process to efficiently and effectively utilize the receipts from the Great American Outdoors Act allocation for the Bureau of Indian Education.
These accomplishments can be added to those shared in previous letters. My most valued include:
Justice
Operation Lady Justice
Reclaiming Our Native Communities
Missing and Murdered American Indian and Alaska Native Awareness Day
Deployment of TAP Kiosks
Tribal affiliation data field added to the NamUs national data base
Aggressive interdiction of opioids and other illegal narcotics
Economic Empowerment
National Tribal Broadband Strategy
National Tribal Broadband Summit
TERA Reforms + Inherently Federal Functions list
Establishing a system for the innovative 105(L) leasing and financing of infrastructure projects
Native CDFI engagement
Grant opportunities in excess of $26M
Education
Separating the budgets of both BIA and BIE
School Accountability, Assessments and Standards. A uniform accountability system.
Language preservation grants
Wi-Fi capabilities installed on the 25 longest bus routes in Indian Country
Administrative Efficiencies
Streamlining APD Approvals
Mortgage Handbook
Branch of Wildland Fire Management policies and procedures update
Probate Reform
Removal of burdensome requirements for Tribal Transportation Program inventory
Alaska Native IRA regulatory framework
In addition, I am very proud to announce that we've created a place in the Assistant Secretary – Indian Affairs' hallway that honors all prior Assistant Secretaries with their portraits and informational plaques on permanent display.
Accompanying the Assistant Secretaries' photo gallery, we also rededicated the Hall of Tribal Nations and its tribal flags collection, honoring the tribes represented in the collection by refurbishing their flags with new staffs, bases, and finials, all done to the exacting standards created by the State Department for the flags of international sovereigns. The Hall and flags remind everyone that American Indian and Alaska Native governmental relations with the United States transcend personal and political imperatives.
These visible signs of respect, I believe, symbolize how much we value the past, our love of our living relatives, and our hopes for the future. It is my sincere hope that everyone will have an opportunity to appreciate these new and restored displays by visiting the Office of the Assistant Secretary – Indian Affairs.
Tribal leaders, Quyanaqpak for putting yourselves forward in service to our peoples. Sovereignty, the act of stepping forward to protect, progress and empower tribal members and communities is truly an act of Qaunaksriñiqput. From my Iñupiaq language it means stewardship.
To our business leaders in our Tribal and Alaska Native corporations, while the outside world may not understand the value Native-owned businesses bring to our collective people and communities, thank you for exercising our economic sovereignty. Our Native corporations are indeed, the ultimate home-grown American companies, empowering our communities towards self-reliance and healthy economies.
The strong traditional Iñupiat women in my life, especially my mother Eileen and Aaka May (grandmother), taught me, and youth from my region and across Alaska, to do our best, lead with integrity, never be fearful of mistakes, and never be fearful of responsibility.
To young tribal members, I call to you, reach for every chance to serve, to lead, to do your best. Lead with integrity, never be fearful of mistakes, and never be fearful of responsibility. Whether in our tribal governments, business, or in service at a local, state, Tribal or federal agency- leave it all on the field, desert, plain or tundra. I will be cheering for you. Our ancestors- every generation before, and those yet to come, paġla (welcome) you.
With good heart, peace and respect, thank you for the opportunity to serve our Native peoples.
Quyanaqpak,
Katuk
Tara Sweeney
Assistant Secretary – Indian Affairs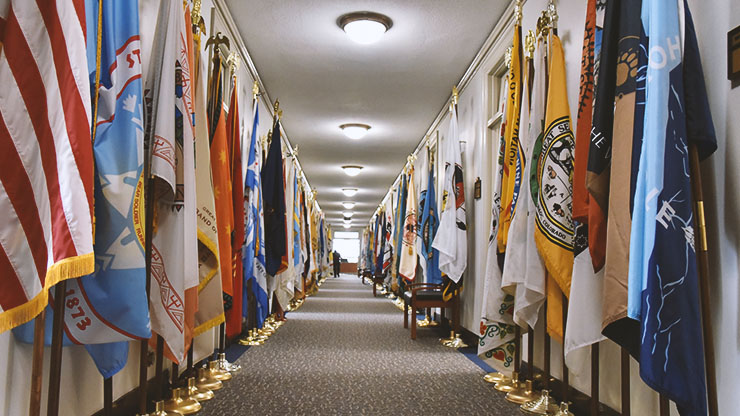 Hall of Tribal Nations
Related Page or Document
Contact Us
Office of the Assistant Secretary - Indian Affairs
1849 C Street, N.W. MS-4004-MIB
Washington, DC 20240
Hours
Open 8:30 a.m.–4:30 p.m., Monday–Friday.