For Immediate Release:
September 21, 2022
        Ensures continuity for BIA's community safety, law enforcement, Tribal courts, detention and corrections programs
WASHINGTON – The Bureau of Indian Affairs announced today that Richard "Glen" Melville, an enrolled member of Makah Tribe of Washington, will lead the Office of Justice Services as a deputy bureau director starting this month. Melville joined the Bureau of Indian Affairs in 1997 and served a 29-year career with the bureau and Tribal law enforcement programs before retiring in 2021 as the deputy associate director for the Office of Justice Services. He has since returned from retirement to lead OJS's public safety programs.
"Glen is an experienced and dependable leader stepping into a role that is critical to law enforcement services and support to operations across the Department," said Assistant Secretary for Indian Affairs Bryan Newland. "I congratulate him on his new role with BIA and I look forward to having him become a part of Interior's law enforcement family, including serving as a key representative on the White House Council on Native American Affairs Committee on Public Safety and Justice Committee."
"Leading the Office of Justice Services is not just about managing a complex organization. At its core, it is about ensuring Tribal members throughout Indian Country are safe, healthy, and have access to comprehensive law enforcement, prevention, intervention, and support services," said BIA Director Darryl LaCounte. "It is a pleasure to welcome Glen Melville back to the Bureau as he is a seasoned leader well versed in the important services OJS provides to Indian Country."
"I am honored to return to the BIA having spent my career dedicated to Indian Country's public safety mission," Melville said. "I look forward to applying that experience to build upon the work of my predecessors to advance the Office of Justice Services and the bureau overall in the next stage of my career."
Melville began his career as a police officer with the Makah Tribe in Washington in 1995. He advanced through numerous leadership law enforcement positions with the National Park Service and Homeland Security's Coast Guard Investigative Services before continuing his career with the BIA in 2012 as the assistant agent in charge of District I in Aberdeen, South Dakota, and then special agent in charge of District VII in Portland, Oregon, before becoming the deputy associate director.
Melville has also served as the acting regional director for Great Plains Region in 2018 and the acting regional director for the Eastern Region in 2020.
Melville is a graduate of the Department of the Interior's Senior Executive Service Candidate Development Program, the Federal Law Enforcement Training Center Criminal Investigations Training Program, the Naval Criminal Investigations Service Training Program, the FBI Command College, and the Indian Police Academy.
When not working, Melville enjoys spending time outdoors hunting and fishing with his family and volunteering as a soccer coach at the local high school.
The Bureau of Indian Affairs directly administers and funds Tribally operated infrastructure, law enforcement and justice, social services (including child welfare), Tribal governance, and trust land and natural and energy resources management programs for the Nation's federally recognized American Indian and Alaska Native Tribes through four offices: Indian Services, Justice Services, Trust Services and Field Operations.
The mission of the BIA Office of Justice Services is to uphold Tribal sovereignty and provide for the safety of Indian communities by ensuring the protection of life and property, enforcing laws, maintaining justice and order, and by ensuring sentenced American Indian offenders are confined in safe, secure, and humane environments. Ensuring public safety and justice is arguably the most fundamental of government services provided in Tribal communities.
                                                                                                       ####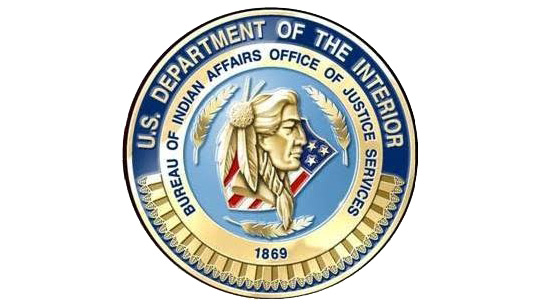 Contact Us
Indian Affairs - Office of Public Affairs
1849 C Street NW, MS-4660
Washington, DC 20240
Hours
Open 8:30 a.m.–4:30 p.m., Monday–Friday.