Dates:
December 13, 2022 12:00pm to 12:00pm
Author: Lessa Peter
In the fall of 2022, Northern Arizona University (NAU), in partnership with the Intertribal-Timber Council, hosted its bi-annual Tribal Forestry Fire Student Summit. This year's theme focused on "Investing in the Future of Tribal Forest Resource Management & Wildland Fire." Seventy-four Tribal fire and forestry students from NAU and other campuses throughout the nation participated in the summit virtually and in-person on the NAU campus in Flagstaff, Arizona.
National BIA Wildland Fire Management, Forestry, and Pathways Program staff attended the summit in hopes of recruiting the Bureau of Indian Affairs' future generation of wildland fire management staff and leadership. Presenters at the summit included subject matter experts from the BIA and other Federal agencies, Tribes, and non-profits.
Aaron Baldwin, BIA Fire Director, spoke with students about the vast and growing career opportunities within wildland fire management. Additionally, students heard from BIA Chief Forester, Pete Wakeland, and the BIA Pathways Program about career and internship opportunities within their interested natural resource disciplines. Post Wildfire Recovery staff members, Darryl Martinez, and Juliette Jeanne, served as mentors to the students, answering career-related questions and working with students in breakout groups.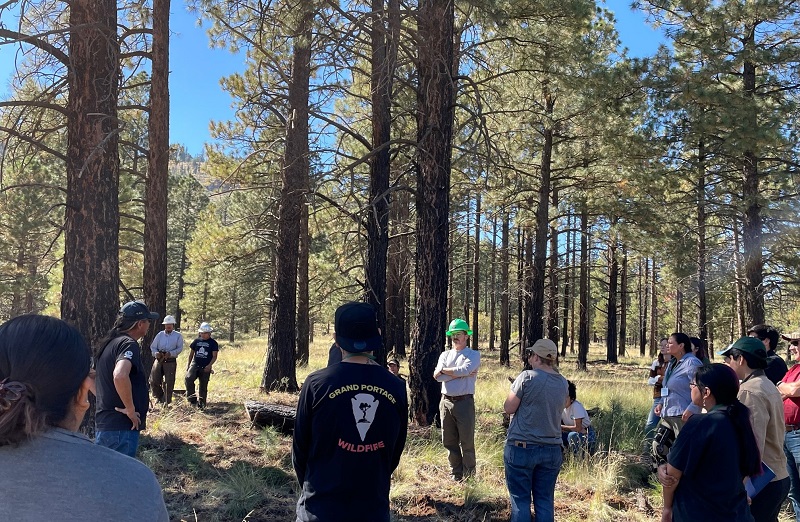 Summit attendees speak with sawyers on the job to learn about the Four Forest Restoration Initiative (4FRI) project in the northern Arizona ponderosa pine forest.
In addition to presentations, students had an afternoon field trip to see the Four Forest Restoration Initiative (4FRI) project in the northern Arizona ponderosa pine forest to learn about mechanical treatments, post-fire effects, ponderosa pine restoration efforts, and how the project is providing firewood and jobs to nearby Navajo Tribal members.
"The student summit was a great opportunity to speak and showcase the vast opportunities in wildland fire management with the BIA," said Baldwin. "It was gratifying to see Tribal students with wildland fire management pursue degrees in forestry that we know will expand their skillsets and provide a foundation for their long-term careers."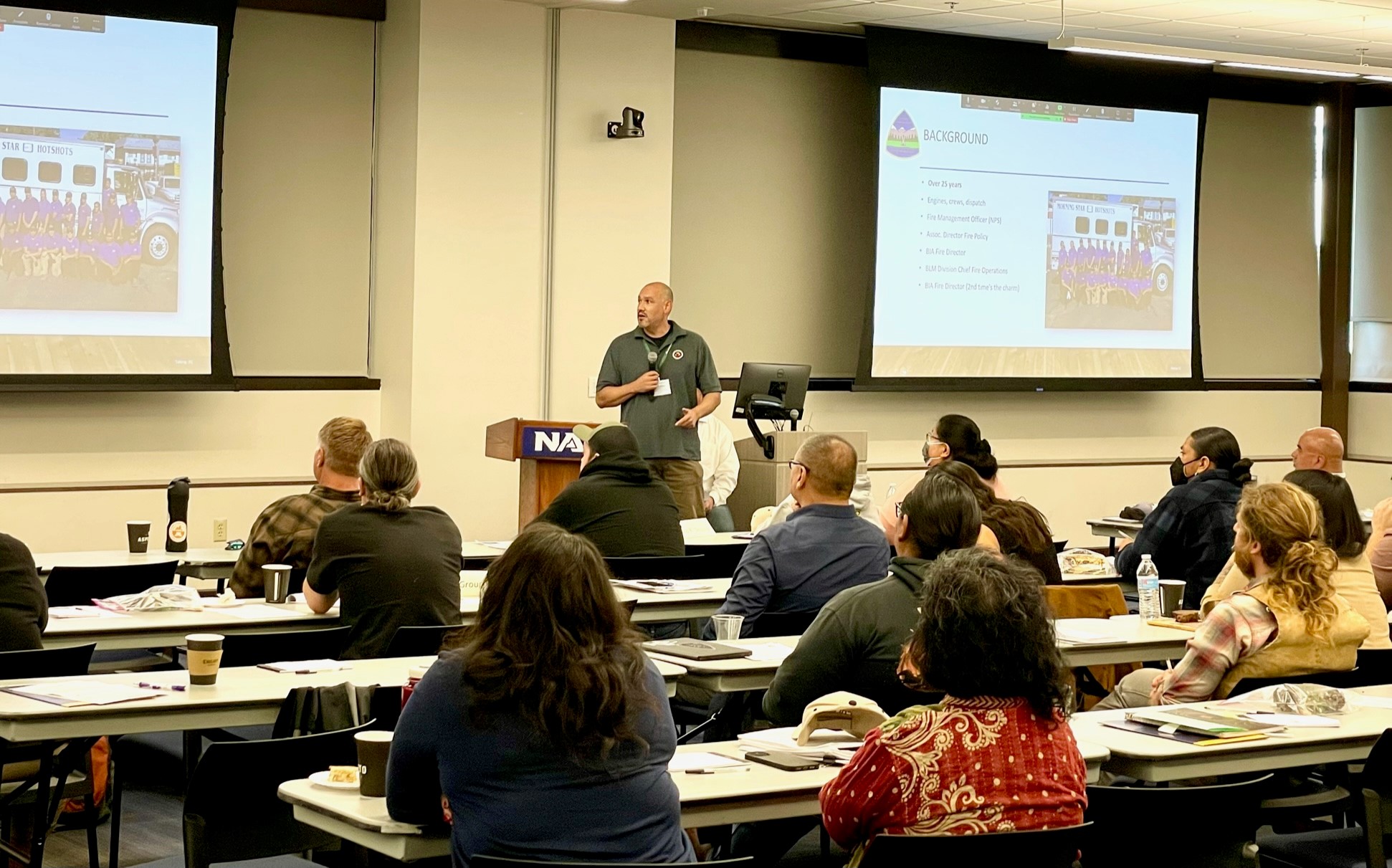 Aaron Baldwin, BIA Wildland Fire Management Fire Director, presents career opportunities to student attendees at a Tribal fire/forestry student summit in Flagstaff, AZ.
Contact Us
Division of Wildland Fire Management
National Interagency Fire Center, 3383 S. Development Ave
Boise, ID 83705