Dates:
April 01, 2022 12:55pm to 12:55pm
From March 2021 through January 2022, DFWFM's Timber Strike Team traveled to nine states to assist 17 Tribal agencies with timber sales and continuous forest inventory (CFI) projects. Their accomplishments include the creation of land cover files classifying 592,000 acres of forest stands for 14 Eastern Oklahoma tribes and cover-type mapping of 88,000 acres on Annette Island for the Metlakatla tribe of Alaska. Cover-type mapping surveys the current state of land to help managers best understand resource conditions and plan management activities. To detect change over time, cover-type maps for several different years are needed. The Team also remeasured 115 CFI plots, collected data for 180 stand plots, and prepared over 2,500 acres for future timber harvesting. Timber preparation included two post-wildfire timber salvage projects with a projected harvest volume of 30,000,000 board feet.
According to the DFWFM's Forestry database, approximately 51% of the national allowable annual cut (AAC) of timber has been harvested over the past five years on trust land. This shortfall is mainly attributable to a lack of funding, staff, and local harvesting and contract expertise. Most Tribes and agencies would need outside assistance in the event of an urgent, large project where there is a short window of opportunity to capitalize on their timber resources. This is where the DFWFM Timber Strike Team comes in.
To assist regions, agencies, and Tribes in accomplishing the required work associated with completing timber sales, the first BIA Timber "Strike" Team was developed in 2020. The six-person team is stationed in Billings, Montana, and is comprised of professional foresters with diverse work experiences ranging from federal agencies to state and private agencies. Although the Timber Team is based out of Montana, project requests are accepted at the national level. The preparation for timber sales includes boundary and individual tree marking, timber cruising/volume estimation, sensitive resource protection, logging systems layout, GPS data collection, and stand based delineation using ArcPro technology.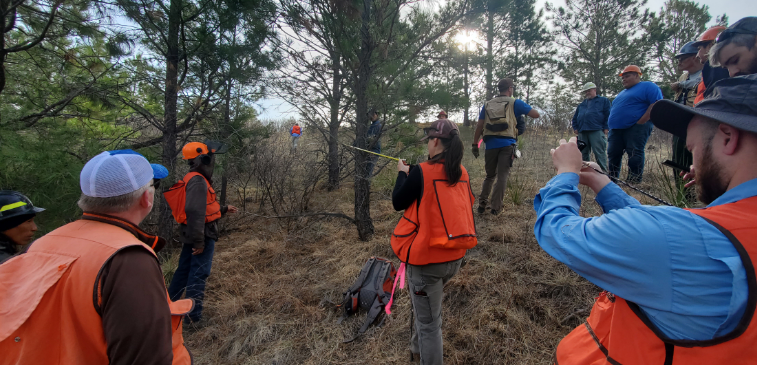 Pictured above: The Timber Team and tribal staff remeasure a CFI plot at the Rosebud Agency in South Dakota.
Since the initial team trip to the Eastern Oklahoma Region in March of 2021, the Timber Strike Team has completed project work for 16 tribal agencies: Rosebud Sioux Reservation, Uintah and Ouray Reservations, Omaha and Winnebago Reservations, Bad River Reservation, Potawatomi Trust Lands, Fort Belknap Reservation, Ho-Chunk Nation Tribal Trust Lands, Crow Reservation, Jicarilla-Apache Reservation, Metlakatla Tribe of the Annette Island Reservation, Northern Cheyenne Reservation, Confederated Salish and Kootenai Tribes of the Flathead Reservation , Colville Reservation, Catawba Reservation, Cherokee Reservation, and Thlopthlocco Trust Lands of the Eastern Oklahoma Region.
"The Timber Team was a concept that had been discussed for a number of years as a creative way to get timber sales and other forestry projects accomplished for Tribes. In 2020, the Bureau of Indian Affairs Director approved the development of the Team, bringing the concept to reality," said Peter Wakeland, Bureau of Indian Affairs Chief Forester. "The Team has conducted field work for many Tribes over the past year, and the BIA has received very positive feedback on the work performed."
To request support from the Timber Strike Team or to learn more about timber sales, stand exams or CFI projects, please contact the supervisory forester, Philip "Ryan" Frandino, at philip.frandino@bia.gov.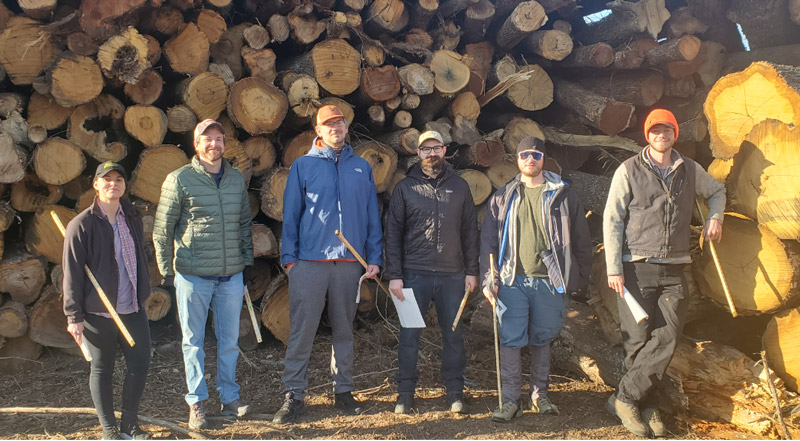 Timber Team working timber trespass area outside Okemah, OK, 2021. Hilary Chittom, Jason Roberts, Ryan Frandino, Garrett McFall, Wesley Staats, and Connor Eckhout are pictured from left to right.
Related Page or Document
Contact Us
Division of Wildland Fire Management
National Interagency Fire Center, 3383 S. Development Ave
Boise, ID 83705