You should follow these guidelines when creating a page with an important message that everyone visiting to the Bureau of Indian Affairs (BIA) website must know about.
Field Information
Title: Write a short, clear, and descriptive message about the information being presented (e.g., Learn more about COVID-19 reopening guidelines and travel restrictions). This is often the first thing users will see when they visit this section of the site. The title should clearly reflect the content being represented, while also being easily searchable to your potential audience.
Alert Type: Choose the option based on the type of information being presented. Blue = Informative; Yellow = Warning; Red = High Alert/Error; Success = Green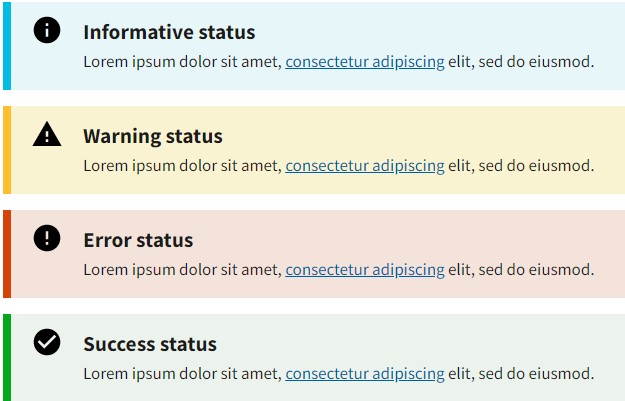 Alert Layout Style: Choose your alert-box look. The options are "Standard Emergency Site Alert," "Site Alert with No Header," "Site Alert with List," "Slim Site Alert," and "Site Alert with No Icon." See how they'd look like below.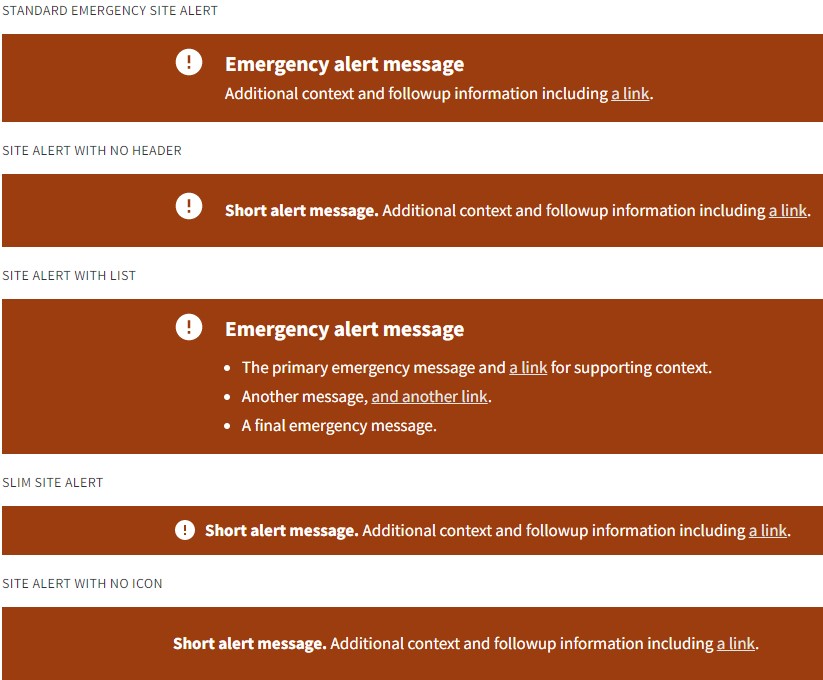 Start Date / End Date: Pick the date range for the alert

Time Zone: Choose from the appropriate time zone from the drop down.  

Display Location: Choose the location on the BIA site where the alert should be displayed. The options are "On Specific Service or Organization Page," "Home Page," or "Whole Site." 
Related Service: Link to the page of a related service that's impacted by this alert  

Related Organization: Link to the page of a related organization that's impacted by this alert
Message Body: Write the message that will show up in the alert box (e.g., For the health and safety of all involved, most in-person facilities are closed to prevent the spread of COVID-19)

Read More Page: Link to page that provides more information and details about the alert
Additional Information
Related Pages
Contact Us
Office of Public Affairs
Indian Affairs - MS-4004-MIB 1849 C Street, N.W.
Washington, DC 20240
Open 8:30 a.m.–4:30 p.m., Monday–Friday.