The Tribal Climate Resilience Liaisons are a multi-regional support network to assist Tribes in addressing science-based needs available to them at Department of the Interior's Climate Adaptation Science Centers, for improved climate adaptation planning efforts.
The Regional Tribal Climate Resilience Liaisons are stationed at Department of the Interior (DOI) Climate Adaptation Science Centers (CASCs), and their support spans across Indian Country and Alaska Native villages. Their role serves to technically assist Tribal Nations and Alaska Native Villages in response to specific, yet diverse challenges faced from increasing environmental hazards and extreme weather events due to a changing climate. Tribal Liaisons serve as extension agents, facilitating research, linking Tribal needs to available resources, and coordinating trainings, workshops, forums and exchanges. See the TRP Regional Resilience Liaison Poster / Map (2018) for each Tribal Liaison's CASC Region and bio, the Tribal Resilience Liaison Infographic - Success Stories (2020) for a summary of the network's highlights, and the Contact Us page for contact information about the Tribal Resilience Liaisons as well as BIA Regional Support.
To establish the Regional Tribal Climate Resilience Liaison positions, each liaison has a unique partnership which links them to Tribal resources. Many of these liaisons engage with Tribal Nations through BIA partnerships with the following non-profit Tribal organizations:
Feature: 
Minnesota Climate Adaptation Award Winner - Sara Smith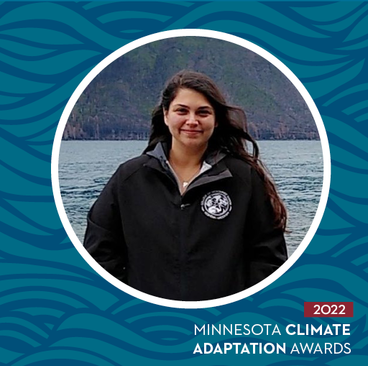 Congratulations to Sara Smith, who has served in the Tribal Climate Resilience Liaison network since 2017! She has worked with the Northeast and Midwest Climate Adaptation Science Centers (CASCs) and the College of Menominee Nation through a partnership with the BIA Tribal Climate Resilience program to connect Tribal Nations in the upper Midwest to resources that further their climate adaptation efforts. She also serves in a lead role for the Northeast Indigenous Climate Resilience Network as well as being a member of the Tribal Adaptation Menu Team. The Individual Adaptation Award honors someone who has offered significant leadership, provided education, developed or implemented strategies, conducted research, or otherwise made an impact in the field of climate adaptation in Minnesota. Sara uses her expertise in research, natural resources, ecology, Indigenous and/or Traditional (Ecological) Knowledge, and Tribal communities to engage with Indigenous peoples in the Midwest CASC Region and provide them with resilience support. Read more about Sara's award on the University of Minnesota website.