The Division of Water and Power used to be referred to as Irrigation, Power, and Safety of Dams (IPSOD). 
Irrigation At the Great Plains, Rocky Mountain, Northwest, Pacific, Western and Southwest Regions, the Regional Office Irrigation staff provide oversight and technical support to the irrigation projects and irrigation systems. At the 15 revenue generating irrigation projects, Irrigation Project staff provide the actual operations and maintenance of the irrigation projects, except at Duck Valley, which is operated and maintained by the Tribe under a self-governance compact. At the Navajo Region, the Regional Office Irrigation staff provide oversight of the Navajo Indian Irrigation Project (NIIP), including the Tribal P.L. 93-638 operations and maintenance contract, and Tribal Priority Allocations funds for on-farm development and operations of the farm laboratory; all land acquisitions, exchanges and withdrawals not specifically assigned to Reclamation; and environmental compliance issues during construction of the NIIP (monitoring runoff as part of Endangered Species Act and Clean Water Act). At NIIP, operation and maintenance (O&M) of the irrigation project is still a responsibility of the BIA which funds the Navajo Agricultural Products Industry (NAPI), a farming and agribusiness enterprise of the Nation to develop agricultural economy on the lands of the NIIP, to perform the O&M. NAPI also farms the lands in this project.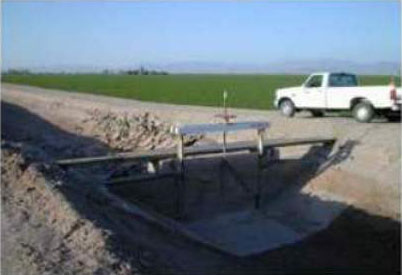 Check Structure – Colorado Irrigation Project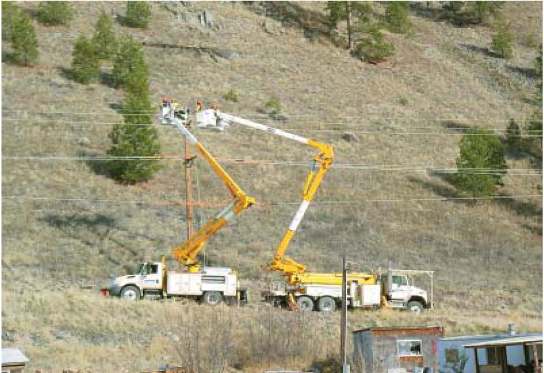 Mission Valley Power – Confederated Salish and Kootenai Tribes
Power At Northwest and Western Regions, the Regional Office Irrigation staff provide oversight and limited support to the three BIA Power Projects. The Regions do not have any staff dedicated solely to the Power program. The Regional Irrigation Engineers are the technical liaisons with the Power Projects, as a collateral duty.
At the two of the three revenue generating power projects, BIA Power Project staff provide the actual operations and maintenance of the distribution systems. The third BIA owned Power project is Mission Valley Power, on the Flathead Indian Reservation, and is contracted to the Confederated Salish and Kootenai Tribes under a P.L. 93-638 contract.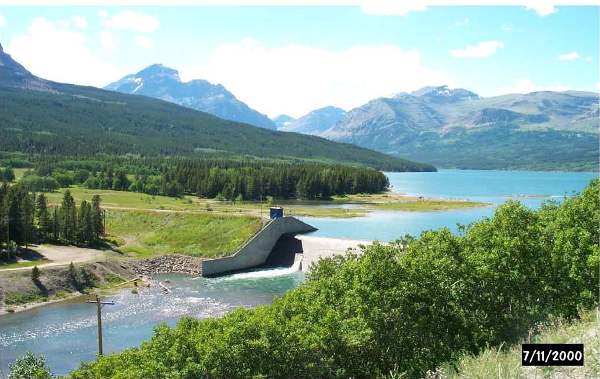 Two Medicine Dam at the Blackfeet Indian Reservation
Safety of Dams At the Midwest, Eastern, Great Plains, Navajo, Northwest, Pacific, Western, Rocky Mountain and Southwest Regions, the Regional Office Safety of Dams staff manage the Safety of Dams program. The Regional Safety of Dams Officers work with the agency and tribal personnel in carrying out the program. These functions include maintenance of the dams and early warning systems, and oversight of the rehabilitation of the dams in the Safety of Dams program. The BIA Safety of Dams program is responsible for 131 dams of the Departments 457 high and significant hazard dams.
IPSOD has developed a 24/7 Early Warning System National Monitoring Center (NMC). The NMC will monitor the early warnings systems on the high and significant hazard dams under the jurisdiction of the BIA. The NMC is the key in providing significantly enhanced public safety to populations downstream from BIA dams. To protect downstream residents, the BIA has been installing Early Warning Systems (EWS) on these dams since 1992. These systems provide early warning of dam emergencies to ensure the safety of the downstream residents.
Main Functions of Safety of Dams Program include: Managing design and rehabilitation construction for high and significant hazard dams to correct identified safety deficiencies; Performing security reviews to ensure adequate security for key dam facilities and structures (in light of credible threats) and if required, installation of security equipment ; Resolving expedited dam safety actions (EDSA) which are safety problems identified on high or significant hazard dams which need to be corrected in the short term; Ensuring early warning systems (EWS) and emergency action plans (EAP) are developed, implemented, and maintained effectively; Performing inspections and evaluations on high hazard dams and Safety and Evaluation of Existing Dams (SEED) inspections on dams on a one to three year cycle; and Ensuring recurring maintenance and repair is scheduled annually on high and significant hazard dams.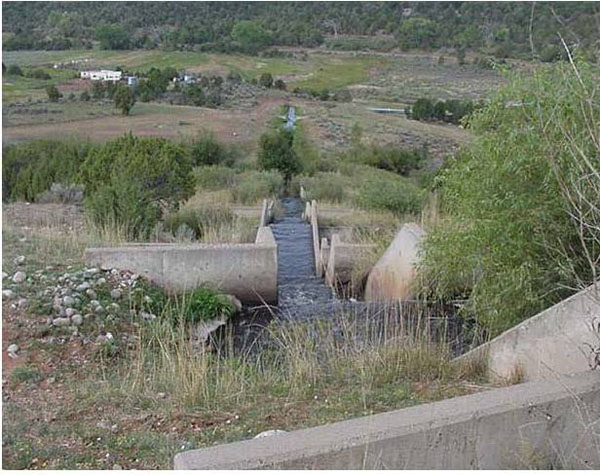 Drop Structure – Pine River Irrigation Project
Irrigation, Power and Safety of Dams (IPSOD) Program Outlook to the Future: The vision of the BIA IPSOD program is where all BIA irrigation, power, and dam infrastructure is maintained at a level comparable to facilities in the non-Federal sector; where we keep stakeholders informed, and water and power is distributed as required; where dams on Indian lands do not present an unacceptable risk to downstream lives and property; and where all program activities are performed in an economically, technically, environmentally, and culturally sound manner.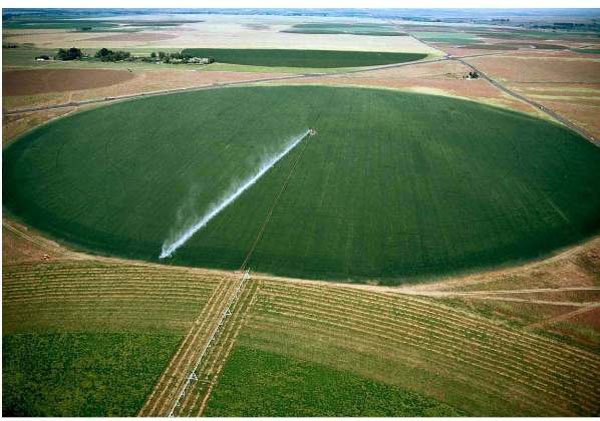 San Carlos Irrigation Project – Indian Works – Pima Agency
To accomplish this vision, this program has initiated various goals. In the Irrigation program, the goal is to improve the management of land and natural resource assets through the delivery of water consistent with applicable state and Federal law, in an environmentally responsible and cost-efficient manner. On March 31, 2008, the updated 25 Code of Federal Regulations Part 171 became effective. This updated regulation has new provisions which will allow the irrigation projects to be more productive. A major problem on BIA irrigation projects is idle lands, lands that are not being farmed due to needed improvements to the land. The updated regulations allow incentive agreements for farmers not to pay irrigation operation and maintenance charges for up to three years if they improve these lands. This could bring more lands into production.
In the Power Program, the goal is to reliably and efficiently deliver electrical power to authorized power consumers and users by operating, maintaining and rehabilitating power system infrastructure on each project including: power generating facilities, power substations, electrical switching stations, transmission lines, distribution lines and deteriorated infrastructures. The BIA is working towards a single power billing, collection and debt management system, which will allow the power project to maintain a business approach to billing and collection, while following all Federal financial policies.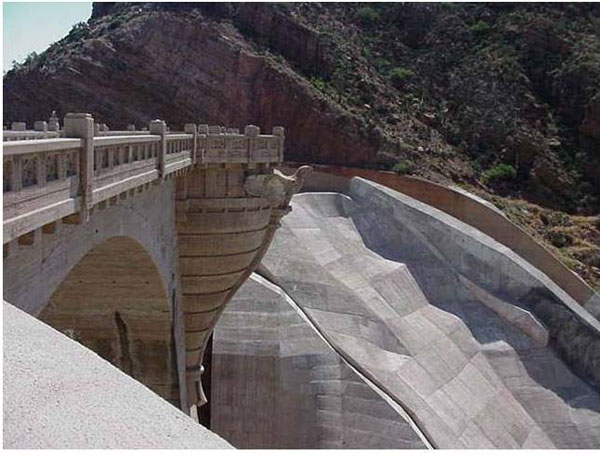 Coolidge Dam – San Carlos Irrigation Project – Joint Works
The goal of the BIA Safety of Dams program is protecting lives, resources and property. The objective of the program is to correct identified safety deficiencies in Bureau dams, which will mitigate hazards to the public. This program is reviewing its current policy on correcting deficiencies on dams to determine if the current approach is reducing dam safety risks to the general public is satisfactory. It is developing a risk base approach to identify the highest dam failure risks, based on probability of failure and downstream consequences. The new policy would focus funding on the highest risk failure modes at each dam in the program.
Irrigation, Power and Safety of Dams Program Key Challenges. Some of the Irrigation, Power and Safety of Dams program's key challenges are listed as follows.
The replacement of irrigation, power and safety of dams staff that are leaving through attrition is a potentially serious problem over the next five years. Development of an "engineer in training" program is desirable, however implementation is doubtful based on availability of funds.
The recruiting and retention of qualified irrigation project managers is a longstanding problem primarily due to the remote locations associated with projects. Increased cost of activities coupled with larger demands on program functions and the associated stagnate budget has created funding challenges.
It is difficult to establish accurate construction estimates given the volatile price fluctuations of construction materials and costs.
Challenges related to limited internet access continues to plague BIA. As the BIA is being allowed to access the internet, this challenge should go away. Inability to conduct research, communicate with outside professionals, monitor water resources real-time, and conduct business electronically has placed the program at a serious disadvantage.

Internet availability would provide for:
Irrigation & Power –

Monitor streamflow and hydrologic information to manage water deliveries.
Accept and process on-line payments.
Request and scheduling of water delivery.
Conduct engineering and professional research.
Provide for remote sensing and SCADA enhancements and improvements.
Improve acquisition of supplies and materials.

Safety of Dams –

Provide access to BIA National monitoring Center and associated Emergency Management Monitoring website by Safety of Dams staff including BIA, Tribal and Bureau of Reclamation, and National Weather Service personnel.
Allow for remote access, sensing and SCADA enhancement/improvements to dam operations.

Prolonged drought in the West could have an adverse affect on farmers causing some to go bankrupt.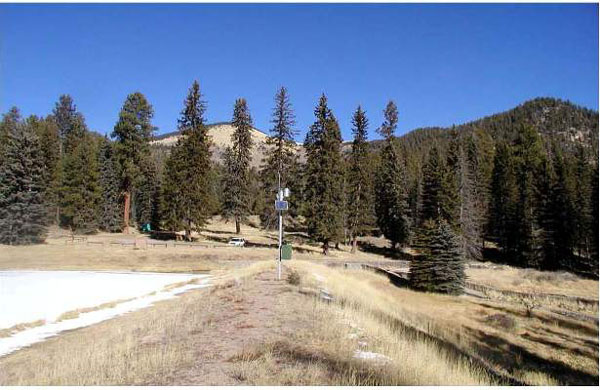 Tschicoma Dam – Santa Carla Agency